Subway Presents: An Interview With ESPN's Mike and Mike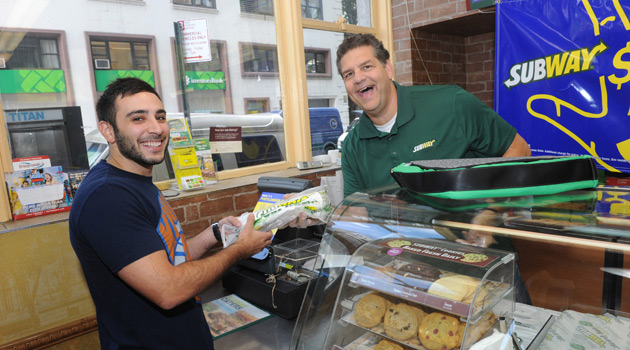 Last week, Subway reached out to us and asked if we were interested in interviewing ESPN's Mike Golic and Mike Greenberg. Are you kidding me? Of course, I jumped at this incredible interview opportunity, which was provided in conjunction with SUBtember. During SUBtember, all regular footlongs are only five dollars, so make sure you go to Subway before the month is out!
Here's my interview with Mike and Mike:
Me: First of all, let me say Happy SUBtember to you guys! I know you guys have been working really hard with Subway all day.
Greeny: We are having a really good time! We were at a Subway location at Midtown Manhattan, where we were asking footlong trivia questions and giving fans a chance to win free footlongs. As part of the celebration as you mention SUBtember, where all regular footlongs are five dollar footlongs throughout the entire month as we celebrate the kickoff of football season. But I must say I learned something today, which is that if Mike Golic ever leaves broadcasting, he has a career as a sandwich artist, or maybe even a chef. He was absolutely sensational making sandwiches today.
Golic: I have my moments, I'm not the neatest guy in the world. But when I am dealing with food, I can hold my own, and I've eaten enough Subway in my day and seen enough Subway sandwiches made in my day, that I think I've handled myself pretty well. Like Greeny said, what's better than kicking off the football season with five dollar footlongs before the game tonight.
Me: Absolutely, we actually plan on it. Nothing better than a Subway footlong with football. Well then, I guess I'll start with this Golic, since you are the Subway sandwich maker. Can you create your perfect footlong for me?
Golic: Well mine is 9-Grain, it's sweet onion chicken teriyaki with American cheese. I'm not a big veggie guy, I'll let Greeny take care of that, but I put lettuce and pickles and Chipolte Southwest over the top of it.
Me: Well that sounds fantastic, I'll have to put that in the arsenal of sandwich options. Well let me tell you about myself, I write for Guys Gab, and it's a men's interest website and I write much of the sports. So Greeny, your Superbowl picks are the Seahawks vs the Colts.. Greeny, why are you so high on the Colts this year?
Greeny: You know, here's the thing. Mike and I do this wager like in March Madness where the loser has a terrible fate, and because of that we both always take the craziest picks as we can. Also, because I think all of the other AFC teams are so flawed and because I am such a huge believer in Andrew Luck and because I like a lot of the acquisitions that they added on the defensive side, I took a flyer on the Colts. I don't think it as farfetched as people think it is.
Golic: I went with more of a safer pick, my Superbowl predictions are the 49ers vs the Broncos. The Niners and the Broncos in my mind are the two best teams in the league right now. I have the 49ers winning because they are the most balanced team in the league, run, pass and defense. I do think that Seattle will battle though with San Fran. In the AFC, I'll be honest with you every team has holes that they are going to have to overcome. So a lot of that is OK, what quarterback do I trust? Well certainly you have guys like Tom Brady and Peyton Manning, and you can throw guys like Flacco in there who earned his stripes the past two post seasons. I just have too much trust in Peyton Manning that he is going to get the job done, and even though they don't have Von Miller the first 6 games, they still have plenty to win that division and they will have miller when it counts.
Me: Well Greeny, as long as you can defend yourself, I think it might not be that farfetched.
Golic: It's farfetched.
Me: So Golic, I wanted to talk about rookie Quarterbacks in this league. I was curious to know what you would tell a rookie quarterback i.e. Geno Smith or E.J. Manuel going into their first game, never having any NFL starting experience. So what would be one piece of advice that you would tell them?
Golic: Rely on your teammates. Don't try and do it all yourself, rely on your teammates. Get the ball into the hands of the playmakers, don't try to do more than you can do. You are a rookie with your first start in the NFL. Just don't do more than you can do, and lean on your teammates. That will cut down your mistakes. Sometimes a rookie QB will try to do to much and fire it in there and throw an interception. You're allowed to punt the ball. Thats okay. That would be my biggest advice.
Greeny: And if I may I would add to that, that what they have to be very careful not to do is to judge themselves against the standard that was set last year. This is a terrible year to be a rookie QB, because the rookie QB's last year were unprecedentedly effective and they were so good. That may be a once in a lifetime or once every generation kind of a rookie class last year. And I think that they have to be careful not to allow themselves to be judged against that standard, because if you are Geno Smith or E.J. Manuel, you can't allow yourself to worry about what RGIII did last year or what Andrew Luck did last year, because that is an unrealistic bar to set as exceptions.
Me: Thank you for that, okay I just have a few more questions. One specifically for Greeny, I know you're a Jets guy, so I want to play a little hypothetical game with you if you don't mind.
Greeny: Sure
Me: Hypothetically, if the Jets go 6-10, 7-9 or 8-8 under Geno Smith, do you believe that Rex Ryan receives the axe? Because historically when a new coach comes in, he wants to bring in his own guys to play QB.
Greeny: Um, I think if they went 8-8, I definitely see Rex Ryan coming back. I think that Rex Ryan would have to get consideration for coach of the year. If you look at the girth of offensive weapons that they have under a rookie QB, with a third offensive coordinator in three years and all of the general negativity surrounding them. I think if they went 8-8 it would be a remarkable accomplishment. I think also there a chance that he will be back almost no matter what happens solely because the owner likes him. At the end of the day, what I think and what other people think and what the conventional wisdom is doesn't really matter. Only one person makes that decision and it isn't John Idzik, its Woody Johnson. I would say that it is pretty close to a lock that he would return.
Me: So it's similar to an Andy Reid situation where the fans might be calling for his head, but the owner has faith in the coach.
Greeny: Yeah, I can see some similarities there. Reid was more successful than Rex, but let me say this. In fairness to Rex, and Rex sometimes makes me crazy. In fairness to him, I think he is a good coach. He says a lot of things that I can't stand and does a few things that I think were huge mistakes. Like when he put Mark Sanchez into that game during the pre-season which was an inexcusable mistake. But at the end of the day, he hasn't been a bad coach with the Jets and I think his bombast makes people over look him.
Me: Great, thank you! I have one more question for you guys today and I would like to personally thank you from all of us at Guys Gab. We really appreciate you two taking the time out of your day to talk to us. So for my last question, I would like to hear one bold prediction for the NFL season.
Greeny: I don't know how much bolder I can get than the Indianapolis Colts in the Super Bowl and Andy Reid winning coach of the year!
Golic: Here ya go! Michael Vick will play all 16 games this year, only the second time in his career.
Me: Well being from Philadelphia, I highly doubt that. This city rarely catches a break.
Golic: I highly doubt that too!
Me: Thanks again guys!
A huge thanks to Subway for setting up , Mike Golic, and Mike Greenberg for taking time out of their busy schedule to talk with us. Now if you'll excuse me, I'm off to Subway to try Golic's sandwich! 🙂
Photo Credit: Diane Bondareff/Invision for Subway Restaurants/AP Images