Celebrate Tailgating Season With Subway!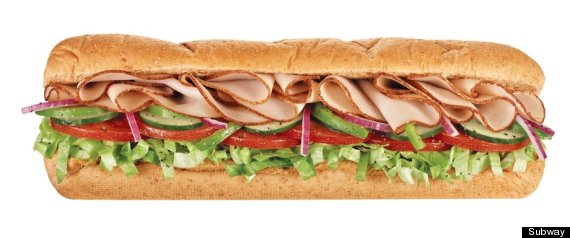 Last week I had the pleasure to talk with ESPN's Mike and Mike about SUBtember, where all regular footlongs are only 5 dollars this month. Golic mentioned that Subway is a perfect compliment to the football season, and I have to agree.. And apparently so does everyone else.
In a recent study, 60% of fans polled listed sub sandwiches as one of their top three required foods to have a successful tailgate. Over half of them said that Subway sandwiches was the way to go on game day, rather than prepping their own meal or buying something else. Not only is a sub sandwich one of the top three tailgate foods, it has been called the tailgate "hero", as 88% of people wanted sub sandwiches as a part of their tailgate. Americans have also decided that their favorite protein is turkey at 57%.
Well America, you're in luck, because not only is Subway's Turkey Breast sub just $5 this month, but it's also delicious! Just image tender turkey breast on Hearty Italian bread piled high with lettuce, tomato .. and don't forget one of Subways most delicious vegetable, avocado. My mouth is watering.
So whether your playing KanJam at the Linc on Thursday night or playing Cornhole at M&T Bank stadium on Sunday, make sure to take advantage of Subway's delicious $5 footlongs. If you're having a large party, don't worry because at Subway you can always cater to a large group of picky food eaters. Whether they like the Spicy Italian or the Black Forest Ham, Subway lets you build your own platter. Or you can order a 3-foot or 6-foot sub. Talk about a lot of food!
So who needs to fire up greasy burgers or non-filling hot dogs? Subway sandwiches are healthy for you, so you can use those extra calories on a few adult beverages. I guarantee that with Subway, your tailgate will be a hit on Sunday.