Anthony Barr Unveiled A Life-Size Food Statue Made from SUBWAY Veggies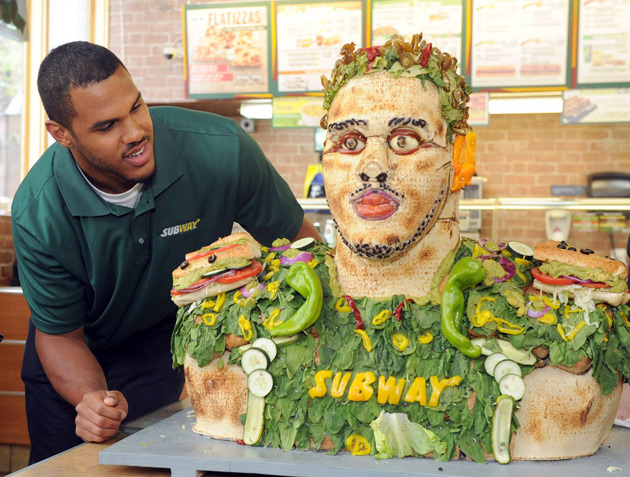 It came as no surprise when the Minnesota Vikings drafted linebacker Anthony Barr out of UCLA last night with the 9th pick in the 2014 NFL Draft, as he was a top draft prospect. In fact, SUBWAY was so confident in his abilities that they named him their newest SUBWAY Famous Fan earlier this week.
As part of his Famous Fan induction, SUBWAY commissioned a 3-foot tall sculpture of Barr from the chest up, made almost entirely of fresh vegetables found at SUBWAY. More than 12 pounds of vegetables were used to create the work of art, made by artist James Victor of Conshohocken, PA.
Barr was on hand to unveil his life-size SUBWAY fresh vegetable statue and announce his official SUBWAY Famous Fan title this Wednesday in New York City, along with fellow SUBWAY Famous Fan Eric Legrand. Barr joins a roster of fellow Famous Fans that include Robert Griffin III, Justin Tuck, Russell Westbrook, Pele, and Michael Phelps.
SUBWAY encourages customers to pile on the veggies, offering unlimited vegetable toppings on each of their signature subs and salads, including green peppers, spinach, cucumbers, lettuce and onions.
Now if you'll excuse me, suddenly I'm in the mood for some SUBWAY. 🙂
Photo by Diane Bondareff/Invision for SUBWAY