The Lamborghini Gallardo LP570-4 Super Trofeo Stradale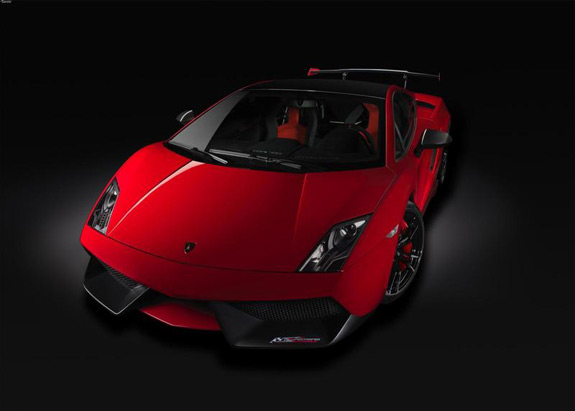 Say hello to the Lamborghini Gallardo LP570-4 Super Trofeo Stradale! The Super Trofeo refers to the one make racing series that Lamborghini has facilitated for the Gallardo. Stradale means road going version.
The car will be shown in Rosso Mars, a new red color in honor of the official racing color of Italy. The car boasts a lot of extra carbon fiber, a new downforce package, and more weight saving methods to keep the mass under 3000 lbs. The car will be available in Grigio Telesto or Bianco Monocerus as an alternative, and the gloss black roof is an option as well.
The new Gallardo LP570-4 Super Trofeo Stradale was inspired by the Lamborghini Blancpain Super Trofeo, and will be placed on the top of the Gallardo line-up. It's powered by a V10 engine that delivers a total of 570HP and a peak torque 398lbs-ft at 6500 rpm. The engine will be combined with an all-wheel-drive system and a robotized six-speed transmission controlled by steering wheel paddles.
With a total weight of 2954 lbs, the new special edition will make the 0-60 mph sprint in just 3.4 seconds and to 124 mph in 10.4 seconds, headed up to a top speed of 198 mph.
"The most extreme Gallardo ever" is limited to only 150 units.