Lamborghini's 4000HP, 24-Cylinder Yacht Is A Supercar For The Open Seas
Feast your eyes on the Tecnomar for Lamborghini 63, a luxury speed boat developed by The Italian Sea Group in collaboration with Lamborghini, its design heavily inspired by the Italian carmaker's Sián FKP 37 hybrid supercar, carrying over countless angular lines and hexagonal styling cues, alongside a whole lot of carbon fiber throughout.
Thanks to the extensive use of carbon fiber, typical of Lamborghini super sports cars, the yacht is classified as an ultra-lightweight boat, with the 63-foot yacht weighing in at a scant 24 tons. Combine that with two V-12 engines that make a combined 4000 horsepower, and you have got one seriously fast boat, with a top speed of 60 knots (69 mph).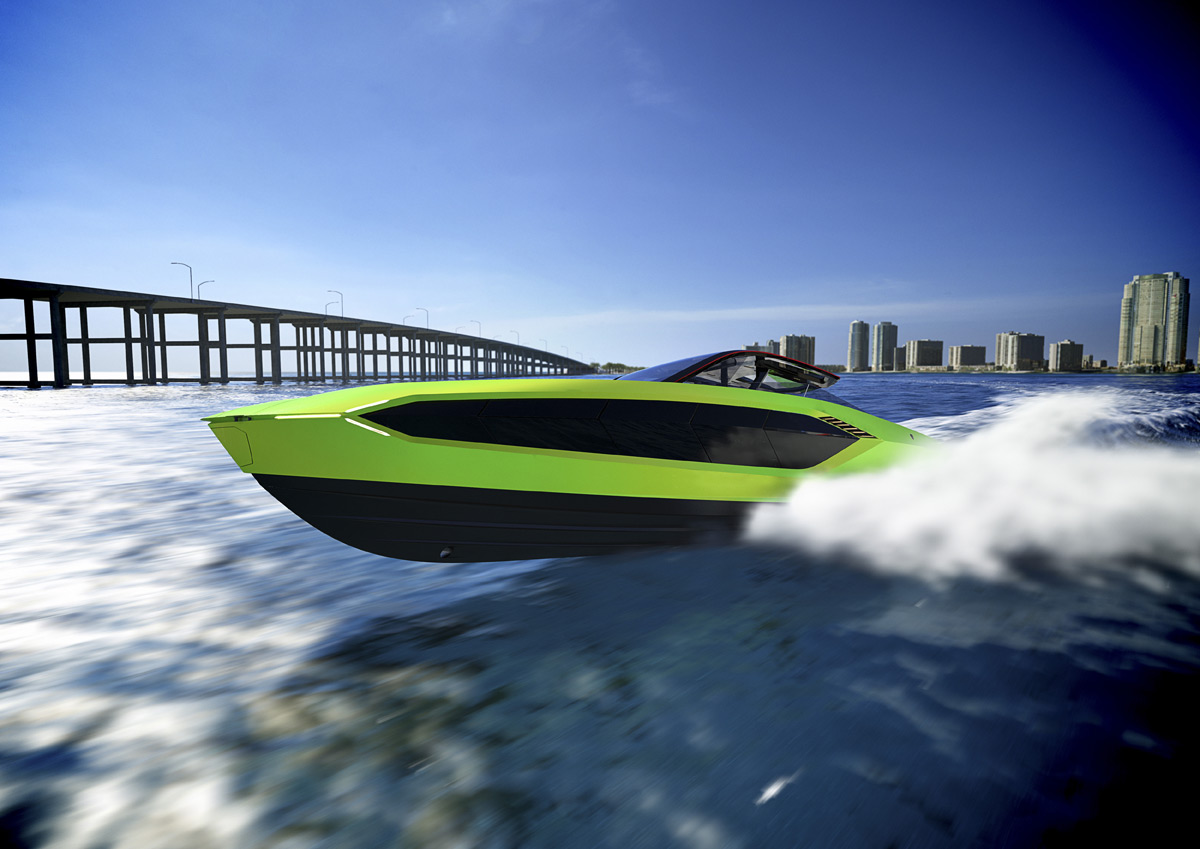 "If I had to imagine a Lamborghini on water, this would be my vision," Stefano Domenicali, chairman and CEO of Automobili Lamborghini, said in a statement.
Yes indeed. The exterior design is characterized by a super sportive silhouette, with a cutting-edge but thoroughly nautical appearance. The hull and the superstructure are created from a high-performance shell. They interpret the design lines, created by Marcello Gandini in the Miura and the Countach of the 60s and 70s, in a contemporary way. The hard top is inspired by Lamborghini roadsters: providing sun and wind protection while guaranteeing an outstanding aerodynamic performance. The bow lights are an homage to the Lamborghini concept car Terzo Millennio and to the Sián FKP 37, both distinctive for their Y-shaped front lights.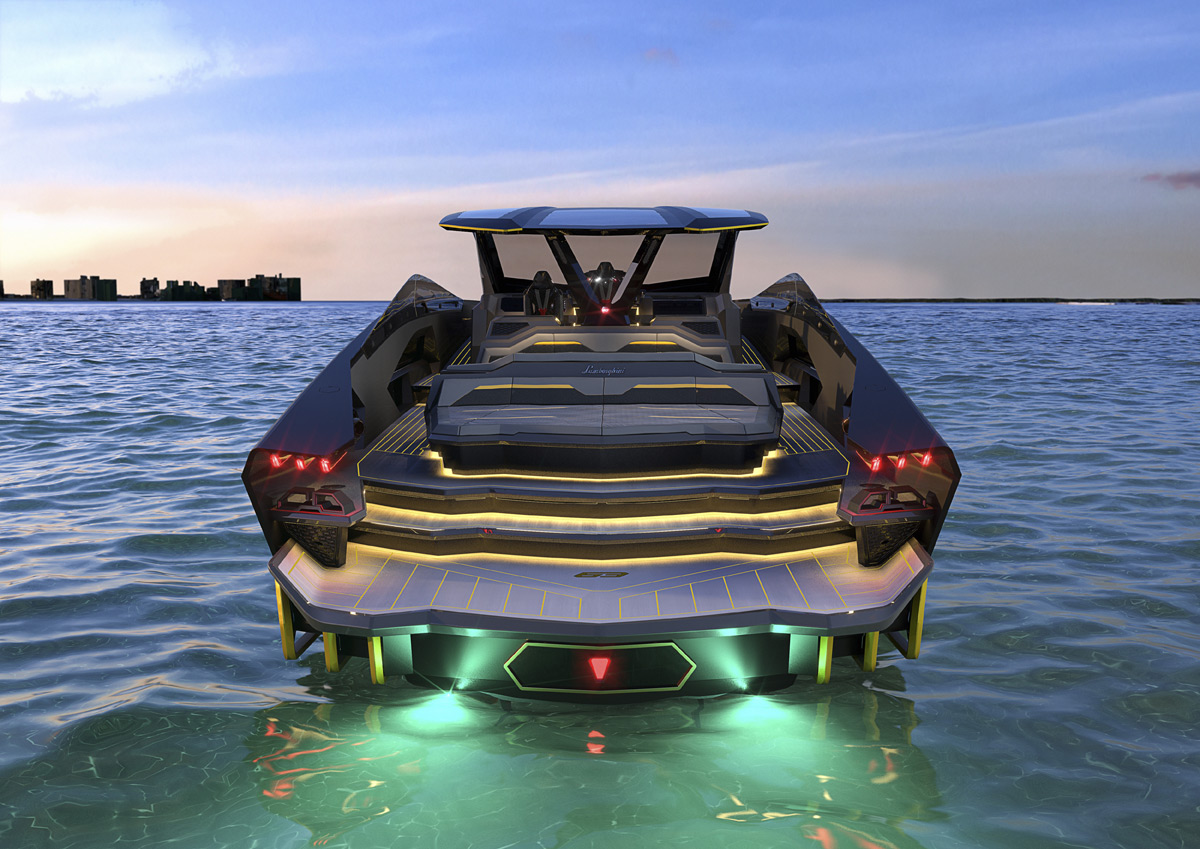 The interiors of Tecnomar for Lamborghini 63 is the result of high-tech design based on super-performing materials for weight and function, perfectly married with the best Made in Italy heritage. Lamborghini's iconic clean lines, hexagon shapes, Y-motif and materials are clearly incorporated into the design. The tail lights and dashboard are reminiscent of the road going counterpart, and even the start buttons (one for each engine) are the same ones found on the Lamborghini supercar.
Just as you would want to customize your Lamborghini supercar to your exact specifications, the Tecnomar for Lamborghini 63 can be built with the fully customizable colors and materials in the manner of Lamborghini's Ad Personam program. Clients can choose from extensive exterior colors and livery options, while the interior is offered in two versions choosing from an extensive combination of materials.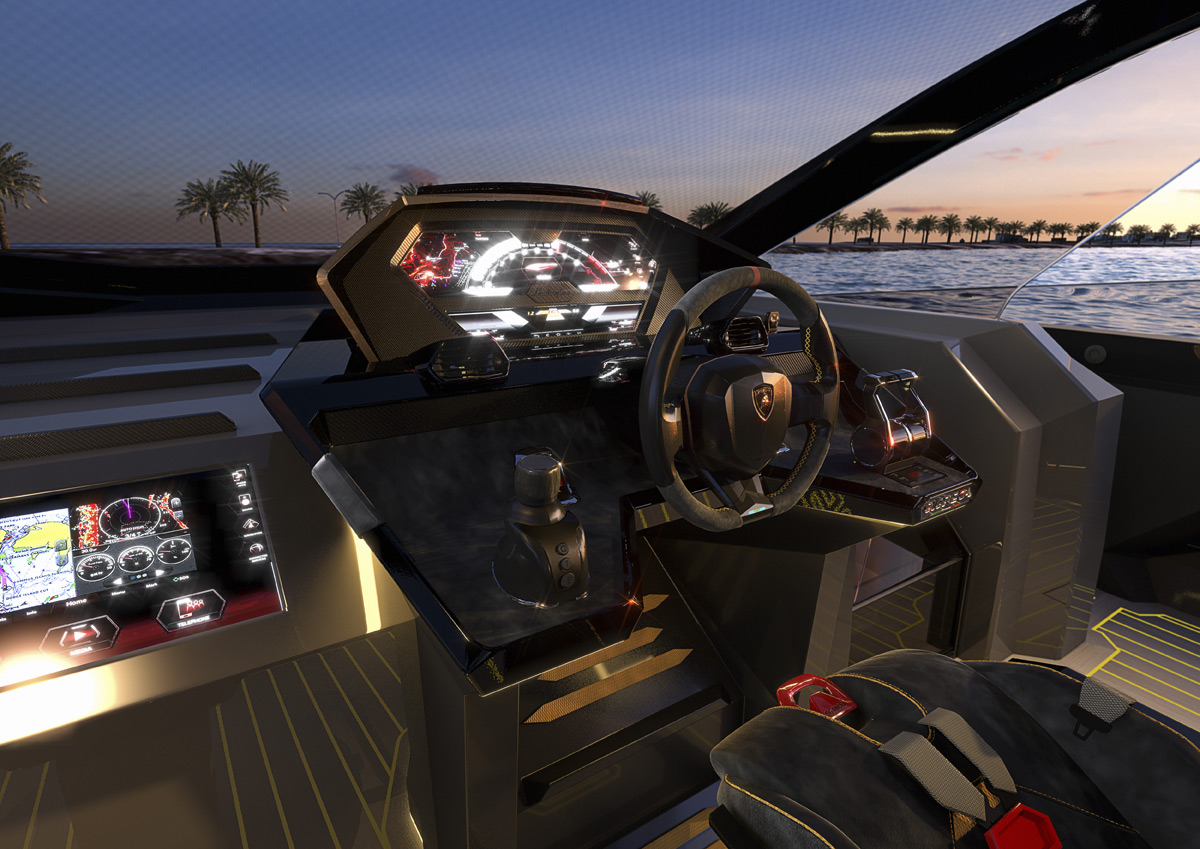 Production of the Tecnomar for Lamborghini 63 is capped at 63 units (a nod to the year that Lamborghini was founded, 1963), each priced from $3 million. The first boat will be available at the beginning of 2021.
You can see more of the yacht's details and different colors below, along with a (corny) video that Lamborghini released:
What do you think about Lamborghini's first foray into the yacht world?