This Remote-Controlled Traxxas 2021 Ford Bronco TRX-4 Is Freaking Sweet!
If you can't wait for (or can't afford) the new Ford Bronco, I've got the next best thing for you, the 1:10 scale remote-controlled Traxxas 2021 Ford Bronco TRX-4.
Traxxas has captured the eagerly-anticipated Bronco in exacting detail with all the capability and versatility of the award-winning TRX-4, which is a serious off-road machine. The Traxxas Bronco combines Ford-approved realism and class-leading performance for exciting off-road adventure no matter where the trail takes you.
With a price tag of $549.95, this isn't some cheap radio-controlled car for kids, it's a bonafide crawler that's equipped with some serious equipment to tackle whatever obstacles might come your way. We're talking aluminum shocks, steel links and frame rails, remote locking front and rear differentials, a transmission with high/low ranges, a three-link panhard front suspension, and triangulated four-link rear suspension.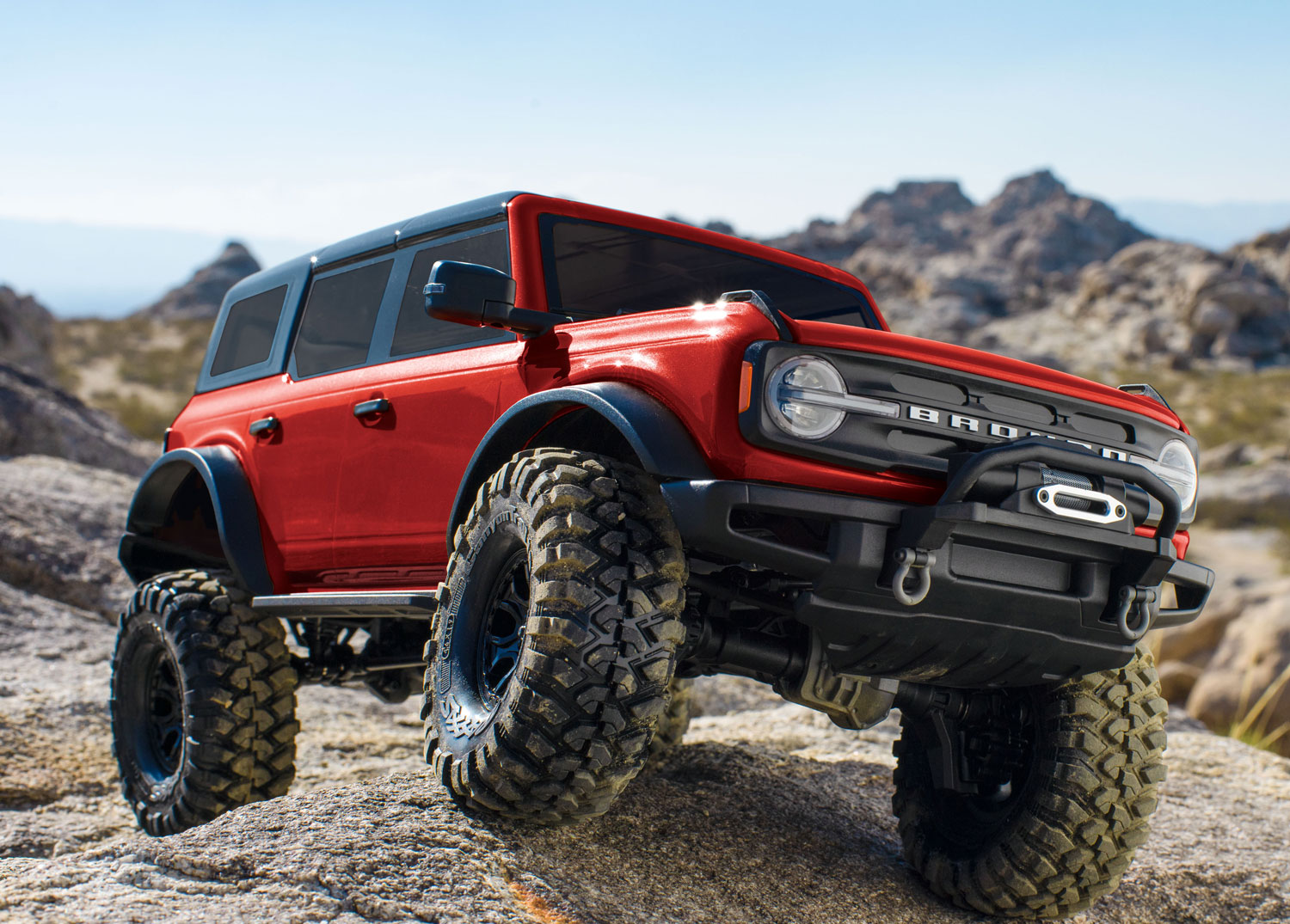 And if that's not enough, the 2021 Bronco TRX-4 boasts an impressive 52° approach angle and 49° departure angle, thanks to clever packaging and 1.9″ Canyon Trail tires wrapped around replica Bronco wheels. It's powered by a 21T Reverse Rotation motor drawing from a 5,000mAh iD LiPo battery pack, and this little Bronco can run for two-hours. You can also get it nice and wet, as it's fully waterproof.
It's a gorgeous R/C truck as you can see, and the attention to detail is second to none. There are injected-molded door handles, mirrors and fender flares, plus a functional spare tire delivers incredible realism. Unique "Trail Sights" extend to the LED-ready grille, and rugged replica bumpers feature a fairlead, tow hooks, and receiver hitch.
Traxxas also offers a host of accessories for the TRX-4 should you get the itch to start modding your rig, including lift kits, replacement bodies, different color shocks and other suspension components, beefier axles, different gearsets, wheels and tires (including "tank tracks"), and auxiliary lighting.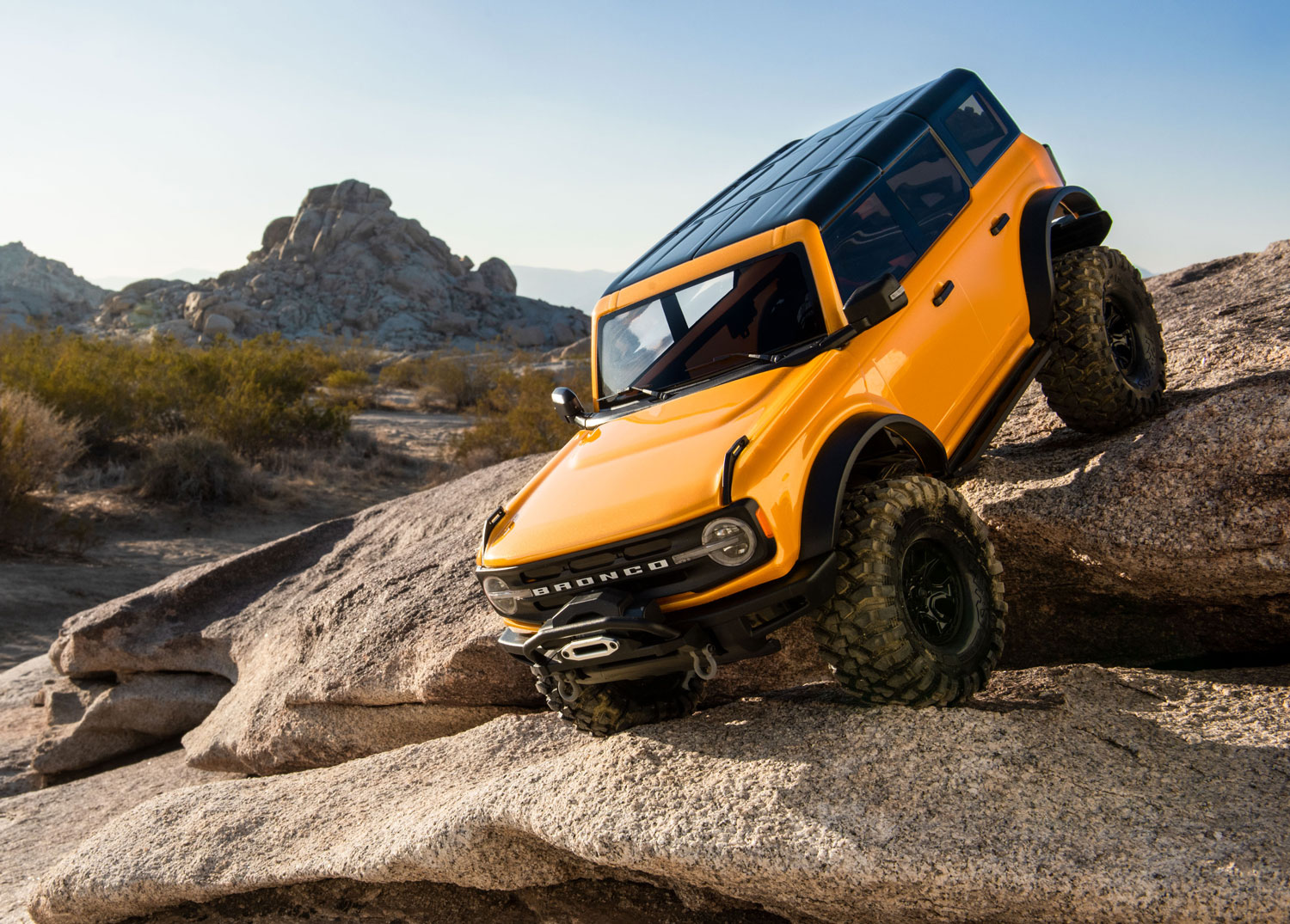 Pretty sweet, right? I have been looking to get back into the R/C car game for awhile now, and I was actually looking at some of Traxxas stadium trucks, as they look like they would be a ton of fun to rip around in. But after watching the video above, I think the Bronco TRX-4 might be just the ticket, as crawling looks super cool as well, especially in Bronco form.
This could become an expensive hobby for me, but you only live once, right? If you're ready for some off-roading fun that won't break the bank like a real Bronco would, you can purchase the Traxxas 2021 Ford Bronco TRX-4 for $549.95 later this month.
What do you think of the Traxxas 2021 Ford Bronco TRX-4?