Three New Offerings From Gatorade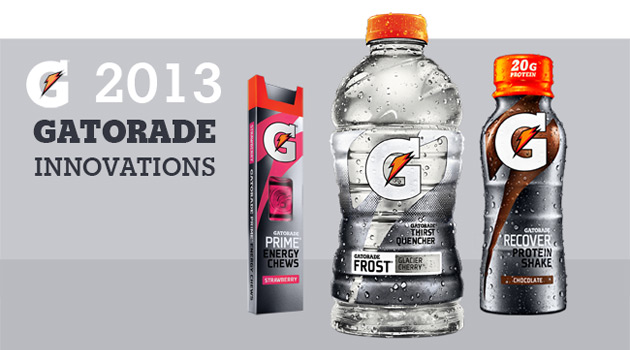 To better meet athletes' needs, Gatorade and the Gatorade Sports Science Institute have created a line of products supported by the latest research and developed in collaboration with the world's greatest athletes. Gatorade products provide fuel, fluid and nutrients before, during and after training and competition.
Launching this spring are three new innovations, which were developed to help fuel athletes during different phases of physical activity.
These latest product introductions include:
Strawberry Gatorade Prime Energy Chews: Gatorade Prime Energy Chews are formulated with a blend of carbohydrates and B vitamins to give athletes energy specifically designed for them to be ready to start strong. They come in a convenient form that provides carbs to fuel athletic activity.
Glacier Cherry Gatorade Frost: Re-introducing Gatorade Frost, featuring a light crisp flavor and packed with the same hydration benefits that you've come to expect from Gatorade Thirst Quencher. In the heat of training or competition, athletes turn to Gatorade Thirst Quencher to help rehydrate, refuel and replace what is lost through sweat.
11 oz. Gatorade Recover Protein Shake: A new, lighter and sleeker designed Gatorade Recover bottle improves functionality and better meets athletes' needs. The new bottle has an easy-to-grab shape with a twist-off cap, making it easier to deliver the protein needed to help rebuild muscle and come back strong.
The folks at Gatorade were kind enough to send over some product for us to sample, and we can honestly say that they're an absolute must for all you athletes out there!
Available in a variety of sizes and flavors, you're sure to find one that's just right for you.