Traveler Beer Company Launches Time Traveler: A Taste of the Future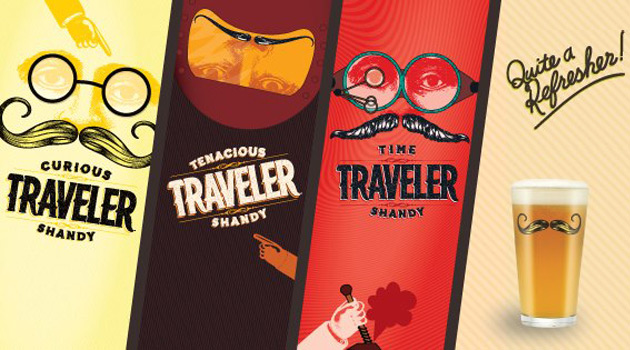 The Shandy is, by nature, an experimentation. Whoever thought to mix flavors into their beer so many years ago was a futurist, a risk-taker, and a forward thinker! With that spirit in mind, Traveler Beer Company is not complacent or simply satisfied with yesterday's innovation – it asks, what's next?
Indeed, what's next is Time Traveler, Traveler Beer Company's newest mind-bending take on the classic Shandy. A vibrant wheat beer, brewed with real strawberry (you read that right, strawberry), for a refreshing, flavorful drinking experience. Pick up a Time Traveler today and get "a taste of the future!"
"We are adventurous types," said Alan Newman, founder of Traveler Beer Company. "We take quality craft beer very seriously. But we are not afraid to have fun, too. It's our mission to introduce drinkers to a craft beer Shandy that is deliciously refreshing, sessionable, and true to the spirit of the American craft beer movement."
Traveler Beer Company has now released three year-round Shandys – All inspired by European tradition, but brewed with an American spirit of innovation. Newman, a veteran of the U.S. craft beer movement, created this series of refreshing, playful and decidedly American Shandys in an effort to continue expanding the American appreciation for craft beer.
Time Traveler is joined by the flagship, Curious Traveler, a vibrant American wheat ale brewed with fresh lemon and lime, giving it a distinctively fresh flavor. The third offering, Tenacious Traveler, is an American wheat beer brewed with real ginger and clover honey.
Unlike Europeans, American beer drinkers were led to believe that a Shandy is a seasonal beer by early marketing efforts of mass beer makers. However, Traveler Beer Company's Shandys are brewed with year round refreshment in mind.
If you're part of the craft beer movement, you should definitely check out Traveler Beer Company's Shandys, and let us know which one is your favorite.
** But wait, there's more!
Just in time for fun summer travel plans, Traveler Beer Company is launching a sweepstakes called "A Ticket to Ride" on their website and Facebook page.
The Grand Prize includes 2 round-trip airline tickets to Europe (travel voucher for $1,000 per airline ticket), 2 Eurail passes, 2 Curious Traveler backpacks, and $500 traveling cash. Want to get in on it? Then get going, the sweepstakes runs through May 31st.