Time To Decorate – Furnishing The House Stylishly With Clocks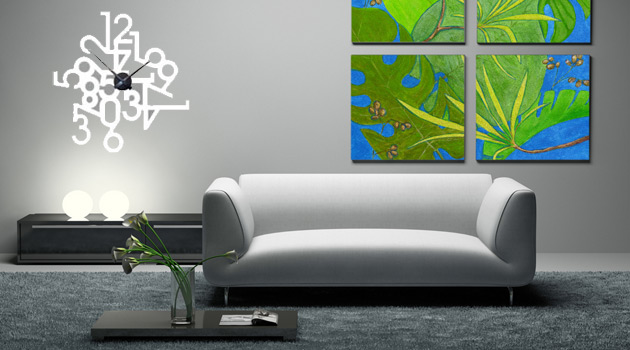 For timeless accessories to complete your decor in a room, you could do a lot worse than add in a beautiful timepiece. Whatever style you choose to tell the time, a statement clock can completely change the face of a room.
Decorating with clocks is not something many people think of, so with some careful thought, your new-look room can be the envy of your friends and family. Don't be afraid to make a bold statement!
An in-your-face clock makes a great focal point to rival any fireplace. Go big, and if you're brave enough, pick one that has a style which contradicts the rest of your decor to really spice up a scheme. That means if you have a pretty, traditional, country cottage style room, opt for a large digital style that is completely at odds for maximum impact.
Many of us these days have friends or family living abroad and a set of matching timepieces in your living space is a stylish reminder of them. Set the time on the first clock for your local time, and label it with your home town's name. Set the following ones with local times at your loved ones' locales and label them accordingly. This is a particularly good trick if you have children with relatives abroad; you can look at the different times and speculate about what 'Auntie Jo' might be doing now. You'll also know roughly if it's a good time to call (rather than rouse them at 4 am in the morning!).
You might decide that you want them to be functional as well as beautiful, and start setting alarms on a collection of timepieces. One thing's for sure: placing several around the room means you'll never be late again! Of course, they needn't match, and scouring old antique shops and jumble sales for numbers to add to your collection can be terrific fun. You'll end up with a totally unique feature where each clock tells a story or reminds you of a particular time in your life.
Don't forget that you might need to hang some of these clocks, which should be relatively straightforward as most will come fitted with a keyhole or hook. Use painter's tape to make sure you hang it/them in line with others or with paintings etc. After all your hard work choosing, matching, comparing and contrasting, you're not just gonna leave the clock in a drawer now, are you?