Toyota Gets Us "Charged Up" About Their Advanced Powertrains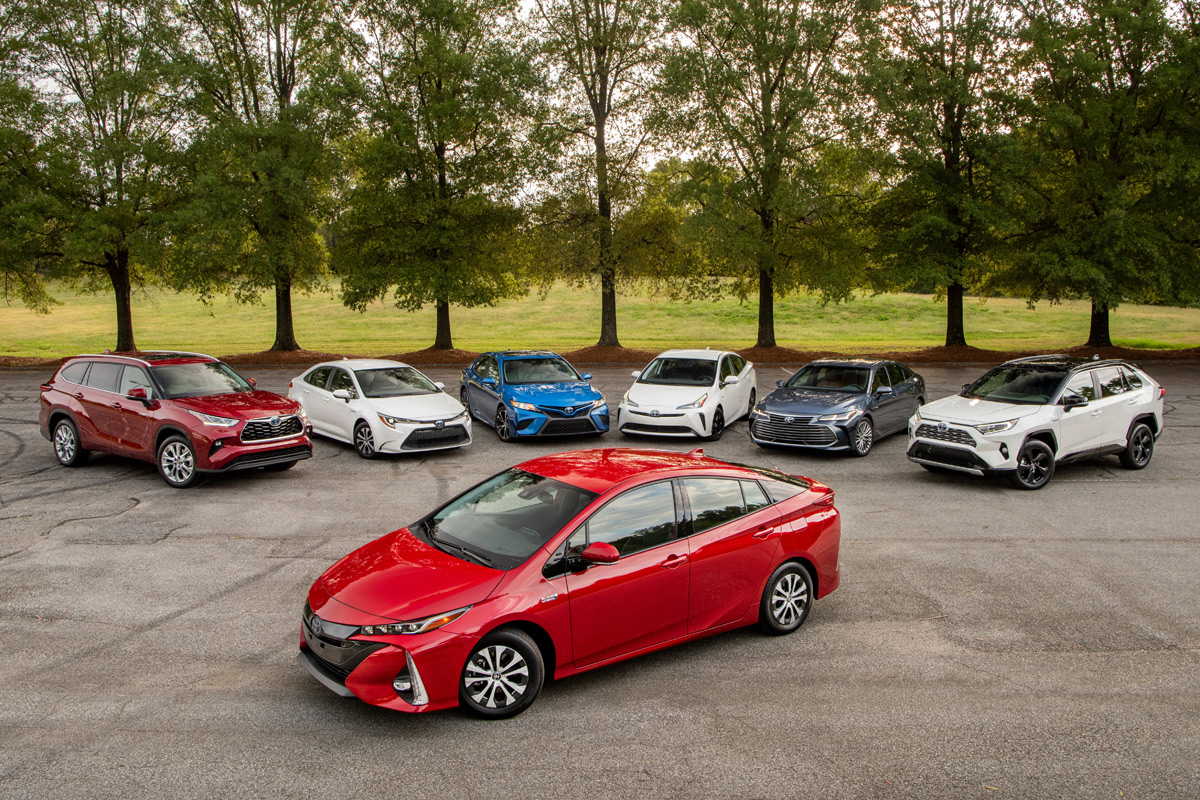 Last week, Toyota brought us down to Greensboro, North Carolina for their e-volution media drive, a unique event that showcased the evolution of Toyota's advanced powertrains, from where they've been, to where they are today, and to what the future holds.
More than 20 years ago, Toyota launched their first hybrid vehicle with the iconic Prius, which really paved the way for consumer acceptance of environmentally friendly vehicles in the US. Driving a Prius became almost a badge of honor, showing people that you were all about the environment and "being green".
Since then, more than 4 million Prius vehicles have been sold worldwide. But since the Prius doesn't fit every person's lifestyle, Toyota (and Lexus) introduced a number of other hybrid vehicles over the years, with over 14.3 million total Toyota hybrid vehicles sold worldwide, making them far and away the global hybrid vehicle.
While initial hybrids left a lot to be desired (the first Prius had a 0-60 time of around 13s), over the years the technology got more advanced. Today, many of Toyota's hybrid vehicles actually offer better performance than their gas-engine counterparts, along with better fuel economy. It makes you wonder why more people don't opt for the hybrid variants.
Today's headlines tend to focus on all-electric vehicles, like Tesla's and the other EVs looking to break into that market. But Toyota is staying relatively true to its roots (for now), focused on hybrids, with the exception of the all-electric Prius Prime, and the hydrogen-powered Mirai, the latter two being very niche vehicles for specific markets.
So why not focus on EVs like everyone else? Toyota doesn't believe the battery technology is there just yet, so they're waiting on the sidelines for the next iteration of battery technology. In the meantime, they're full-steam ahead on hybrids, and their 2020 lineup includes six hybrid models: Prius, Corolla, Camry, Avalon, RAV4, and Highlander.
We spent the day driving all 6 of these hybrids, along with the plug-in hybrid Prius Prime and the hydrogen-powered Mirai (which is only sold in California). And while I've driven a few of these cars before during (like the Prius, which I drove 650 miles in one week and still had 50 miles of range left when I returned it!), it'd be good to get some more time behind the wheel.
In all honestly, these cars all drove just like "regular cars", with nothing that would give away the fact that you're driving a hybrid, except for the exceptional fuel economy. And that's what's great about today's hybrids, the fact that there's no real downside. Don't want to look like a hippie driving around in a Prius? The 2020 Corolla Hybrid gets 53 city / 52 highway and looks great! Got a bunch of kids and want an SUV, but don't want to get soaked at the pump? The 2020 Highlander Hybrid gets an impressive 36 city / 35 highway.
One of the things that surprised me was just how nice the Prius Prime was, as it got some big updates for 2020 to compete with the other PHEVs out there, including a new 5th seat, an updated interior, Apple CarPlay and Alexa connectivity, and a slew of safety features.
But the surprise star of the day was the 2019 Toyota Mirai, which was downright fun to drive. The only other hydrogen car I've driven was a little lackluster in the performance department, so this was a nice surprise. And the fact that the only emissions coming out of the tailpipe is water is pretty wild. That said, there's an all new 2021 Mirai coming out soon, which was unveiled during our trip, and it's quite the departure from the car we just drove.
It's substantially bigger, moves to rear-wheel drive, has a 30% increase in range, and it looks amazing! Again, this car will only be sold in California for now, but as more hydrogen stations get built out, the car will be offered in other areas as well. I'll admit, I'm still a little perplexed about Toyota's focus on hydrogen given the lack of infrastructure right now, but if they're able to get past that, they seem well positioned in this space, as the tech seems to be solid.
All in all, it looks like Toyota has a firm grasp on the future, and it's clear that they're steering towards electrification. By 2025, Toyota expects its combined global annual sales of electrified vehicles to exceed 5.5 million, and in the US they're projecting 25% of their sales to come from hybrid vehicles. Based on the vehicles that we drove, and how seamless it is for consumers (no complicated charging, just drive it like a normal car), we think this is a very attainable goal.
Haven't driven a hybrid before? I highly recommend visiting a Toyota dealership and taking one for a test drive. You'll be sure to walk away with a newfound respect for them.