Travis Pastrana Makes History By Landing Three Of Evel Knievel's Most Iconic Jumps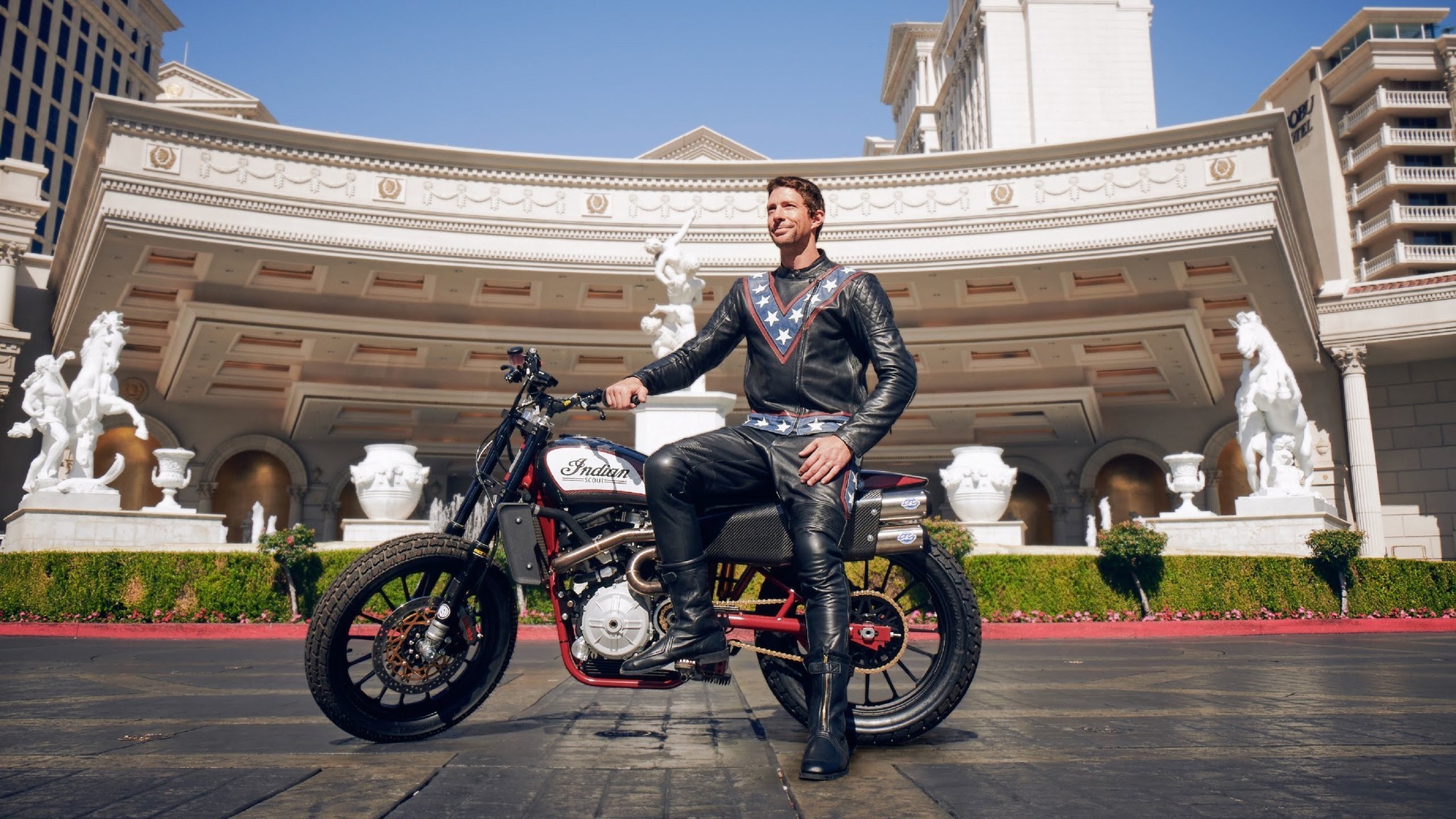 Last night, professional motorsports icon and Nitro Circus ring leader Travis Pastrana honored legendary daredevil Evel Knievel by attempting three of his most dangerous feats in Las Vegas, with millions of viewers tuning in to watch it play out LIVE on HISTORY's Evel Live.
Now if you are a Nitro Circus fan, you know that Pastrana is no stranger to danger, pulling off some pretty incredible stunts (like jumping out of a plane without a parachute), but he's also had some pretty gnarly mishaps along the way.
So how did he fare last night? Keep reading to find out.
In the first stunt of the night, Travis set out to break Evel's record by jumping over 52 crushed cars (Knievel only jumped over 50 cars when he did the stunt at the L.A. Coliseum in 1973). Of the three jumps, this was the shortest, and he cleared the cars with ease. Still, had the weather played a part (it was 111° F outside), or if if the Indian Scout FTR750 V-twin motorcycle wasn't up to the task, it could have been ugly, as the last thing you want to land on is a crushed car.
You can watch the jump here:

After that, Travis set out to break Evel's record by jumping over 16 Greyhound buses (Knievel only jumped over 14 buses when he pulled off this iconic stunt at King's Island in Ohio back in 1975). Mind you, he's still amped up from that first jump, and he's been roasting in that crazy leather get-up of his for nearly 2 hours now. Would this play a part in the stunt?
Nope! Once again, Travis soared over those buses like it was nothing, and looking at the video below, you can see that he had plenty of room to spare. Pretty incredible stuff.
The final stunt of the night had Pastrana attempting to complete the famous Caesars Palace fountain jump that 50 years ago left Knievel grasping for his life (where he suffered a crushed pelvis and femur, fractures to his hip, wrist, and both ankles, and a concussion that kept him in the hospital), on a v-twin motorcycle similar to what Evel used.
This one was quite the nail biter, with a super short approach ramp and no room for error. And once again, Travis made it look easy, flying over the fountains with ease and landing safely on the other side. I'm pretty sure I held my breath the entire time!
Kudos to Travis Pastrana for pulling off all three of these insane jumps, and further cementing himself as an action sports legend. I like to think that Evel was watching from above, and giving Travis a big thumbs-up for doing him proud!
Photo Credit: Chris Tedesco/A+E Networks