Virtual Reality Is Coming To A Retailer Near You
Not just a gimmick or a novelty anymore, virtual reality technology has finally made it to the point of viability in a variety of uses. What was once "future-tech" is now ready to benefit everything from sports, video games, virtual tourism, real estate, online retail. […]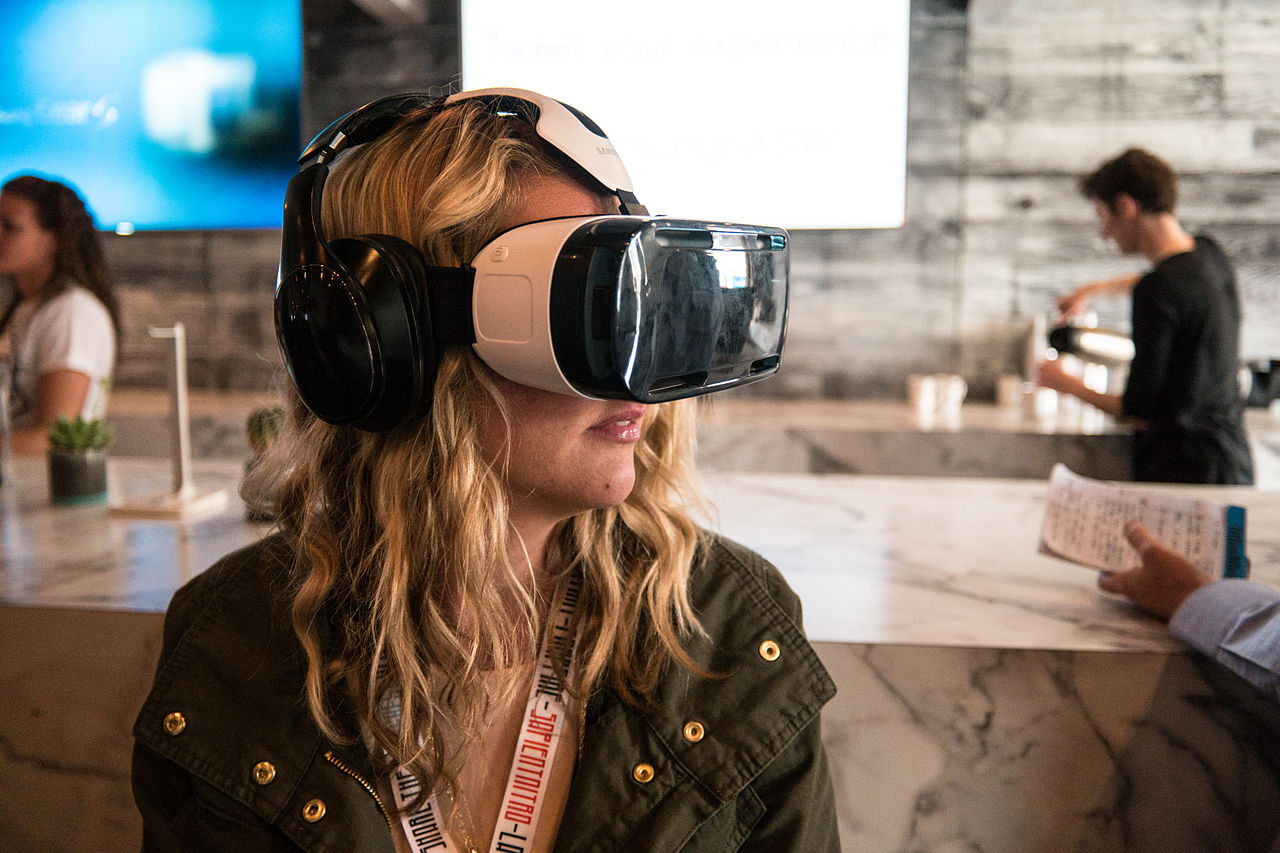 A woman using a VR headset at SXSW, 2015 by Nan Palmero (CC BY 2.0)
Not just a gimmick or a novelty anymore, virtual reality technology has finally made it to the point of viability in a variety of uses.  What was once "future-tech" is now ready to benefit everything from sports, video games, virtual tourism, real estate, pornography and online retail.
VR Becoming More Widespread
Virtual reality has seen rapid growth and adoption that shows no signs of slowing down anytime soon. We're seeing additional uses for the technology being developed to help push VR further into the mainstream. The NFL network is using VR technology to give the fans an in-depth football experience, by putting them on the sideline or on the field for some of the biggest games, offering a firsthand view into the sport. Even players and coaches are getting in on the act, with VR being used in training sessions and tactical planning.
Video gaming in VR is mostly self explanatory, with an abundance of games available for popular headsets such as Oculus Rift, HTC Vive, DaydreamVR, Samsung Gear and more.  Everything from sports, racing, 3D shooters and adventures are available and pushing the VR market further upwards.
Virtual tourism is using the technology to sell vacations by giving consumers a virtual taste of a resort they may stay at or a cruise they may be interested in booking. Realtors are selling houses with virtual tours of properties and many home buyers are now asking for this technology to help narrow down their search.
Dating has also dabbled with virtual reality through apps like ConVRge, Vrchat, ALTspaceVR or the more risqué and adult 3DXChat. Users can meet, mingle and connect with each other in virtual, and hopefully inrealtiy sometime soon.
Of course, the pornography industry has also embraced the VR experience whole heartedly, creating some of the most erotic and immersive porn ever made. With tons of VR porn studios such as BaDoinkVR and tube sites like VRSmash available online, it's begun a sort of virtual revolution in the market. Alongside VR porn, teledildonics, or digital sex toys are becoming a huge deal in the industry too, but that's another topic for another day.
In terms of current market share, video games, the NFL and VR porn dominate, but that landscape will be changed drastically by VR adoption in the retail industry.
Virtual Reality & Retail
It's great for virtual reality that so many industries have adopted the technology but none will prove to be as important or widespread as the consumer retail market.  That doesn't mean selling virtual reality headsets or peripherals, it means retailers themselves adopting VR to help sell their products. VR headsets and other wearable tech such as the Apple iWatch or Google Glass are going to have a major impact on the future of retail.  Adoption by the retail industry will all but cement virtual reality technologies place for the future.
As much of retail business is now done through online channels, it's becoming more important to increase the quality of the online shopping experience. Online shopping is predominantly done through a personal computer, a tablet or a mobile Smartphone, with use of the latter increasing dramatically in the last couple of years. Even though it's still fairly new, online retailing as we know it may not last long, as virtual reality retailing is designed to take control over online shopping.
Imagine you want to buy something (it doesn't matter what), but don't want to go to a crowded shopping mall or deal with traffic on the roads to get there. You'll be able to sit on your couch and throw on a VR viewing device that lets you get to shopping almost instantly. A virtual avatar of yourself (a realistic one) can try on clothing, sun glasses, make-up etc. and essentially eliminate the need to shop in person. The same goes for something mundane like groceries, where consumers will be able to order products based on meals they see, ingredient lists or just browse the aisles as they would in a real-life store.
Online shopping in VR could appear much like shopping at a brick and mortar location, where consumers can walk the aisles, browsing virtual shelves full of graphical representations of the actual products. Consumers can pick up, inspect and even try on these products before making a purchase. Gigantic virtual spaces could be filled with endless wares for consumers to browse. Programming can be used to narrow down selections or incorporate digital salespersons or assistants. Once inside the machine, the possibilities are endless.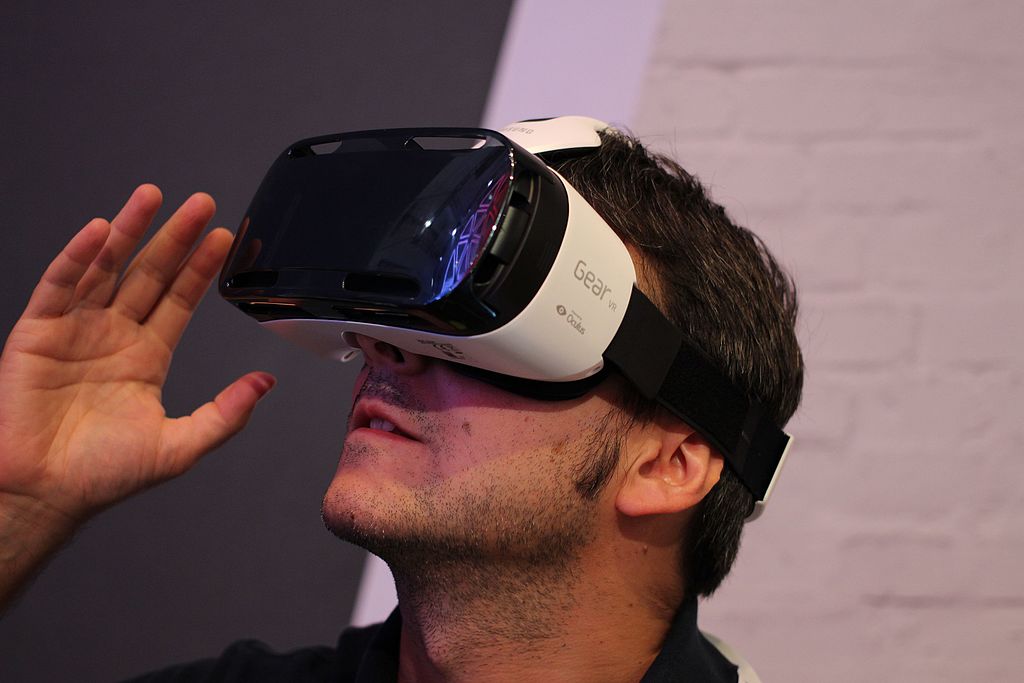 Samsung Gear VR by Maurizio Pesce (CC BY 2.0)
Will It Be Beneficial?
This type of virtual shopping experience has advantages for both consumers and retailers, which makes it more suitable than shopping on mobile. For consumers, the convenience factor is the largest but don't forget that shopping is supposed to be fun.  The fun factor is something that's lost when shipping through mobile or desktop but can be rejuvenated in virtual.  What consumers would call "fun", retailers see as extra sales through the concept of the "impulse buy".
As consumers browse a physical store, they come into contact with many other items that they would not see shopping in a traditional online or mobile setting. A virtual store that mimics the real thing can bring back the impulse buy for retailers and the fun for consumers, minus most of the hassles. Selection will expand and stock levels will be easier to manage inside a virtual marketplace versus a brick and mortar store. Both sides will also benefit from reduced prices as retailer's costs decrease and product availability skyrockets.
Another massive benefit for both consumers and retailers is the ability to shop around the clock and from any location. Time has been an issue in shopping forever, but VR can put an end to rushing to make the store before it closes and more.
Integration Of Wearable Tech
Wearable tech would offer a very different experience to that of the VR headset.  Where a VR device offers an expansive experience, wearable tech such as a smartwatch or even smartphone would offer a condensed one. Perhaps wearable tech is best suited to augment, rather than to be the predominant shopping tool. An example would be to monitor status of an order, an online auction or shipping progress etc. It will be up to the individual retailer to figure out which technology is best suited to them and adjust accordingly.
It will be interesting to see which direction and what level of adoption virtual retail achieves, but it seems like VR has been tailor made for shopping and retail. Virtual reality can offer a convenience to the industry that has never been seen before and will benefit everyone involved.
Technology has been promising a retail revolution for some time, and it seemed like mobile online shopping was taking over. Virtual reality may be stopping mobile shopping in it's tracks as it offers much the same convenience with whole lot more.  The convenient and immersive shopping experience is on the way and it's going to cause a shopping revolution.