What's Better Than Bacon? Bacon Jerky!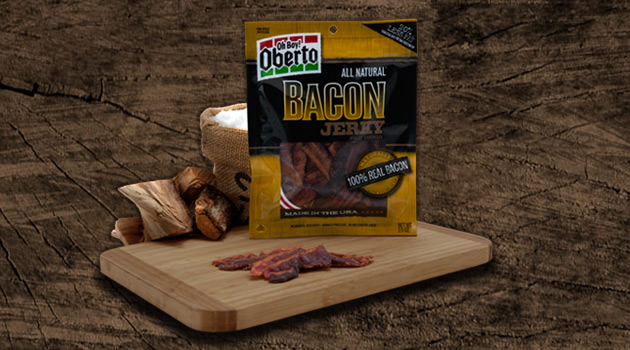 Meet the new snack on the block that's ready to shake up the bacon world and satisfy cravings anytime, anywhere.. Oh Boy! Oberto All Natural Bacon Jerky
Who needs a frying pan? Bacon Jerky is already seasoned, smoked, and cooked to perfection and ready to hit the trail, the gym, the plane, the road, the office, or wherever the day leads. Enjoy bold smoky flavor and real bacon goodness on the go.
As the name implies, it's 100% all natural, made only from lean, large strips of bacon, water, sea salt, and sugar, with no added preservatives or artificial ingredients. Plus, it's got 20% less fat than it's greasy cousin, that pan-handling fried bacon.
Lemme tell you, this stuff is SOOO addicting.. I wolfed down an entire bag while watching TV last night! 🙂
Want to try Oh Boy! Oberto All Natural Bacon Jerky for yourself? It's available in grocery and convenience stores all across the US. A 2.5oz bag retails for $5.99, and it's worth every penny!
But wait, there's more!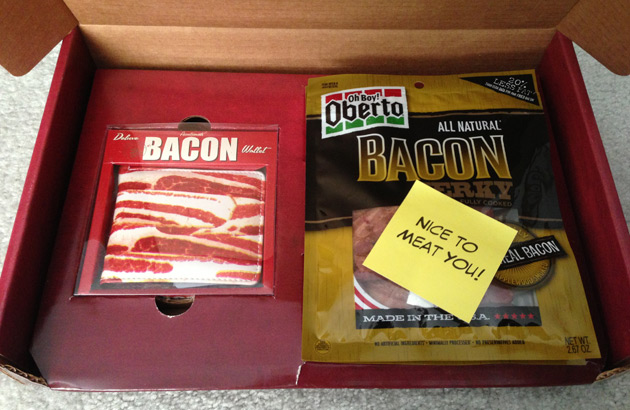 The folks at Oberto have hooked us up with some sweet prize packs to give away. Each prize pack (shown above) contains two bags of All Natural Bacon Jerky, along with a deluxe bacon wallet!
To enter, simply e-mail us and put "This prize pack is bacon me crazy, pick me!" in the body of your e-mail. We'll pick four winners at random on April 15th.
Good luck!