Ford Introduces First Bacon-Wrapped Car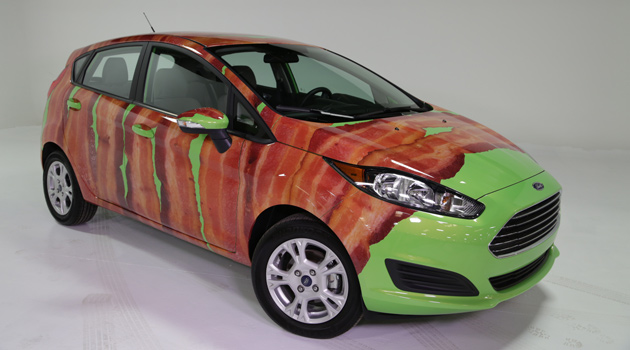 Every now and then, I'll get a media pitch that'll make me stop in my tracks. Such was the reaction yesterday, when I was asked if I wanted to participate in a food tour of some of the hottest and meatiest bacon spots in New York City. But it gets better. We'd be taking the tour in the world's FIRST ever bacon-wrapped car!
Now for some reason when I read this, I envisioned a car with actual bacon stuck to it, not a vinyl wrapped car like you see above. But in retrospect, the vinyl wrap makes more sense..
So what's the deal here? Ford decided to give "breakfast to go" a whole new meaning by wrapping a 2014 Ford Fiesta in bacon to mark International Bacon Day, which falls on August 31st.
Crazier still is that this isn't just some goofy PR stunt, Ford is actually offering custom bacon graphics that pork purists can have installed on their new Fiesta. If Ron Swanson drove a 2014 Ford Fiesta, he'd totally rock the bacon wrap!
There are three different bacon wraps to choose from. The pièce de résistance is the full Bacon Wrap (as shown above), which has 10 giant strips of delicious bacon rolled around the entire Fiesta for a carb-free ride. If that's too much bacon for you, you can go with Bacon Racing Strips, which has two pieces of bacon that go on the car's hood and resemble classic dual racing stripes. Or you can go with a Side of Bacon, which has two individual strips of bacon that wrap over rear wheel.
"It's no secret that bacon inspires a lot of passion, and that's what the Fiesta celebrates," said Liz Elser, Ford Fiesta marketing manager. "Our customers have a hunger for self-expression. Plus, it's just awesome to drive down the road in a piece of bacon."
The bacon graphics are just a few custom exterior vinyl graphics Fiesta buyers can have installed on their ride to express their personalities. The wraps are produced by Ford Custom Graphics, along with 3M Original Wraps, and are available at www.fordcustomgraphics.com.
Now if you'll excuse me, I'm suddenly hungry for some bacon.