2014 Ford Fiesta ST Wrapped In Chrome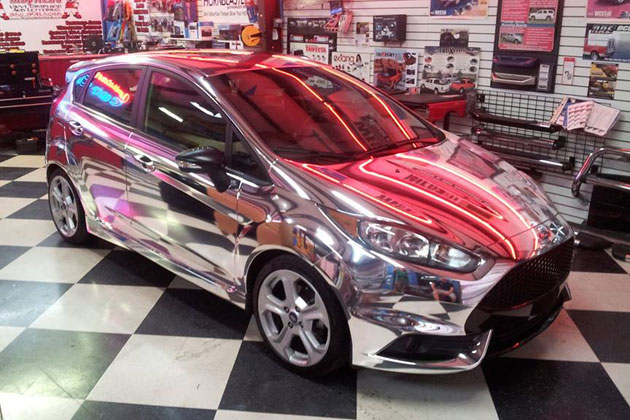 Our friend Michael Berenis is part of the Fiesta Movement, and he's been driving around in a Green Envy 2014 Ford Fiesta ST as an agent in the program. Determined to make his Fiesta even more unique, he came up with a really unique chrome wrap for the ST.
Inspired by the countless exotic chrome and gold wrapped vehicles spotted around the world, Mike decided to take advantage of the Aston Martin inspired front end designed by J Mays and bring to life the true inner exotic of the most highly anticipated Euro hatch to hit the North American shores. The transformation took place that shifted the 2014 Ford Fiesta ST from sport to exotic!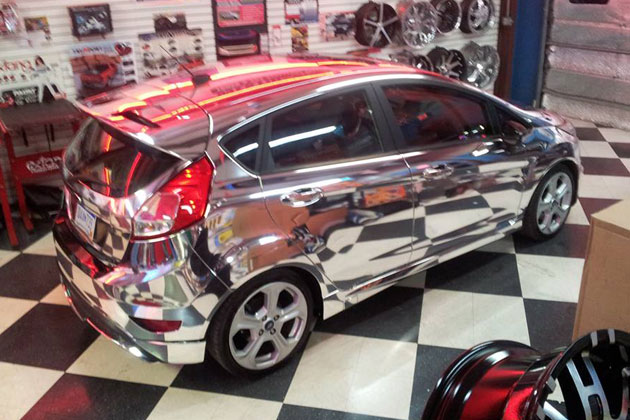 As you can see, the Fiesta ST is completely vinyl wrapped in chrome with black accents for shadowing. It was created by Michael Berenis, William Champlin, and Matty "Mophead" Barkey of Designs by Mophead in Spring Hill, FL, and the project took about three weeks to complete, and involved dis-assembly of nearly the entire vehicle. Contrary to speculative beliefs about the law, it turns out the this is actually legal in Florida, despite other states having strict regulations against high levels of reflectivity.
"When I first saw the car, I was amazed at how beautiful it turned out. The work by Designs by Mophead was amazing, and nearly flawless in every way. His custom design with black shadowing really brings out the lines the designer originally intended. The front end is spectacular, and reminds me of a high dollar exotic; that's without the chrome and custom work," said Michael Berenis.
This Fiesta ST will be getting LOTS of attention thanks to this eye catching wrap. Check out the video below for a look at Michael Berenis' 2014 Ford Fiesta ST all wrapped in chrome:
What do you think of the Chrome Fiesta ST? Tell us what you think in the comments below!