2014 Jeep Cherokee Trailhawk – Get There, Do That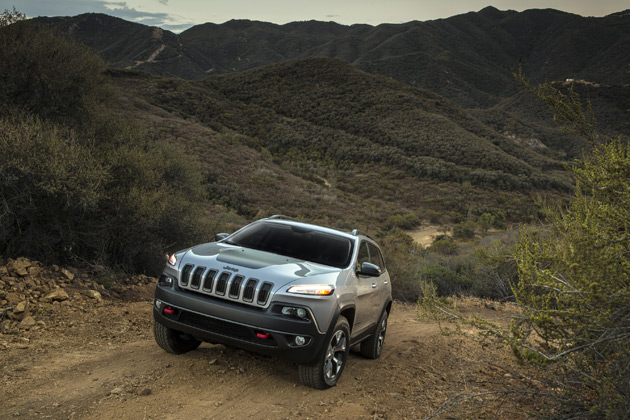 Jeep recently offered me a week-long press loan for a 2014 Jeep Cherokee Trailhawk. Who was I to say no? Visions of bouncing through the wilderness and hitting great fishing holes while laughing with my kids as we traversed the landscape were dancing in my head. Of course, reality wasn't so dreamy. Mostly because my kids are 3 and 4 years old and it doesn't take long for things to degrade into finding the nearest ice cream vendor and looking for a potty are the order of the moment.
Luckily, the 2014 Jeep Cherokee Trailhawk, while being perfectly capable of doing what I dreamed it would do, is also just as able to get to a public restroom and find a drive-thru with soft serve.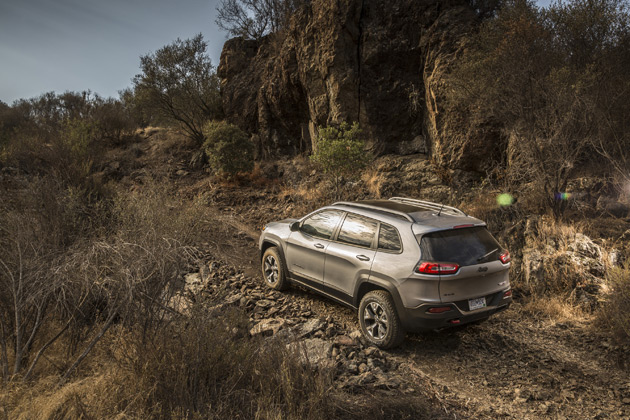 The new generation of the Cherokee is very nice to look at. When you take your toddlers to the swimming pool and proceed to show off your complete lack of a tan, but a teenage lifeguard you totally wish you knew when you were 17 approaches you anyway to ask what kind of car that is.. ya, definitely a looker. The Jeep. I totally meant the Jeep.
The 2014 Jeep Cherokee comes with either of two engine options. One is a four-cylinder 2.4-liter Tigershark engine that delivers 31 mpg on the highway. The other is a six-cylinder 3.2-liter V6 with 30 percent more fuel efficiency than the previous V6 had. My test model had the V6 mated to the new nine-speed transmission. The basic difference between the two engines is a little more capability and towing out of the V6 versus the four. Of course, our Cherokee was the Trailhawk edition, which adds a lot of offroad goodness as well.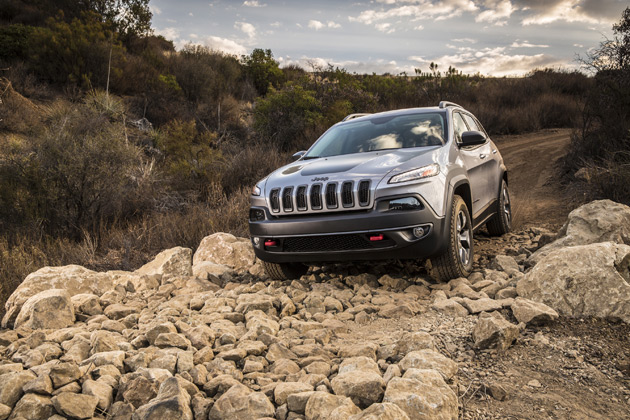 For 2014, the Cherokee Trailhawk is a new addition. It comes standard with Active Drive Lock with low range and locking rear differential control, a 56:1 or 47.8:1 crawl ratio setting (i4 or V6 respectively), hill descent controls with Selec-Speed, and kevlar-lined puncture-resistant tires. In a week with the 2014 Cherokee Trailhawk, I drove it onto the lake's beach, over rough Wyoming terrain where only seasoned 4x4s tread, and through the drive-thru at Dairy Queen. It got there without complaint on all counts.
Whether driving in town or off the beaten path, a few things about the 2014 Jeep Cherokee Trailhawk strike you with big impressions. The turning radius is outstanding for such a high-up, big-tire wielding machine. This makes the Cherokee a lot more maneuverable than expected. The other is the transmission and it's extremely smooth delivery of gearing changes. Unless you're really pushing the Cherokee to hurry, the nine-speed is completely unobtrusive as it does its job.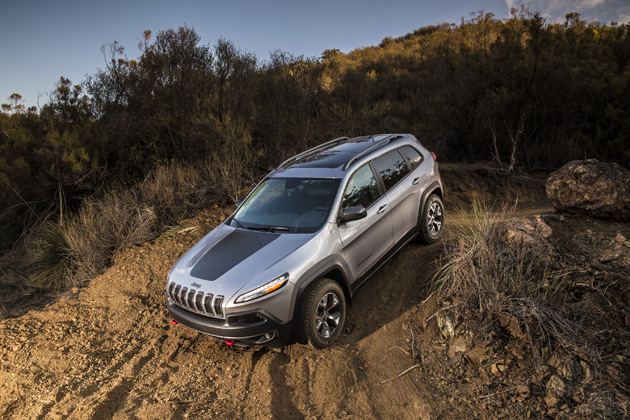 Finally, for parents and those who like to flex their vehicle's cargo-hauling capabilities, the extremely well-considered interior is on par with the best of the minivans and people movers on the market. All but the driver's seat can fold flat to allow you to carry anything from lumber to camping gear to Costco-sized toilet paper and baby wipe packs. Or all of the above at once, if you really want. I live in Wyoming. We tend to multi-task. The kids and I even attempted to give a young steer a ride at one point, but he wasn't very cooperative and cattle rustling is a hanging offense, so we didn't push it.
On the road without all of that stuff in it, the Cherokee Trailhawk is a nice ride with enough presence to keep you interested, but not so much as to become a nuisance. It rides well, has good acceleration, and always feels sure-footed.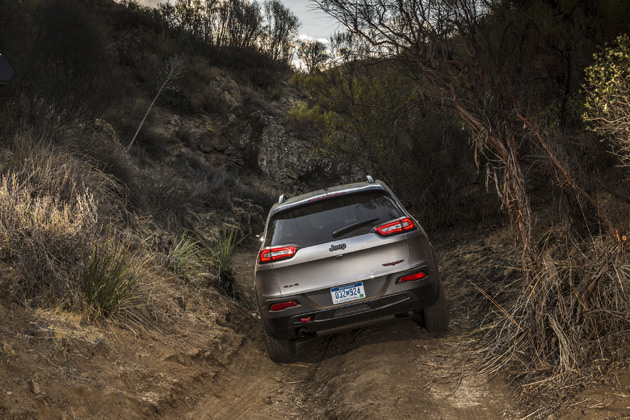 All in all, the 2014 Jeep Cherokee is a very well-done sport utility and definitely deserving of the Jeep name while the Trailhawk edition adds that extra "Jeep-ness" many of us might want. It'll definitely get you there so you can do that.