Mötley Crüe To Perform At Dodge Rocks Gas Monkey Event In Dallas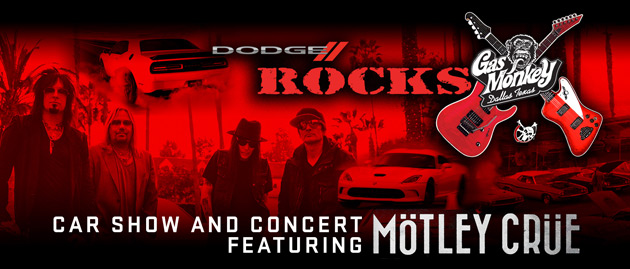 Dodge, Gas Monkey Garage owner Richard Rawlings and Mötley Crüe are inviting all Charger, Challenger and Viper owners to the ultimate party and owners' experience, the Dodge Rocks Gas Monkey car show and concert.
The November 1st event at Gas Monkey Live, a new state-of-the-art second Gas Monkey music venue in Dallas, culminates in an exclusive performance by the iconic rock band Mötley Crüe, mid-way through their All Bad Things Must End "Final Tour" of large arenas across North America.
Owners of any classic or newer model Dodge Charger, Challenger and Viper are invited to register at www.dodgerocksgasmonkey.com to show off their vehicles at this one-and-only car show and concert. The event is free, as the $100 vehicle deposit due at registration will be refunded on site. The car show package includes up to two general admission passes to the event and concert at what most likely is the most intimate venue Mötley Crüe has played in decades.
"Motley Crue, Richard Rawlings, Gas Monkey Live and Dodge muscle cars are all awesome by themselves," said Tim Kuniskis, President and CEO, Dodge and SRT Brands and Head of Fleet Operations, Chrysler Group LLC. "Put all four together with a full day celebration of Dodge's 100th anniversary and you've got an event that will not only make the Dodge brothers proud, but also will be something that Dodge enthusiasts talk about for years. 'Dodge Rocks Gas Monkey' is a not-to-miss opportunity to help kick start Dodge's next 100 years."
At the car show, Dodge will show the new 2015 Dodge Charger SRT Hellcat – the fastest, most powerful sedan in the world, with an NHRA-certified quarter-mile elapsed time of 11.0 seconds – and the 2015 Dodge Challenger SRT Hellcat, the fastest and most powerful muscle car ever. Both cars have a 707-horsepower, 6.2-liter supercharged HEMI V-8 engine. Additional Dodge and SRT vehicles, such as the 2015 Challenger Scat Pack, Charger R/T, Dart GT, Durango R/T and Viper GTS, also will be on display.

'Dodge Rocks Gas Monkey' Details
Gates open for the Dodge Rocks Gas Monkey car show and concert at 3pm Saturday, November 1st, at Gas Monkey Live, 10110 Technology Blvd. W., in Dallas, TX. The car show begins at 4pm and the Mötley Crüe concert, featuring Vince Neil, Nikki Sixx, Tommy Lee and Mick Mars, begins at 9pm.
Activities leading up to the Mötley Crüe concert include rides in Dodge Viper drift cars, Dodge Hellcat Thrill Rides, full-size Dodge Charger and Challenger simulators where participants can test their driving skills in a fun and safe environment, a local cover band, and airbrushed Dodge and real Hart and Huntington tattoos. Food and beverages are available for purchase.
All attendees (drivers and passengers) must be 21 years or older and show valid driver's licenses or state-issued IDs for entry. Participating vehicles must be licensed, street legal, have current auto insurance and be driven, not towed, to the show.