2022 Ram 1500 TRX: Nobody Actually Needs A 702HP Truck, But It Sure Is Fun!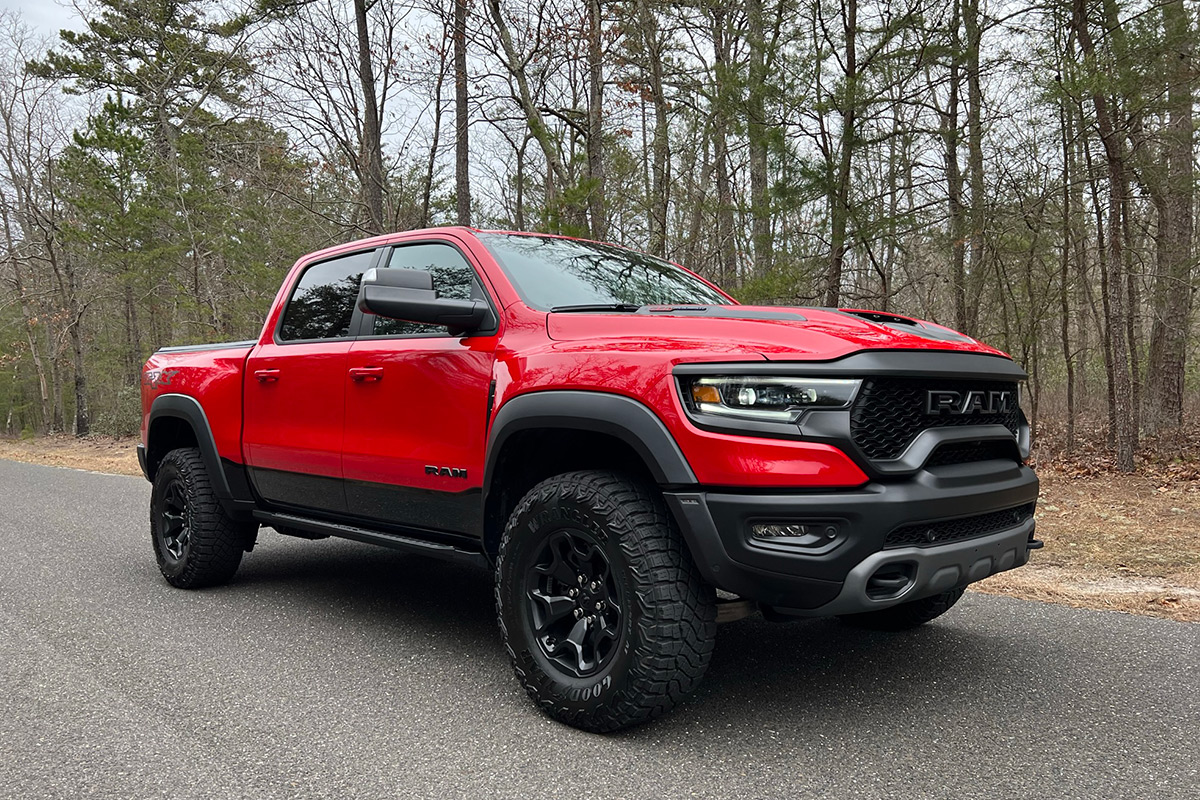 While many automakers are focused on producing more eco-friendly hybrids and EVs, the folks at Stellantis know that many customers still want a big and brutish V-8 engine that wakes up the neighbors and gives that visceral driving experience, mileage be damned. And I definitely fall into that category as well, I'm a muscle car (and truck) guy through and through!
So when Ram first announced that they were going to drop the Hellcat's 702-horsepower 6.2-liter supercharged V-8 engine into a Ram 1500, I was giddy with excitement. This sucker was going to eat the Raptor's lunch, becoming the apex predator of the truck world. Sure, nobody really needed this kind of power, especially in a truck.. But damn it sounded like a lot of fun.
And after spending a week with this flame red 2022 Ram 1500 TRX you see here, I can tell you that this is one of the most ridiculously bad-ass vehicles I have ever driven, and it turns heads EVERYWHERE you go. Yes, it sucks down copious amounts of gas, and it's an absolute bear to park due to its massive size. But it's stupid fun, its essentially a street-legal Baja truck that can go anywhere and do anything (even sweet jumps). What more could you ask for?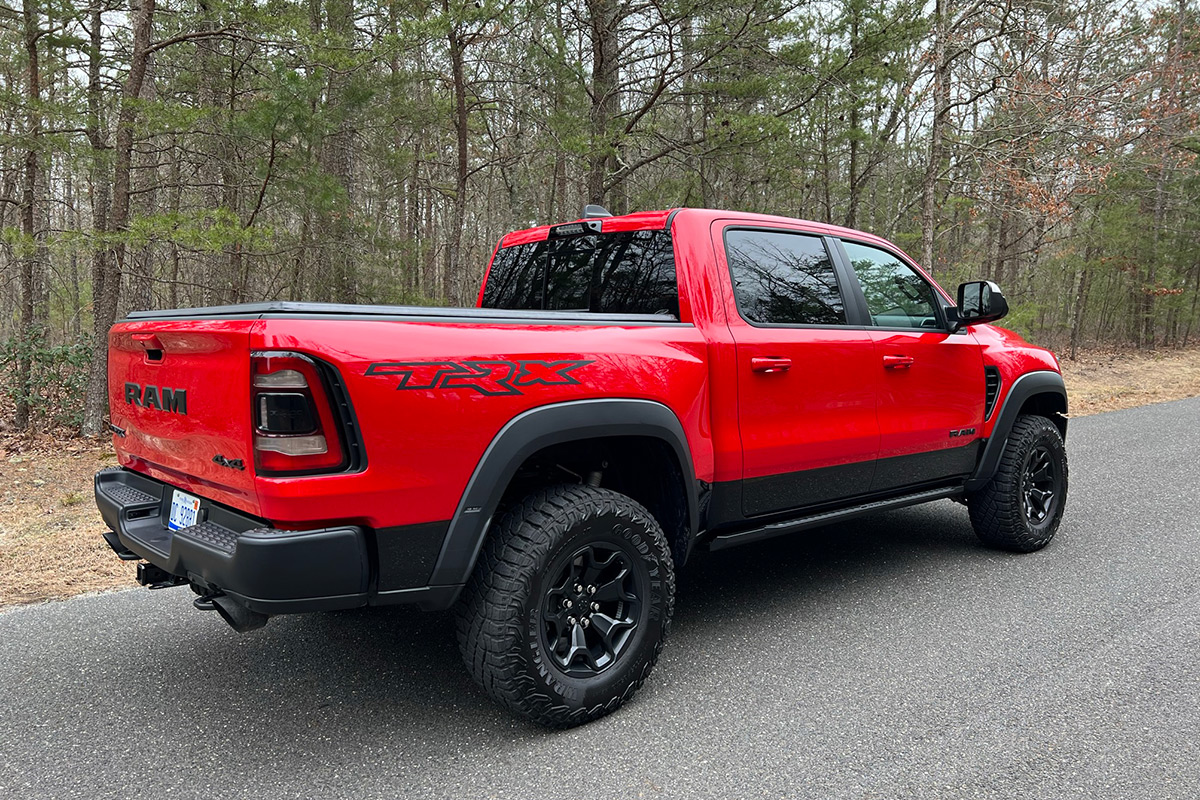 For those of you who've been living under a rock, let me give you a little backstory on the TRX. The year was 2020, gas was cheap, and the Ford Raptor was the only supertruck of its kind on the market. Somewhere along the line, someone at FCA had the bright idea to take a Hellcat motor and stuff it into a Ram 1500, much like they did already with the Dodge Durango SRT Hellcat and Jeep Grand Cherokee Trackhawk.
The formula was simple. Take a Ram 1500, drop that monster of a 6.2-liter supercharged V-8 engine into there, update the truck's frame, suspension and other components to handle this newfound power, wrap it in an impossibly wide, muscular body with an aggressive stance to stand apart from the crowd, and give it some massive 35-inch All-Terrain tires to round things out. Then, proceed to kick ass and take names. Because 'Murica!
Rated at 702 horsepower and 650 lb-ft of torque, the 6.2-liter supercharged HEMI V-8 engine rockets the Ram 1500 TRX from 0-60 in 3.7 seconds, does the quarter mile in 12.9 seconds at 108 mph, and has a top speed of 118 mph. Solid numbers for any modern sports car, but keep in mind this is a 6,781-pound pickup truck, one that can comfortably seat five and tow a boat. This truck seems to defy the laws of physics with its insane performance.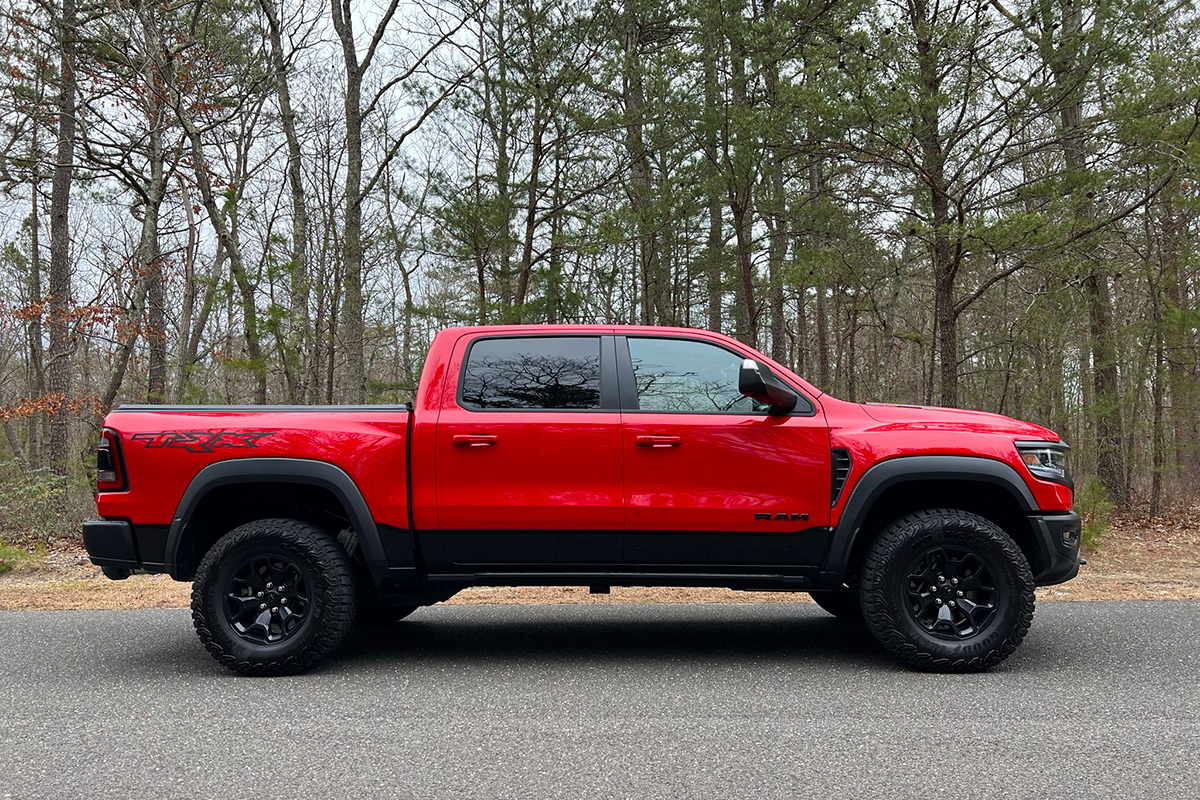 On the road, the TRX is surprisingly comfortable, rolling over bumps and broken pavement like they don't even exist and delivering a buttery smooth ride, thanks to a new independent front suspension system with active damping. I spent the majority of the week doing normal tasks, and the TRX acted like any other truck, save for it being a little harder to steer at low speeds (because of those knobby 35-inch tires) and being impossible to park in tight spots because of how wide it is (8 inches wider than a regular Ram 1500).
But give it the beans, and the TRX transforms into a rabid beast in the blink of an eye. You hear that glorious supercharger whine, followed by a surge in acceleration that pits you in the back of your seat without warning, with a throaty exhaust note that can be heard for miles. Each WOT run probably sucks down 1/3 of a gallon of gas or more, but it's just too much fun to care about the cost at the pump. After all, why buy a 702HP truck if you're not going to stretch its legs once in a while? What's more, there's even a Launch Control mode that manages tire slip while launching the vehicle to give you consistent straight-line acceleration.
Simply put, this thing is a monster, so tread carefully at first if you are not used to this kind of power. In one instance, I was on a two-lane highway and had to pass someone who was going way too slow. As soon as I saw a safe opportunity to pass, I switched lanes and floored it, and I literally felt all four wheels break traction at speed as the truck rocketed ahead. I don't know that I have ever experienced something like that before, it was totally insane.. and honestly a little scary!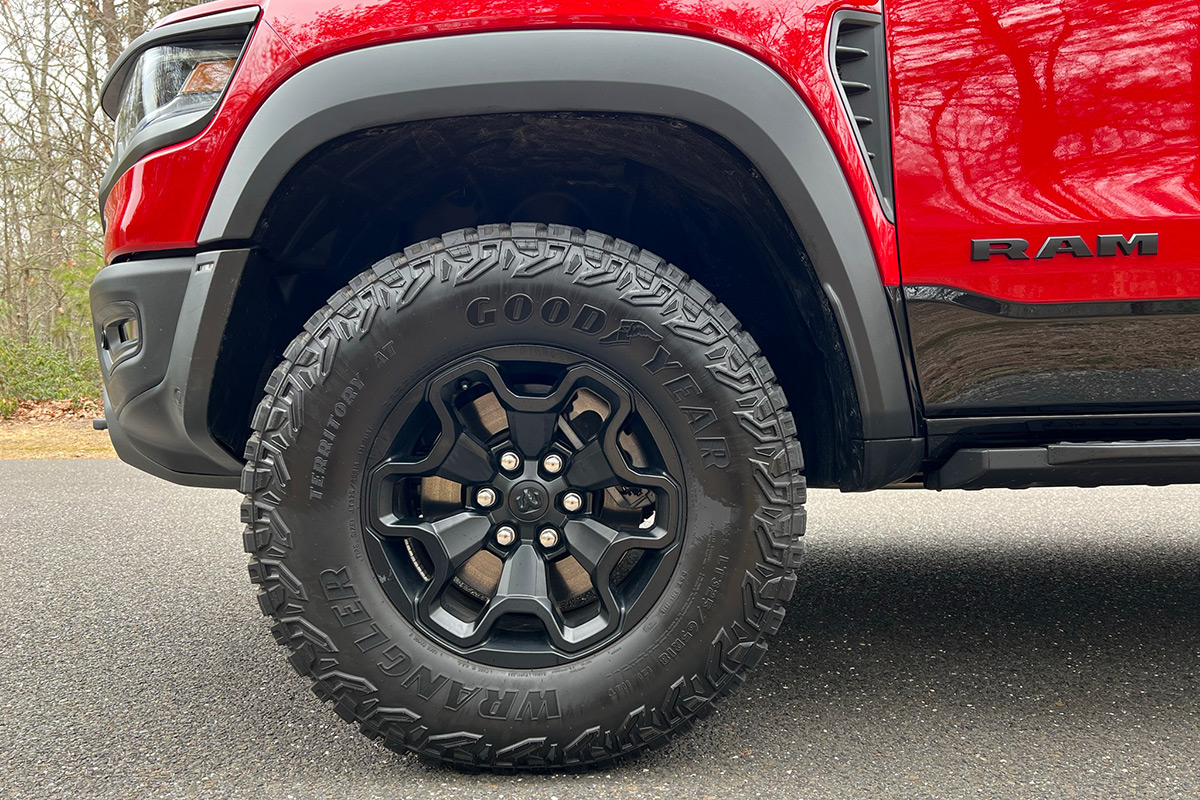 Where the Ram 1500 TRX really shines though is when you venture off the beaten path. This is a truck that was engineered to handle the most punishing conditions with extreme capability. Heck, it's even got a Baja Mode that calibrates four-wheel-drive and steering systems, stability control, paddle shifters and suspension for ultimate desert performance delivering maximum capability on undulating, loose surfaces.
Naturally, I had to get the TRX a little muddy, even if Mother Nature didn't want to agree with me. While I didn't go crazy tackling some super technical trails or getting some sweet air, I was able to have a little fun on some local trails, and the TRX made short work of whatever I threw its way, barely breaking a sweat. With 11.8 inches of ground clearance and fully adjustable Bilstein dampers, there's very little that can stand in this truck's way.
I did come down one sandy trail that ended up becoming too narrow for this wide hipped beast to pass, so I had to reverse out a good half-mile or more. Thank God for the numerous cameras this truck comes equipped with, as that was a tough one to negotiate otherwise, especially as I was off-roading solo on this particular occasion. So yeah, that's something to be aware of that you might not otherwise consider.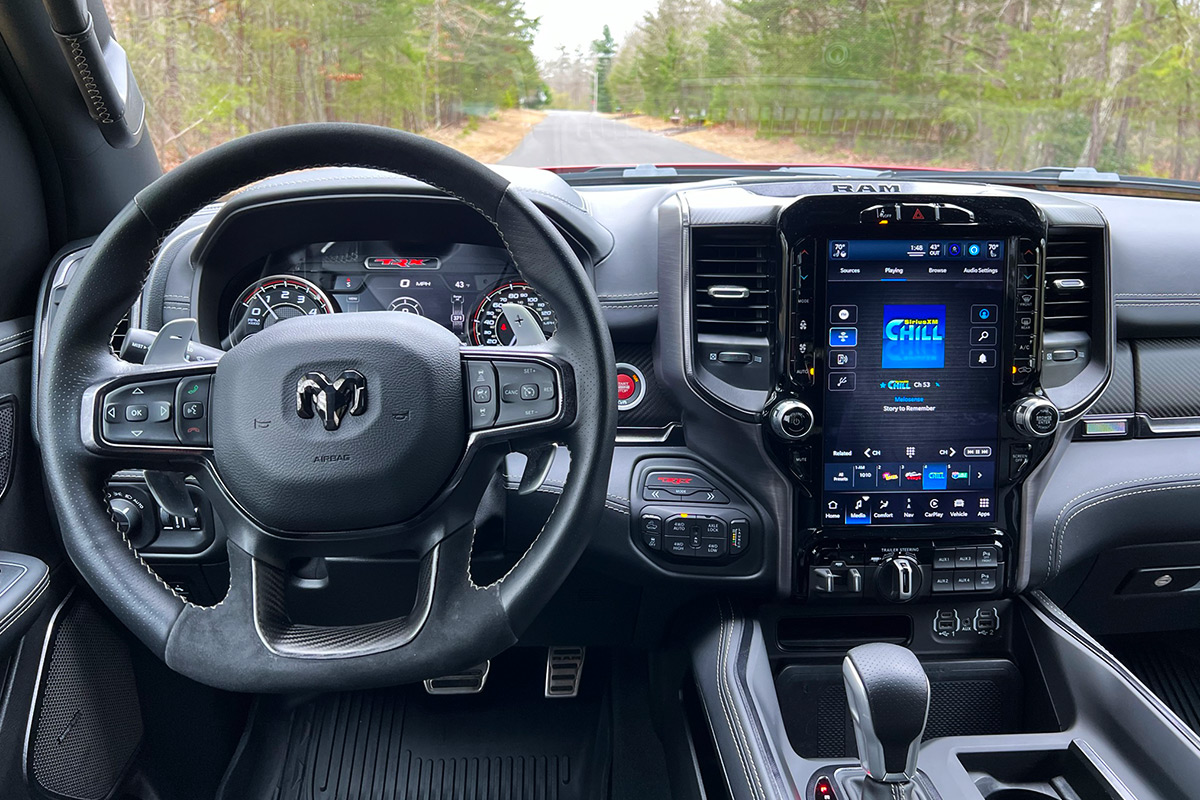 Step inside the TRX, and it's hard to miss the massive 12-inch Uconnect infotainment system that's front and center. It's fully configurable and you can house one app (eg. navigation map) across the whole 12-inch screen, or it can be divided in half, operating two different apps at once. A multifunction switch bank sits below the touchscreen, giving you physical control of specific features. Redundant HVAC controls are located on both sides of the display as well.
I was really impressed with the fit and finish of the TRX's interior, as it felt very premium and polished, nothing like what you'd expect from a pickup truck. The interior appointments are downright luxurious, a classy mixture of premium-wrapped leather, suede and carbon fiber accents that blend together well and definitely feel appropriate for a vehicle at this price point. Everyone who rode in the truck commented on how nice and plush it was inside.
Naturally, the Ram TRX has all of the technology you'd expect in a modern vehicle, including wireless Apple CarPlay and Android Auto, wireless charging, and a slew of safety features. In addition, our tester had the 19-speaker Harman Kardon audio system, and it's definitely worth springing for, as it's a 900-watt audiophile-quality system that comes with 19 speakers and a 10-inch subwoofer. It sounds amazing, and it's a relative bargain at $1,195.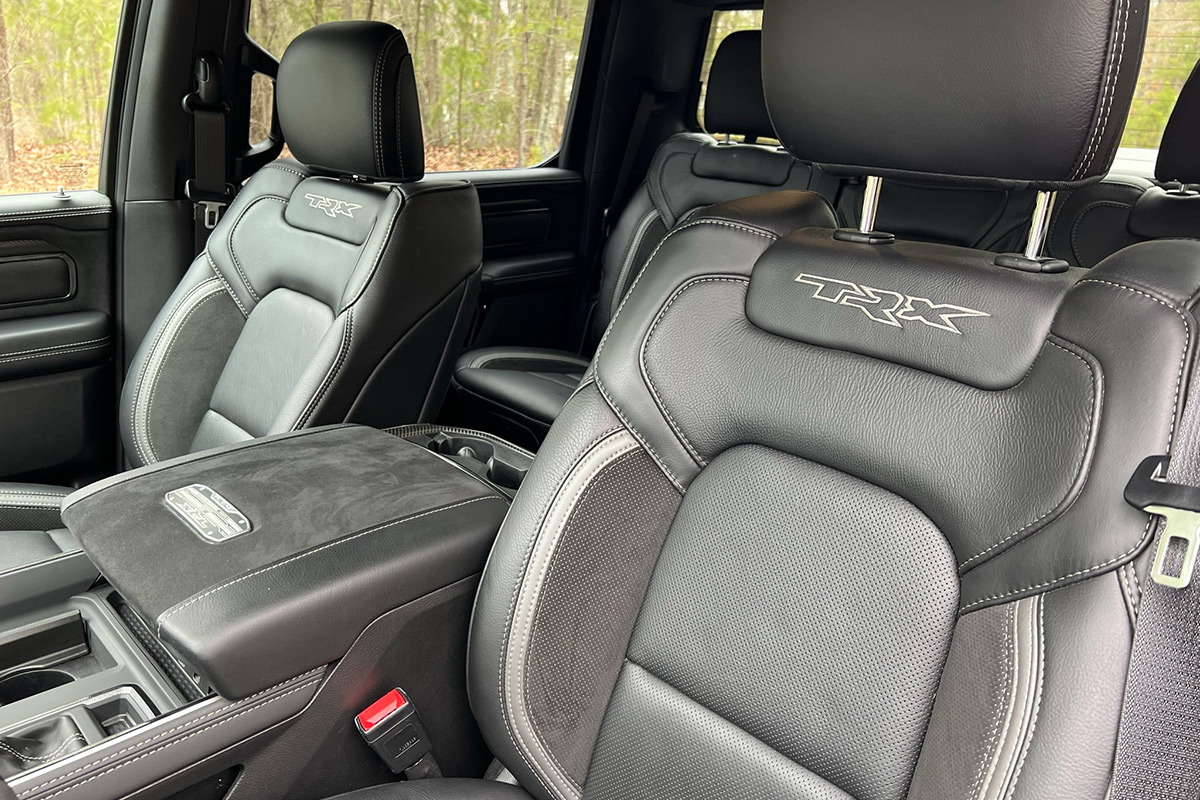 Are there any downsides to the TRX? As I've alluded to, this sucker is incredibly thirsty, to the tune of 10mpg city and 14mpg highway. During my week with it, I averaged 11.3mpg, and I'd say 3/4 of those miles were highway miles. With a 33-gallon gas tank and the TRX requiring premium fuel, a full tank will set you back nearly $160 at today's prices. Ouch!
Then there's the price of the TRX itself. With a starting price of $72,390 and an as-tested price of $91,725, this truck is anything but cheap. That said, the car is VERY well equipped for the price, it can be daily driven year-round, and it's chock full of creature comforts. The same can't be said for a supercar, which have a very limited use case.
Overall, there's a whole lot to like about the 2022 Ram 1500 TRX. In an age where everyone is moving to electrification (like the Rivian R1T, GMC Hummer EV, and Ford F-150 Lightning), the TRX stands apart, reminding people about what makes gas-powered vehicles so great, and why there is no replacement for displacement. We likely won't see trucks like this in the near future thanks to those pesky environmentalists, so you should enjoy them while you can. God knows if I had $90K burning a hole in my pocket, the TRX would be on my short list.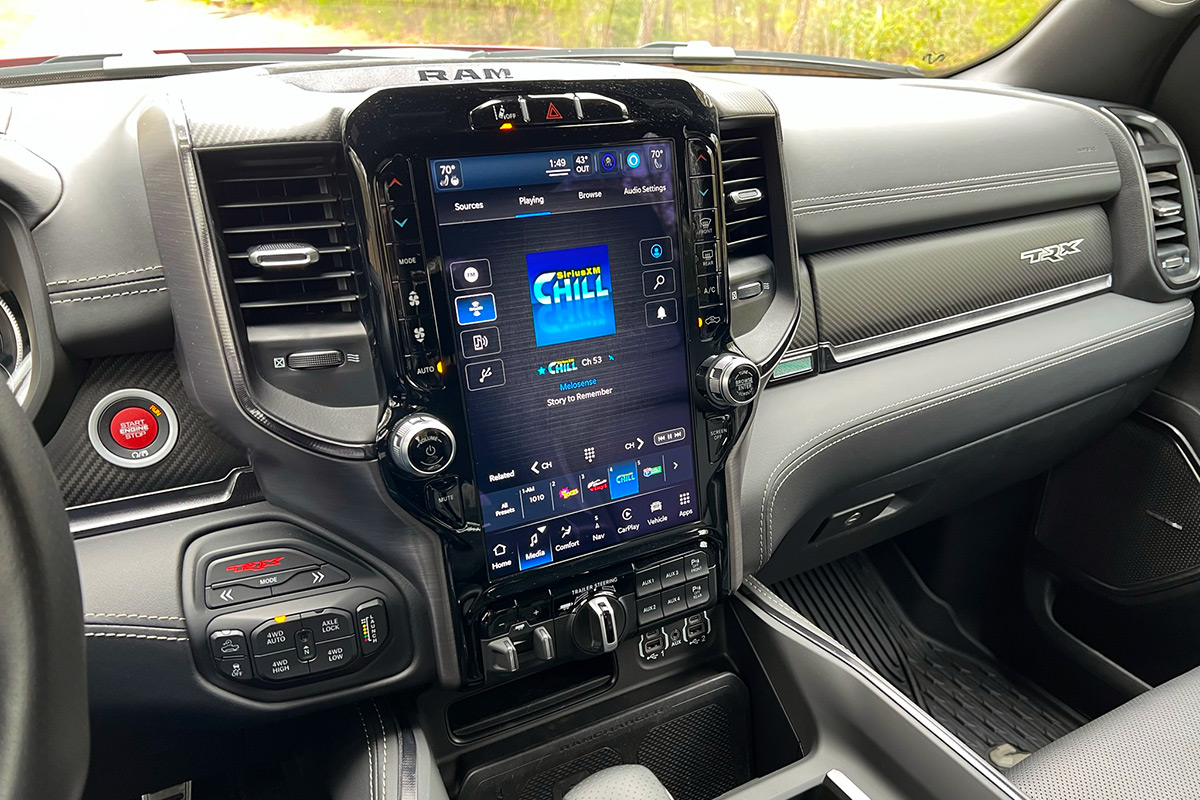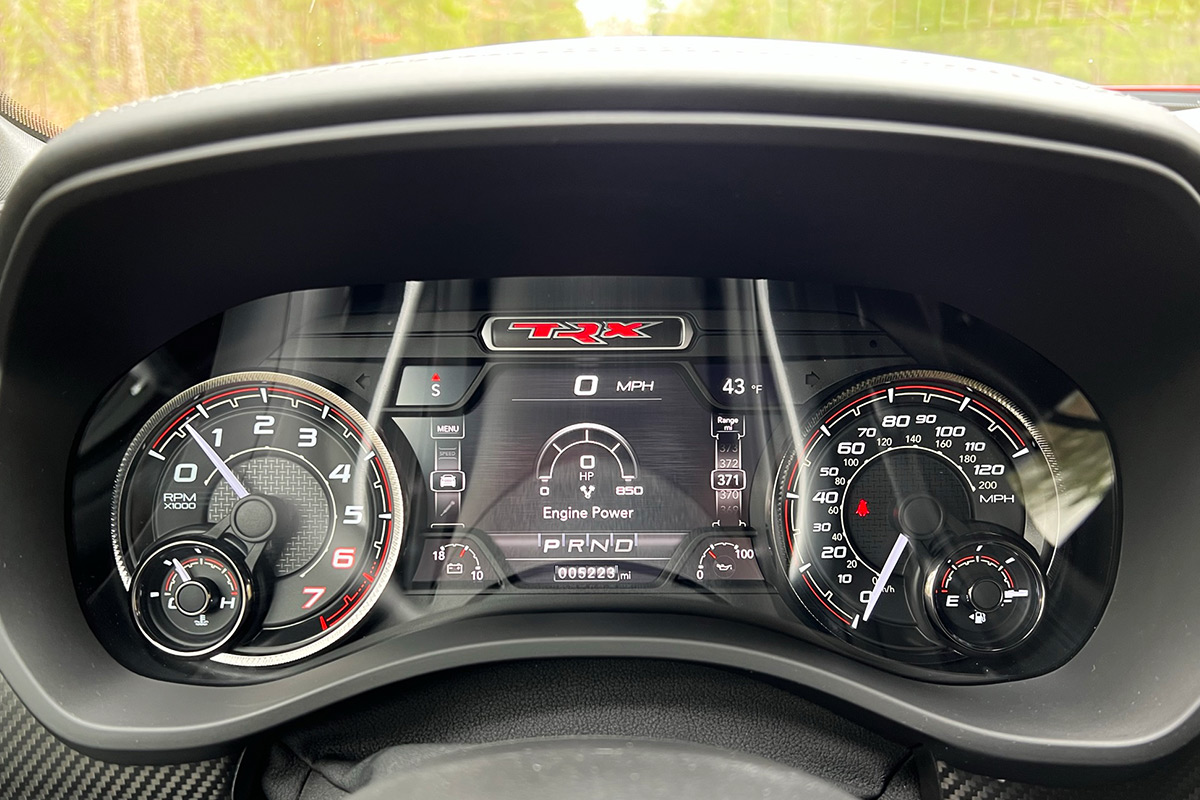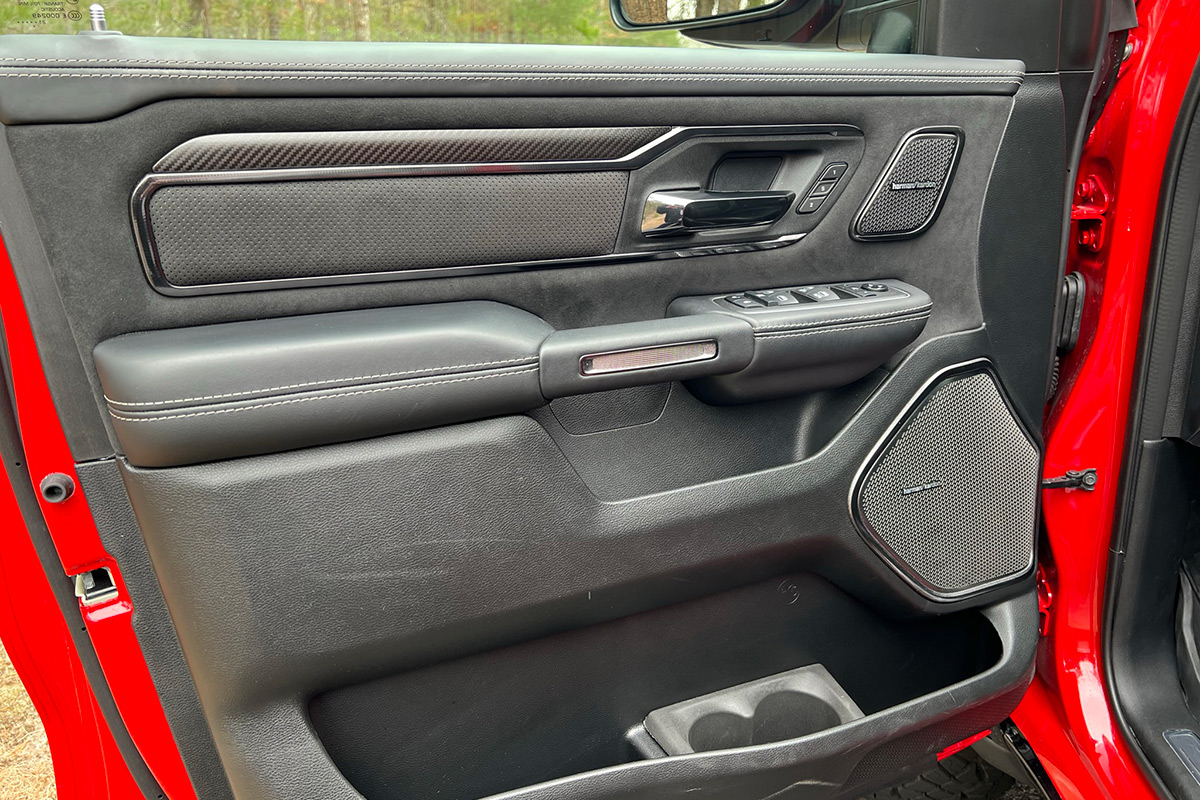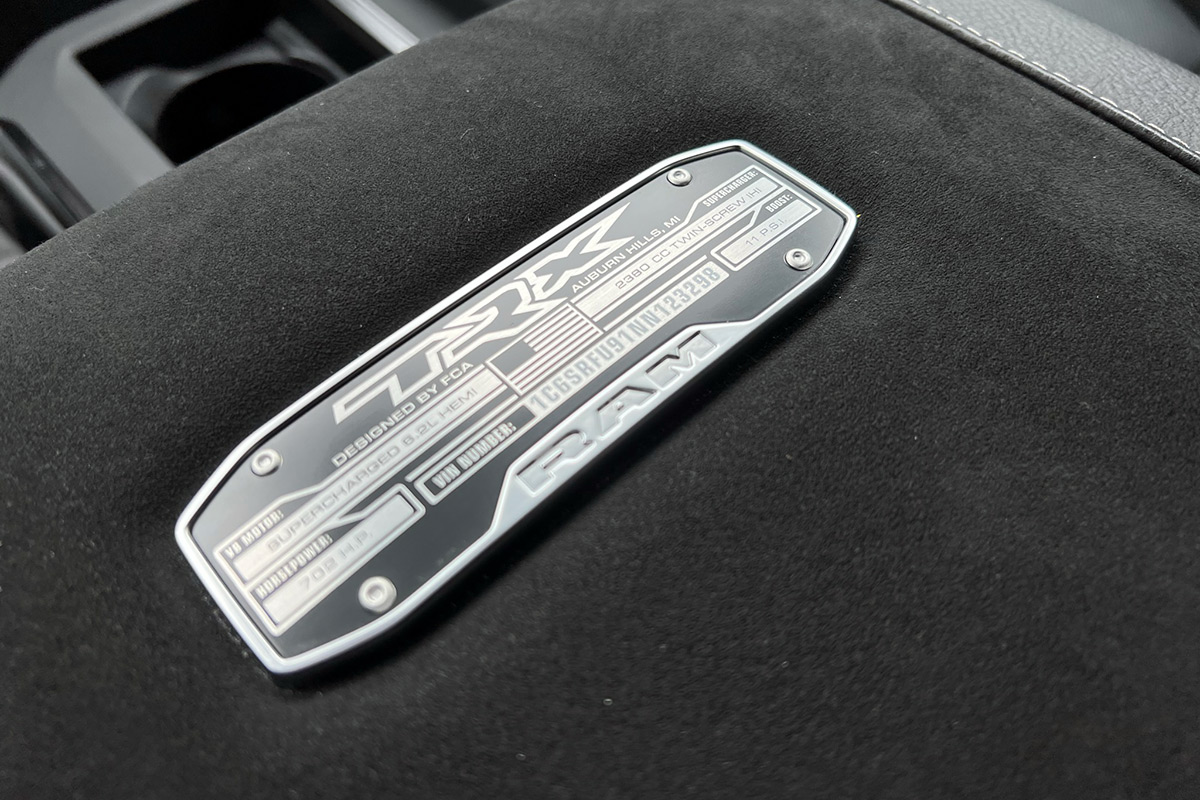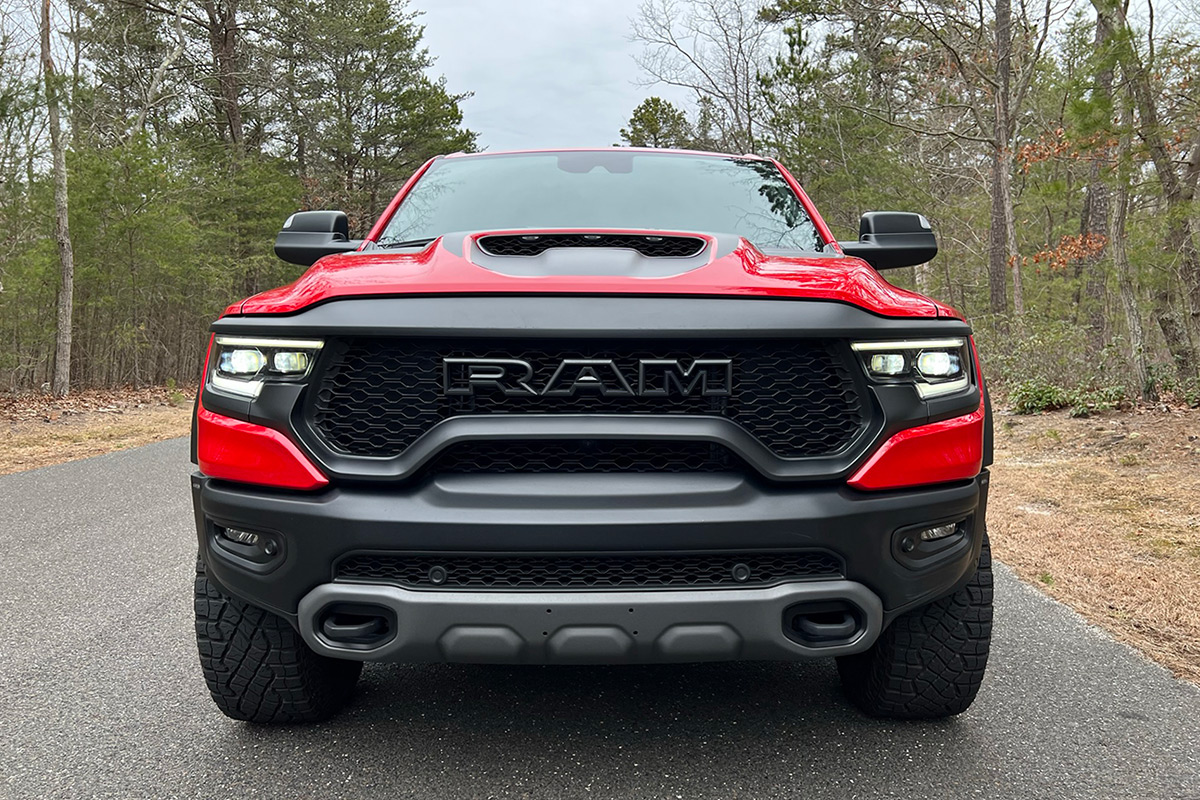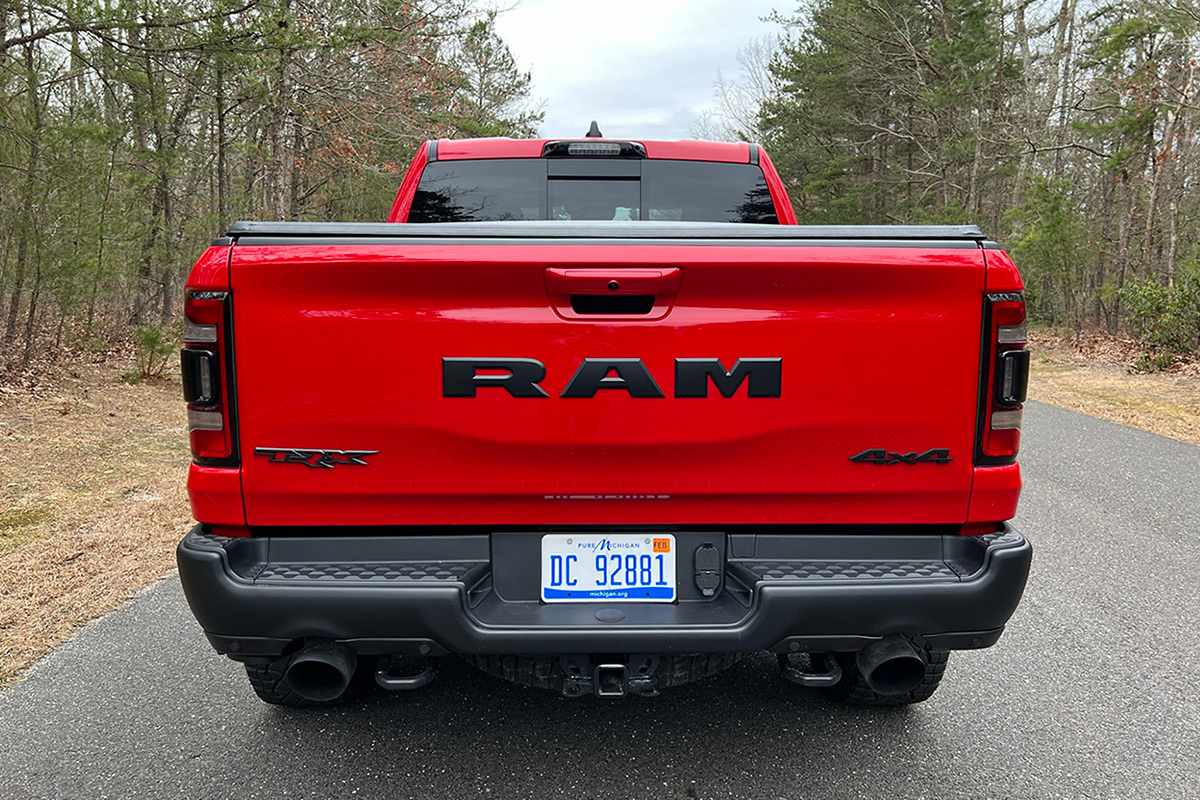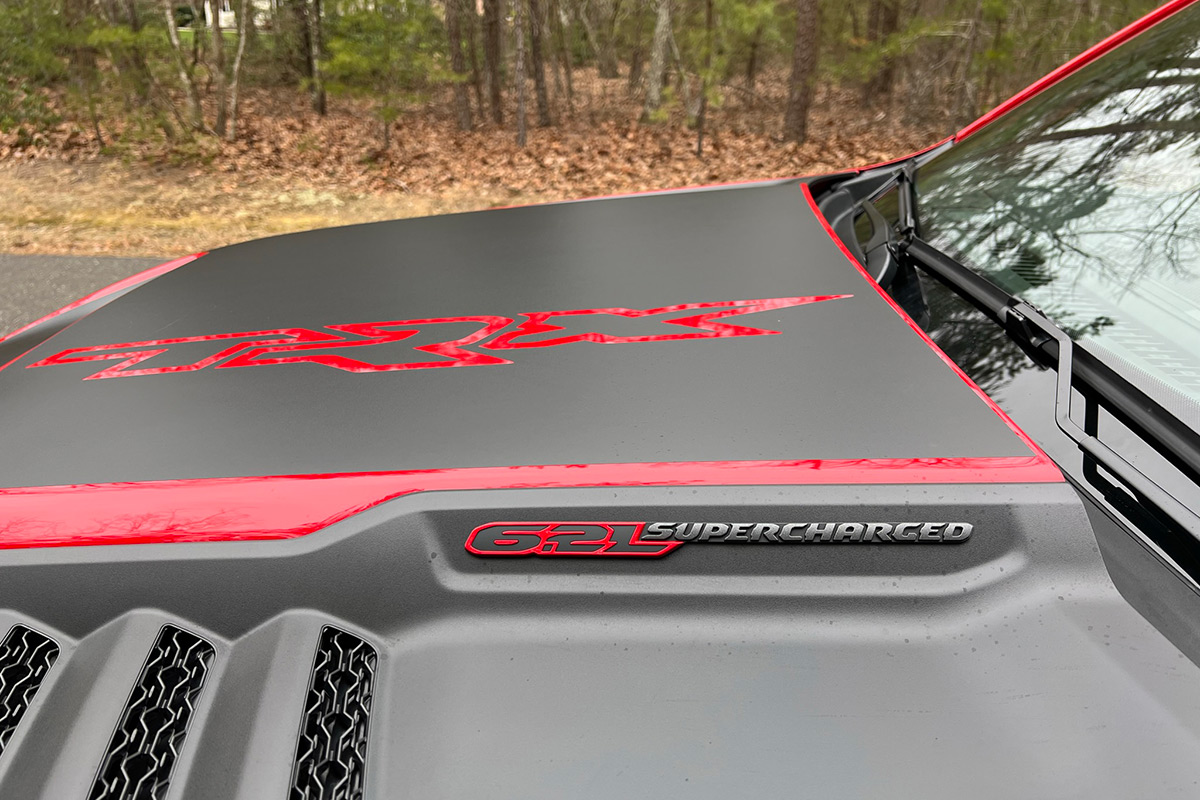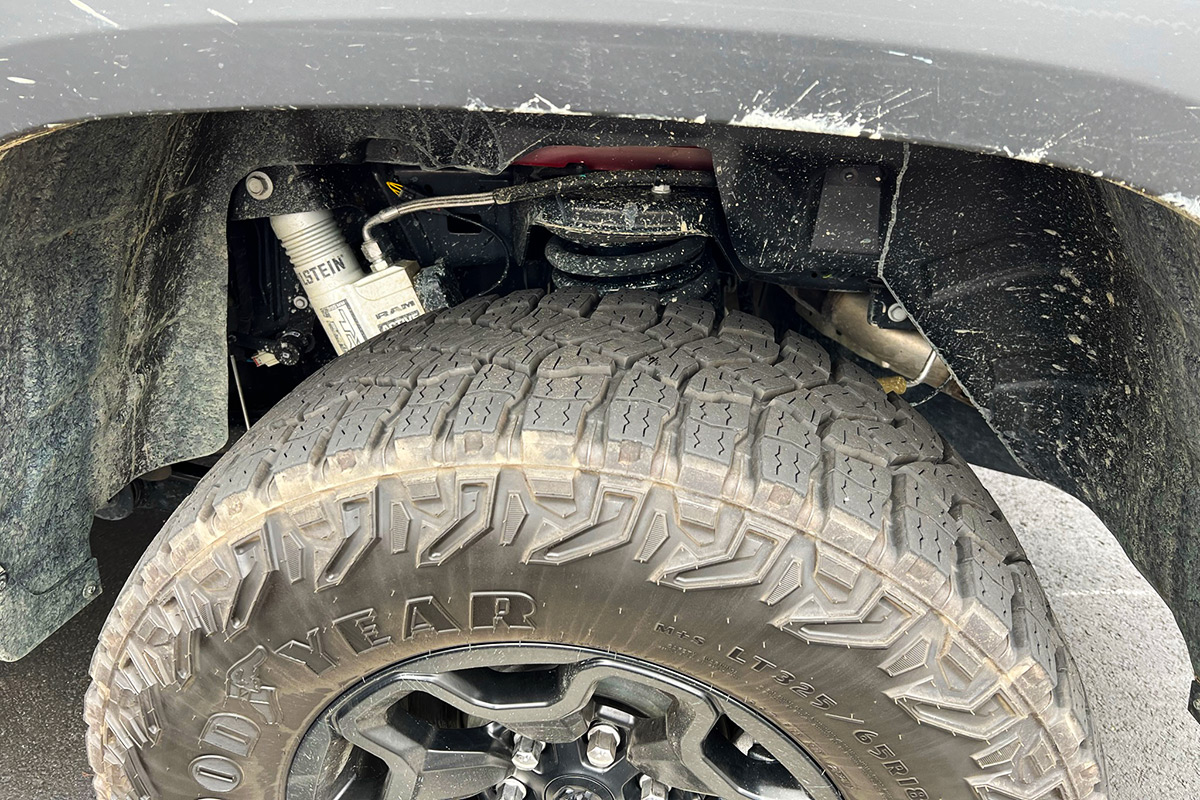 Visit www.ramtrucks.com/trx.html to learn more about the 2022 Ram 1500 TRX.