All-New 2023 Dodge Challenger SRT Demon 170 Delivers A Whopping 1,025HP
Feast your eyes on the 1,025-horsepower 2023 Dodge Challenger SRT Demon 170. This bad boy is the brand's seventh and final "Last Call" special-edition model before it's lights out for this iconic gas-powered muscle car, unveiled last night in a dramatic helicopter-drop debut at the Dodge Last Call Powered by Roadkill Nights Vegas performance festival at The Strip at Las Vegas Motor Speedway.
The 2023 Dodge Challenger SRT Demon 170 is being billed as the quickest, fastest and most powerful muscle car in the world, with some truly insane stats to back up that claim. With 1,025 HP and 945 lb-ft of torque (on E85 fuel) the Dodge Challenger SRT Demon 170 reaches 60 mph in a blazing 1.66 seconds on its way to a quarter-mile time of 8.91 seconds at 151.17 mph, and it features the highest G-force acceleration of any production car at 2.004 gs.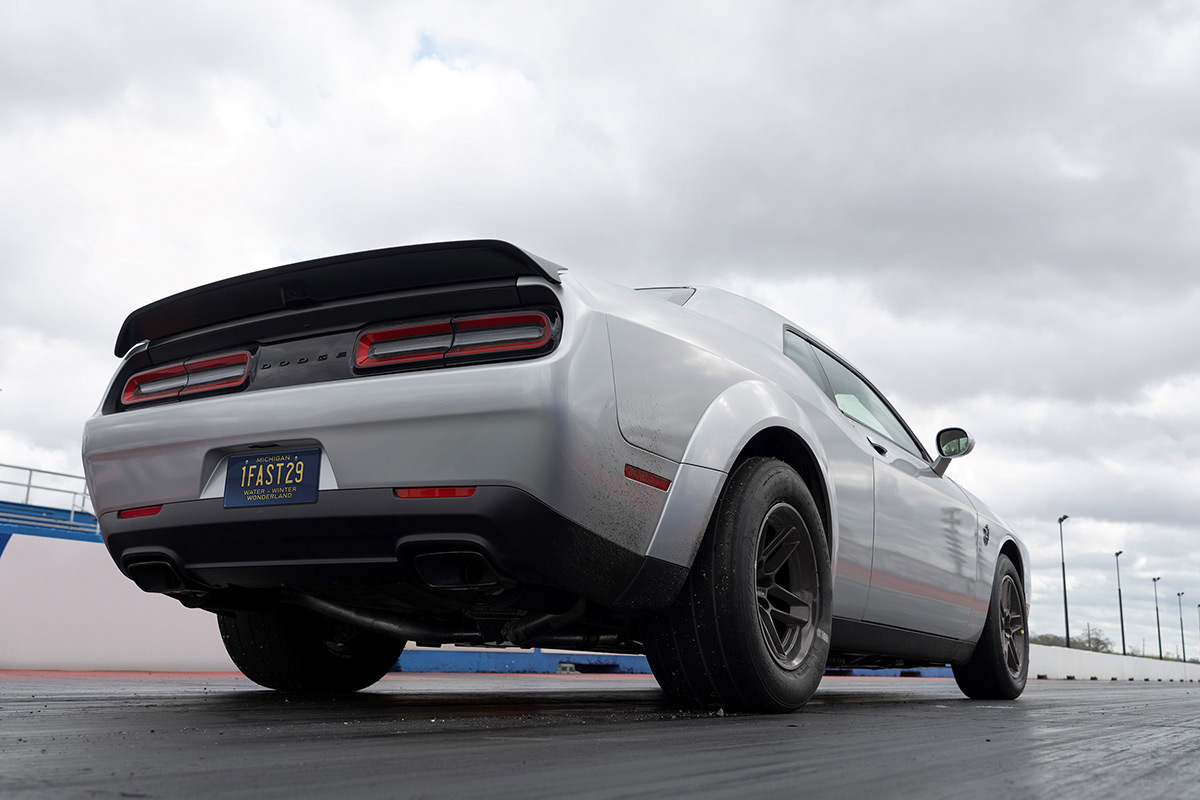 Even on premium fuel, the Dodge Challenger SRT Demon 170 puts out 900 horsepower and 810 lb-ft of torque, so you don't have to go hunting for the corn in order to extract the car's insane performance.
"To celebrate the end of the HEMI muscle-car era, we pulled off all the governors to reach a new level, a new benchmark of 'factory-crazy' production car performance," said Tim Kuniskis, Dodge brand chief executive officer – Stellantis. "In 2015, Dodge shocked the world with the 707-horsepower Hellcat. Then, in 2018, we did it with the 840-horsepower Demon, and now we are doing it again with the 1,025-horsepower Demon 170, the world's first sustainable-energy, eight-second, factory-production, street-legal muscle car."
Extensive component upgrades resulted in delivery of a nearly brand-new engine, as well as additional features that assist in harnessing the 1,025 horsepower of the 2023 Dodge Challenger SRT Demon 170, including: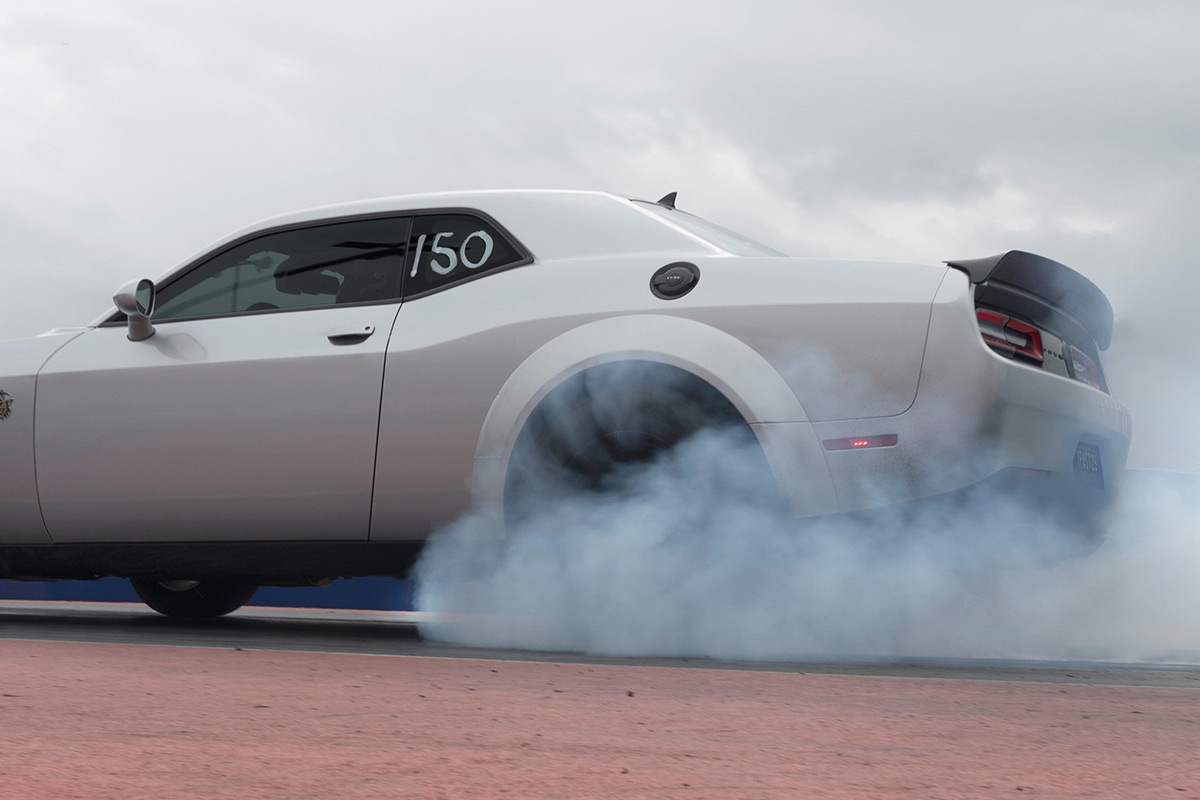 Improved Supercharger: Modified 3.0-liter supercharger upgraded with a larger snout with 105mm throttle body, and 3.02-inch pulley increases boost pressure 40% over the Challenger Hellcat Redeye Widebody
Fueling Horsepower: Dodge Challenger SRT Demon 170 achieves full horsepower output through high ethanol fuel blends: horsepower levels are determined by sensing the percentage of ethanol fuel content
Driveline Upgrades: All-new driveline with 240mm ring gear, 53% stronger differential housing using aerospace-grade metals, rear prop shaft 30% stronger and stronger half shafts
Massive Drag Radials: 315/50R17 Mickey Thompson ET Street R drag radials — never offered before on a production car — and Mickey Thompson 245/55R18 ET Street front tires deliver extra force on the strip or street
TransBrake 2.0: Patent-pending TransBrake 2.0 provides torque-shaping capability and easier driver interaction to dial-in preset torque limits
Unique Drag Mode Suspension: Uniquely tuned valves in adaptive-damping shocks provide maximum weight transfer and custom race settings for drag calibrations
Staggered Widebody Design: First-ever factory production car built with staggered drag radial tires and fender flares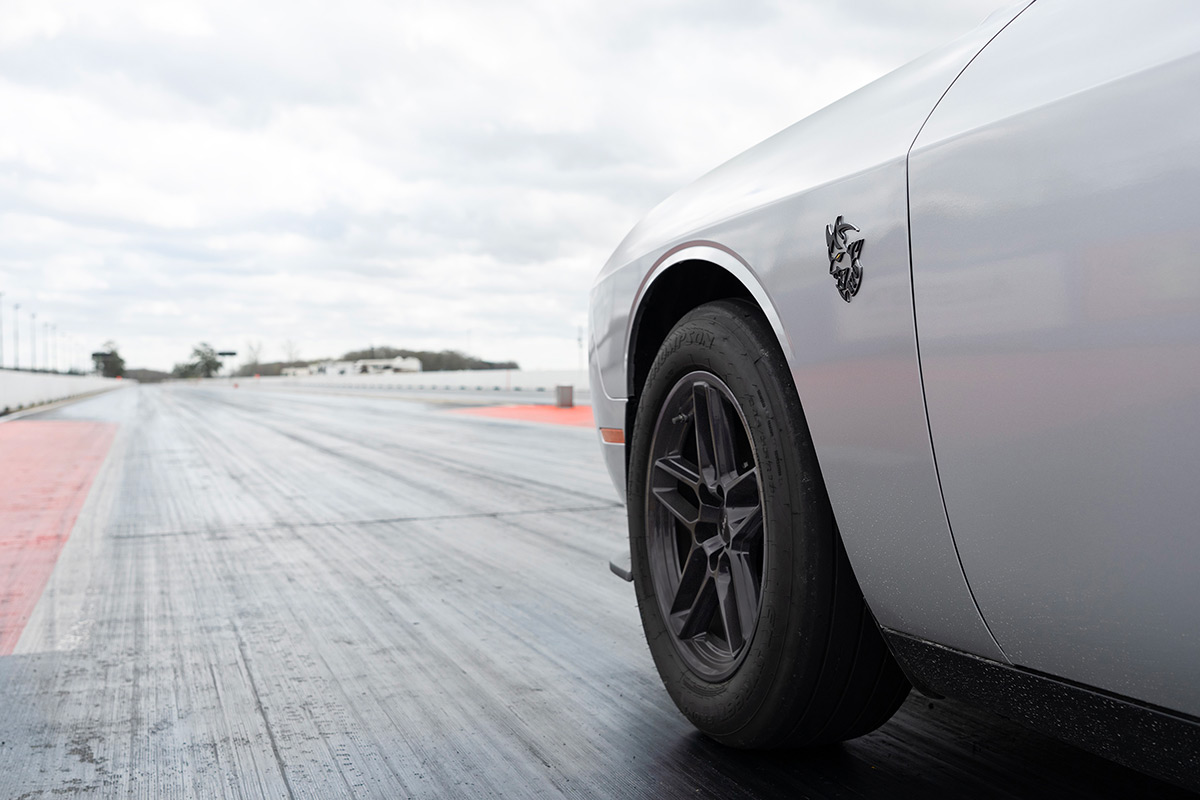 Production of the 2023 Dodge Challenger SRT Demon 170 will begin this summer and will be limited to at most 3,300 units, with 3,000 for the U.S. and 300 for Canada. Final unit numbers will be based on production capacity.
Current owners of the original 2018 Challenger SRT Demon who secure a dealer allocation for the 2023 Dodge Challenger SRT Demon 170 will also be given the unique opportunity to match the same vehicle identification number as their original Demon when finalizing their order.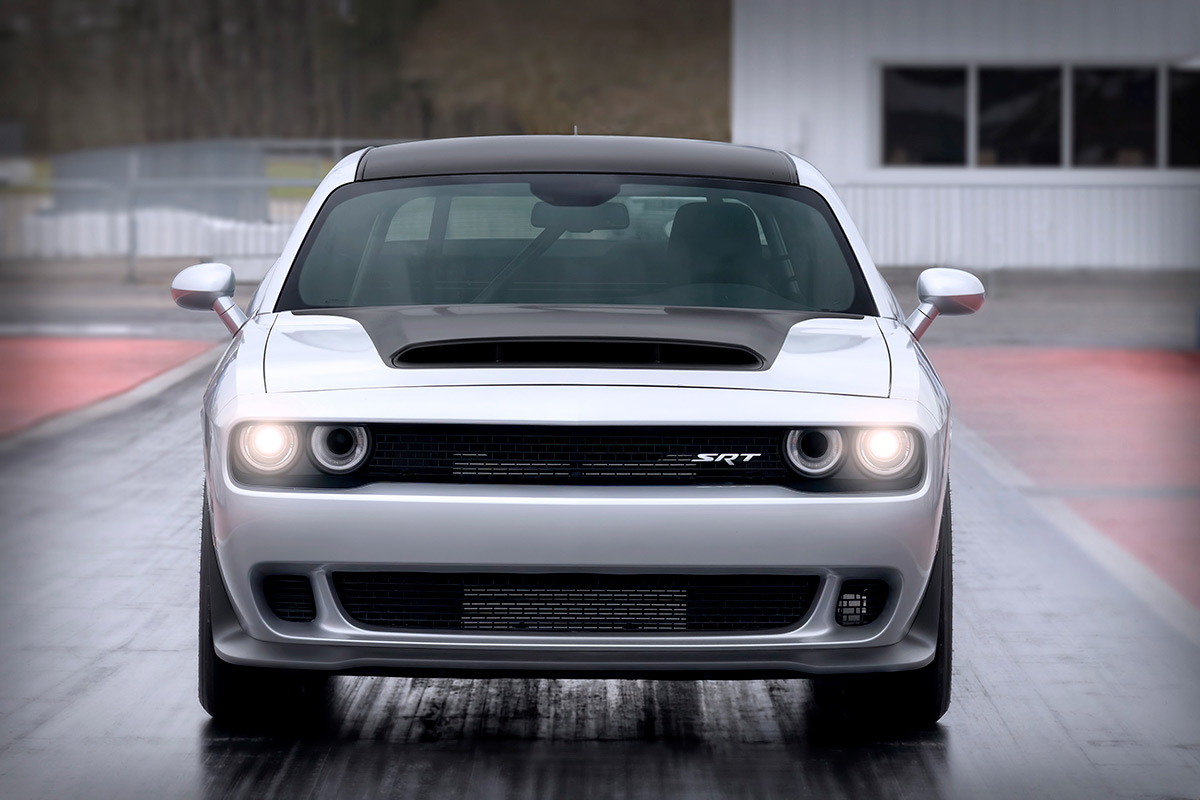 The Dodge Challenger SRT Demon 170 will be available at an MSRP of $96,666 plus a $1,595 destination charge and a $2,100 gas guzzler charge. Available dealer allocations for the new Challenger SRT Demon 170 can be viewed starting today via the Dodge Horsepower Locator tool at DodgeGarage.com, with ordering beginning on March 27, 2023. Ordering will close on May 15, 2023. Dealer orders at MSRP will receive priority scheduling.
For even more details, you can check out the official press release, which goes waaaaaay more in depth about all of the changes made to the Dodge Challenger SRT Demon 170 to make it the fire-breathing monster that it is.