First Drive: 2015 Lexus RC F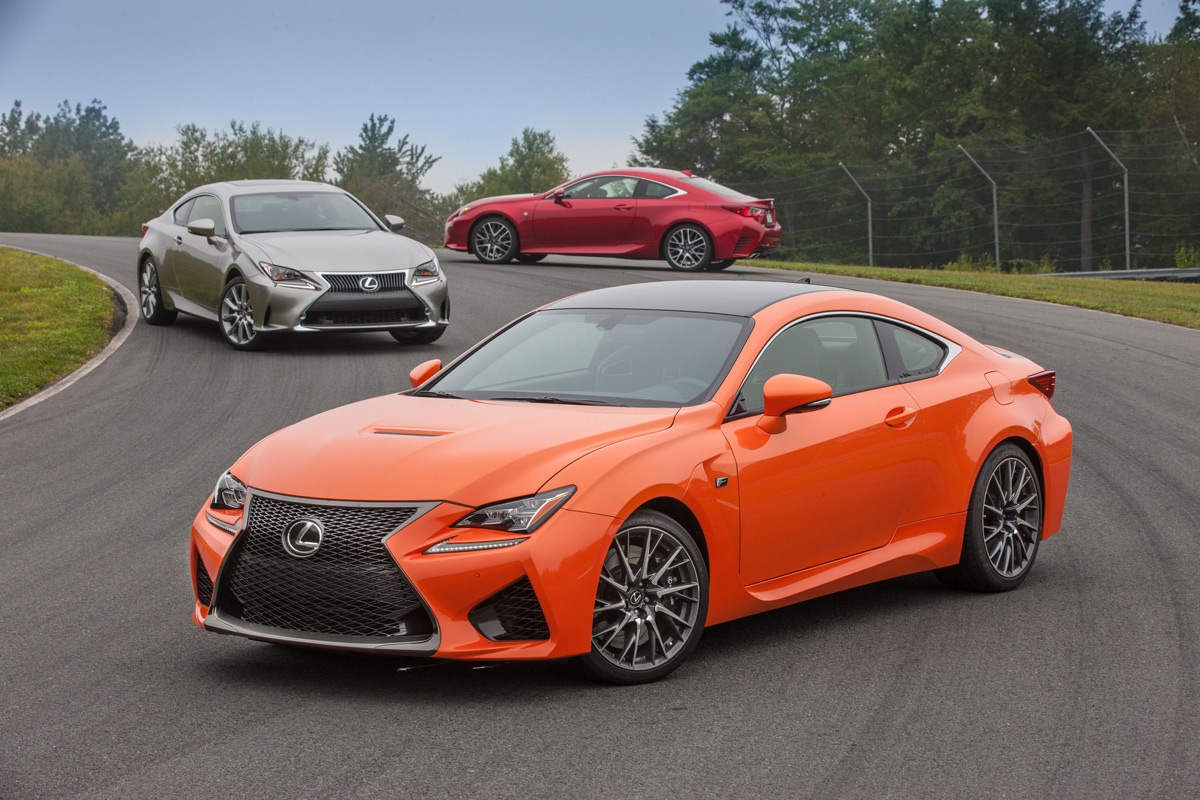 Lexus introduced the world to all-new RC Coupe at the Tokyo Motor Show last November, and for us it was love at first sight. Of course, our first question was "When can we drive it?", and that question was answered earlier this month, when I was invited out to Monticello Motor Club to test out the entire RC family (Lexus RC 350, RC 350 F SPORT, and RC F) on their amazing 3.6 mile, 18-turn race track.
We were most interested in driving the 2015 Lexus RC F, the brand's high performance coupe which faces off against such powerhouses as the BMW M4, Audi RS5, and the Mercedes-Benz C63 AMG. Boasting the most powerful V8 performance ever developed by Lexus, the 5.0L engine pumps out 467HP and 388 lb-ft of torque. It's backed up by a close-ratio eight-speed Sports Program Direct Shift transmission and available Torque Vectoring Differential. The RC F does 0-60 in a scant 4.4 seconds and the 1/4-mile in 12.5 seconds, on it's way to a top speed of 170 mph. Needless to say, this isn't your "typical" Lexus, not by a long shot.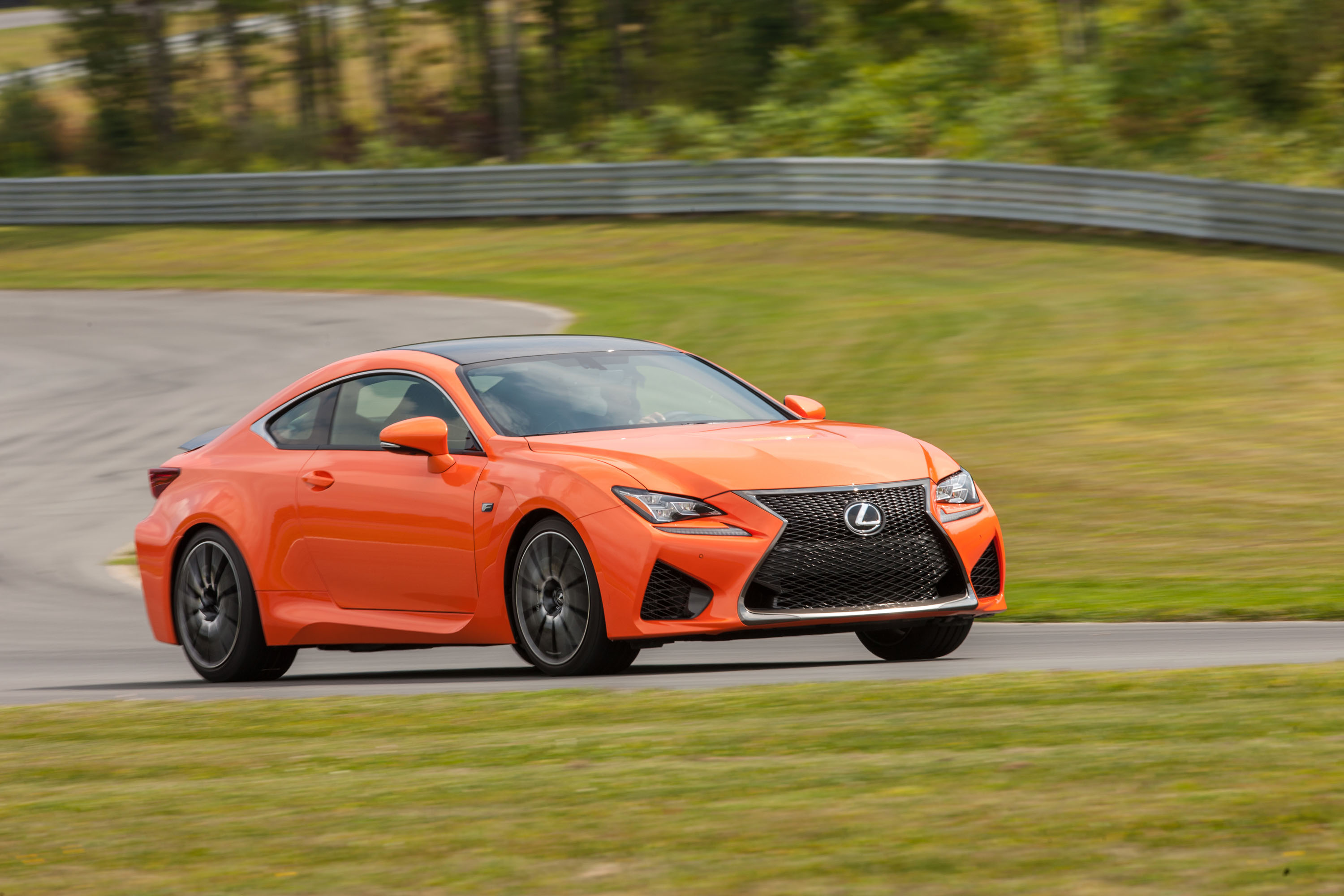 Now there are a slew of technical details about the car, and Lexus does a great job of outlining them in their press release, so if you're dying to know the nitty-gritty details, be sure to check that out. For me, the three important facts were curb weight (3958 lbs), weight distribution (55/45), and coefficient of drag (0.33).
Lexus developed the RC F to excel on the track as well as the road. Body rigidity, suspension, brakes, tires and all other systems were developed with the expectation that RC F owners would be taking their cars to track day events. And not on trailers, but actually driving their own cars to the track.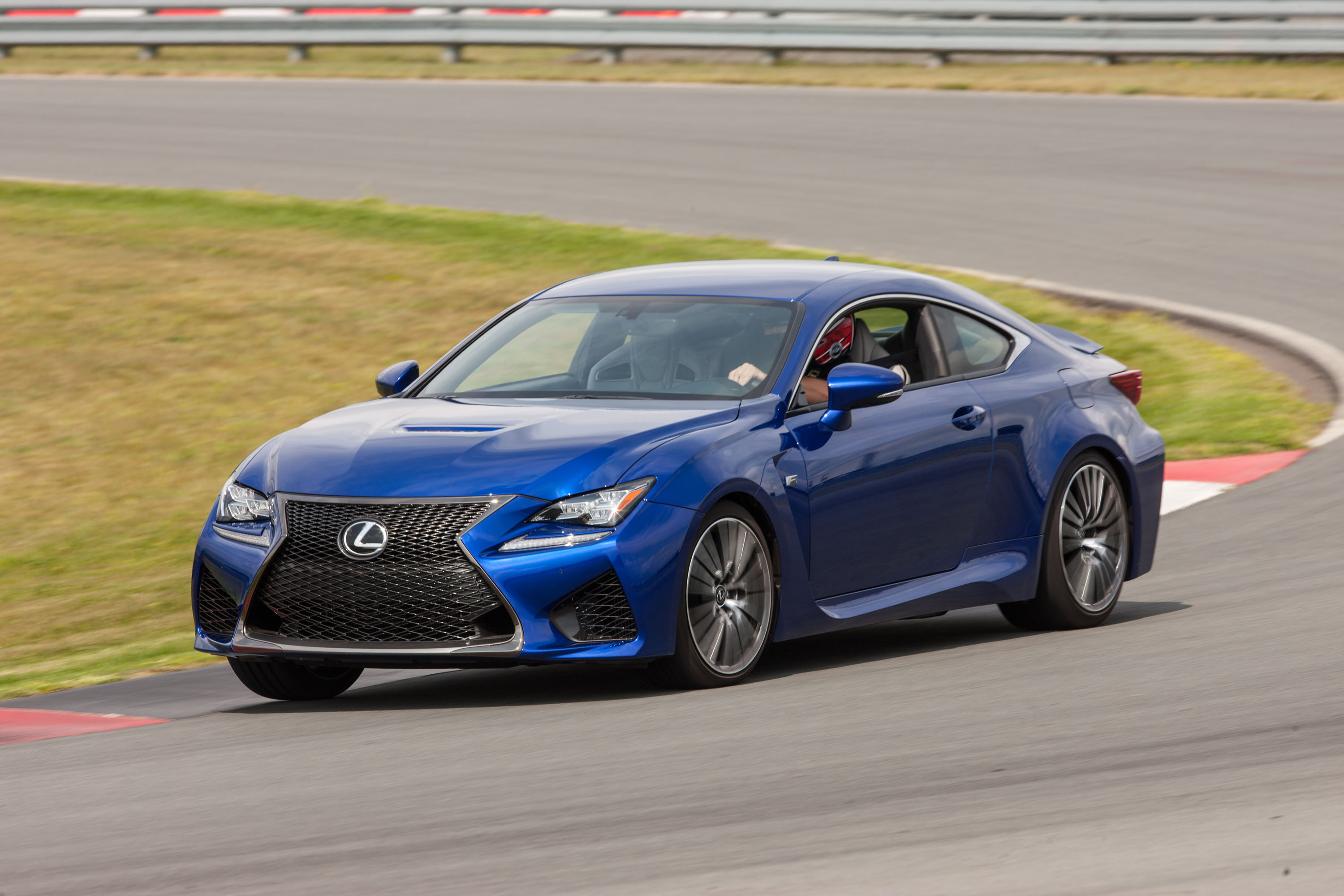 So that's exactly what we did, driving the RC F nearly 2 hours from Westchester to Monticello on a variety of highways and back roads, to see if it could actually be someone's daily driver. In a word – Yes. The RC F has a surprisingly comfortable ride, and the exhaust note is also pretty quiet (until you give it some throttle, at which point you are rewarded with one of the most intoxicating exhaust growls you've ever heard).
Once we arrived at Monticello, we had a quick informational session where we learned about the intricacies of the track, and then they let us loose to start driving. I jumped into a Molten Pearl RC F, turned on Sport S+ mode, and waited for my turn to go. I took it easy on the first few laps as I got acquainted with the track, and then I really started to push the RC F. Let me tell you, the car is an absolute monster on the track – It's well balanced, has an unbelievable amount of grip in the corners, gobs of power for those straightaways, and the brakes do a great job of shaving off speed in a hurry, with no fade in sight.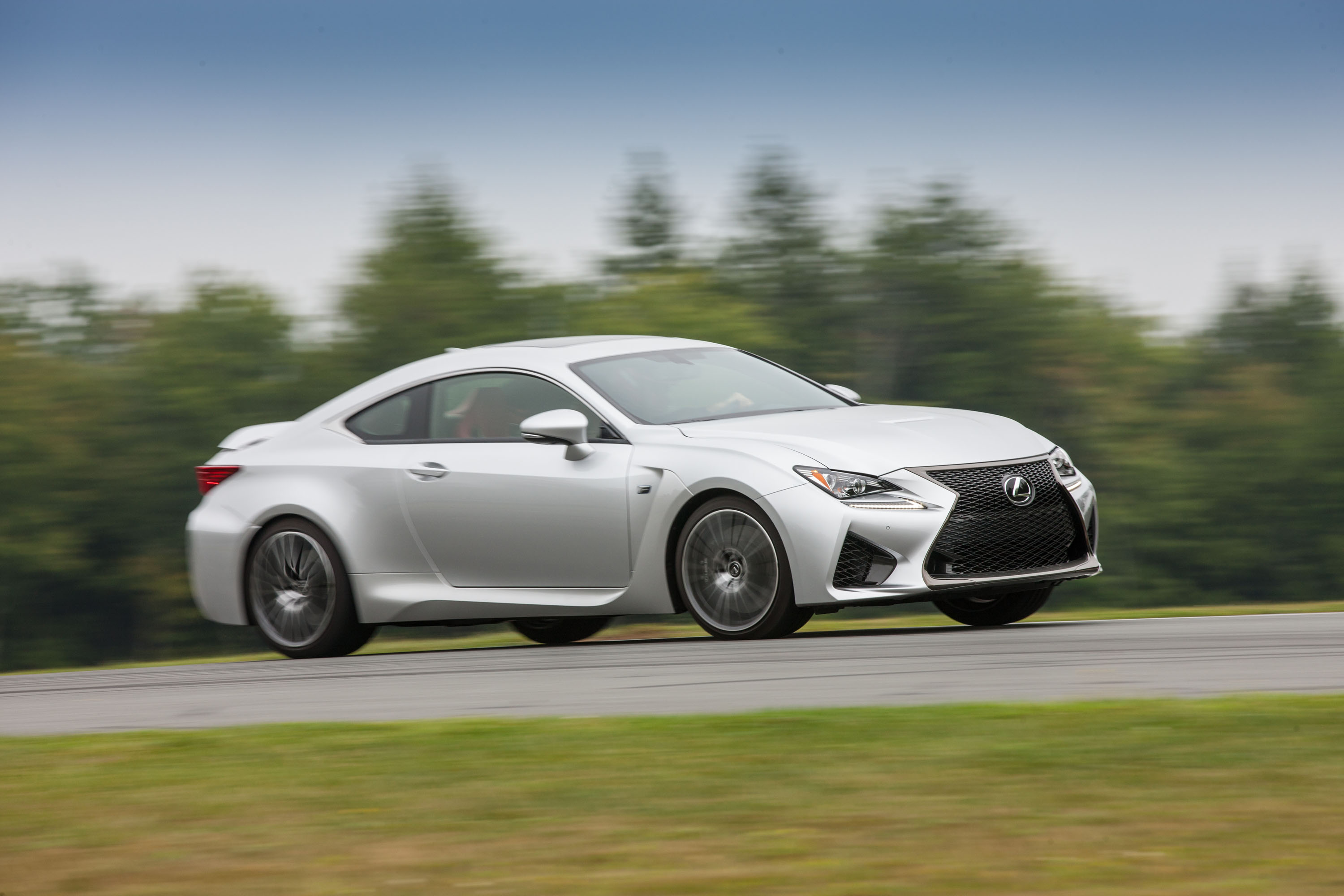 Visually, it's impossible to overlook the RC F, between the radical styling and the seven "look at me" exterior colors: Ultra White, Nebula Gray Pearl, Liquid Platinum, Obsidian, Infrared, Molten Pearl and Ultrasonic Blue Mica 2.0. You'll either love the styling or you'll hate it, there's really no in between here. I think the designers took a real chance with the RC's styling, but they knocked it out of the park.
The interior of the RC F has all of the luxury features you'd expect from a Lexus, but with a sportier feel. The sports seats are fantastic, supportive yet not overly bolstered, the perfect balance for a car that pulls double duty. The infotainment system is top notch, and the Remote Touch Interface received the same update that the Lexus NX did, replacing the often frustrating joystick with a touchpad that's a little easier to use.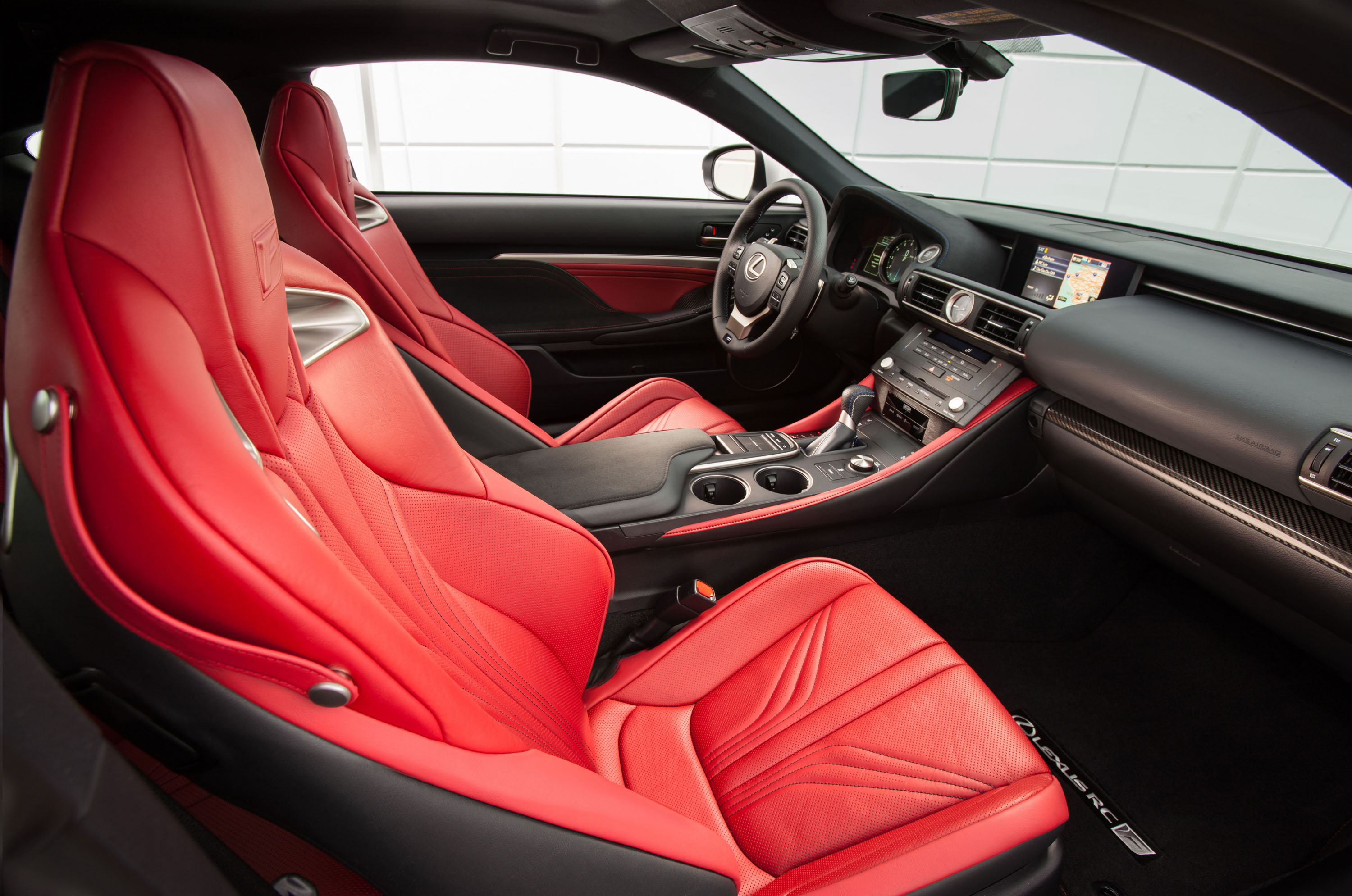 Furthermore, if you opt for the 17-speaker Mark Levinson Surround System, prepare to be blown away by 835 watts of high fidelity. In addition to the great sound you've come to expect from a Mark Levinson system, it also offers Clari-Fi music restoration technology, which reverses the effect of digital compression and brings your music back to life. We got a demonstration of this firsthand, and it's really pretty incredible!
Overall, I was REALLY impressed with how well the Lexus RC F performed, both on and off the race track. It's clear that Lexus engineers took the lessons learned from the IS F & LFA and applied them to the RC F, and the result is a world-class high performance sports car that's designed to be fun to drive for any driver, regardless of their level of driving skill.
If I had a spare $63,225 laying around (that's how much the RC F starts at), I might be tempted to purchase one of these bad boys. But since I don't, I'll have to simply revel in the memories of my day at Monticello with the Lexus RC F.
If you're looking for a fun sports car that you can take to the track on the weekend, and you're not afraid of some edgy styling, the 2015 Lexus RC F is just the ticket!
Visit https://www.lexus.com/models/RCF to learn more about the Lexus RC F.