2014 Lexus IS F – A Sleeper Car Being Put Out To Pasture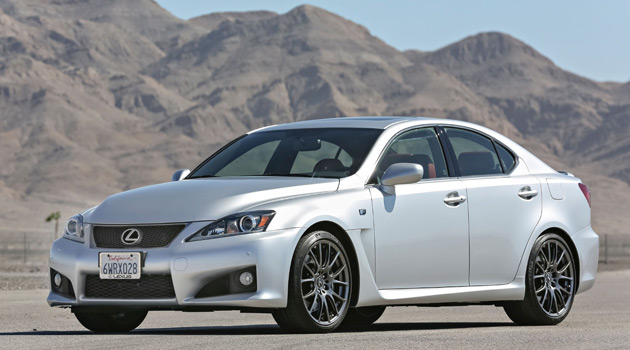 This is the last year that Lexus will be producing the current IS F sports sedan. This is a true sleeper car in that most onlookers, whether at the light or at the track, will not likely know what this little car has going on under the hood. To most, the IS F is, by appearance, a Lexus IS 250 compact sedan and when you're driving it every day, that is basically what you have.
But when you punch that pedal to the far right.. monsters emerge. The sedate little IS suddenly becomes a beast unleashing all 418 horsepower and growling out with a surprisingly thrilling V8 sound from underneath the hood.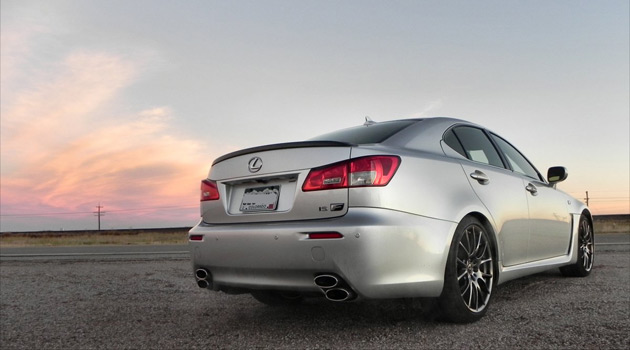 All of this is not without its downsides, however. Fuel economy is only 18 mpg combined (EPA) and daily use ergonomics are few and far between. The interior is cramped, some buttons and switches are at odd angles in order to create more leg room, and the rear seat is more for insurance purposes than it is for use. On the other hand, if you're considering buying this car, none of those things are likely high on your list of wants out of this premium sports sedan. You're probably more interested in the 5.0-liter V8 with its huge herd of ponies and 371 lb-ft of torque output.
For sport sedan lovers, you'll not be disappointed there. Neither will you be in a love-hate relationship with the 8-speed transmission and its paddle shifting electronics. Unlike the IS 350 F-Sport, whose chief drawback is a very long shift lag, the 2014 Lexus IS F has responsive, fast-paced shifting on demand. For track drivers, this means that a lot of control is had with the car and the rear-drive means that the IS F can be maneuvered around corners as well as most others in this class thanks to tight suspension and the superior handling that driving the rear wheels can offer.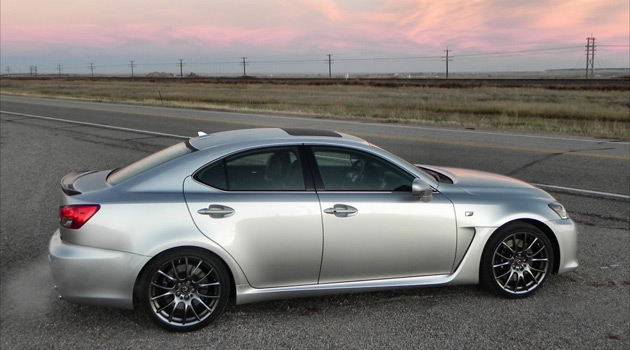 To be honest, as a journalist, the toughest thing about the Lexus IS F is finding a car to compare it to. The Mercedes-Benz C63 AMG is one, but it's a league apart from this car with a much larger engine, far more horsepower, and far lower fuel economy. Although they are technically in the same class, the C63 is a very different machine. This is also true of the Cadillac CTS-V. It will be noted that all three cars are within a second of one another in 0-60 times, though track performance is a very different ballgame. Price comparisons may find the IS F on the short end compared to these others as well.
The greatest asset that the 2014 Lexus IS F holds is its sleeper status. It looks small, appears luxurious, and doesn't sound all that intimidating when idling at a light. The twin tailpipes may give it away to some, but most people will have no idea what kind of beast lurks beneath the bonnet of this car. Unlike the Mercedes and the Caddy mentioned before, the Lexus IS F doesn't wear its performance on its shirt sleeve. Push the pedal to roll up those sleeves, of course, and the F becomes Fearsome. That's its edge.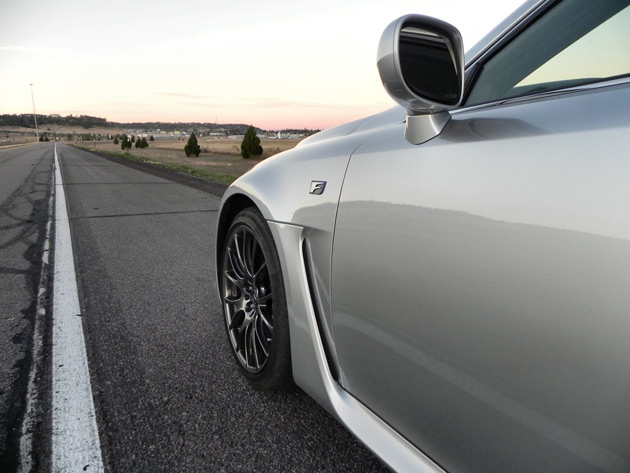 In everyday driving, if you're not too large for this car, it's a great vehicle. It's small, sure, but you knew that going in. It's comfortable enough and fun to drive so that everyday cruising is enjoyable. The seats are a nice mixture of lateral sport support and everyday comfort. The interior has a smooth mix of leather, aluminum accents, and carbon fiber to make it sporty but refined.
With a car like this, of course, everyday driving can become fun with the mere push of the pedal. Stopping at the bottom of a freeway onramp, switching off traction control, and flooring it means laying a little rubber and flying up the ramp with a satisfying V8 massage coming from under the hood and across the cabin. Once on the freeway, the traction comes back on, the rumble subsides, and you eagerly await a slower vehicle to punch it past in the fast lane. That's what cars like this are really about when driven everyday.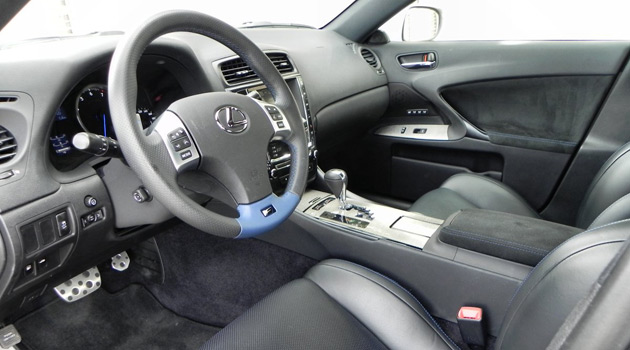 For those seeking one of the last of the sleeper cars, the 2014 Lexus IS F is in its last year of production and fits that bill.