Revisiting The 2014 Lexus IS350 F-Sport AWD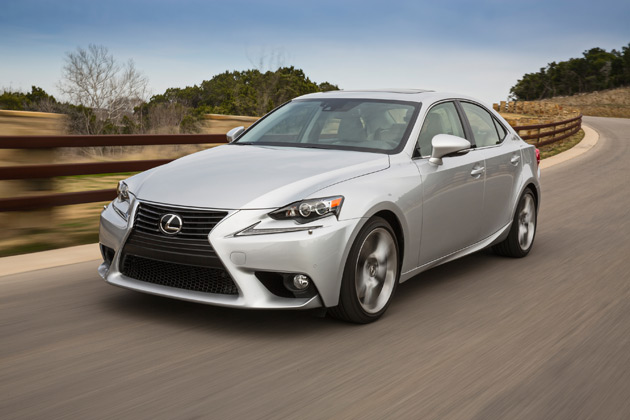 Last October, Sujeet reviewed the stunning and very refined 2014 Lexus IS350 F-Sport (read that here) and not too long ago, I reviewed the sexy 2014 IS350 F-Sport Convertible (that is here). These are the flagship sport sedans from Toyota's luxury nameplate and they're beautiful examples of the finesse the company is capable of accomplishing in that arena.
It's a car worth a second look thanks to the major changes made for the 2014 model year. Like Sujeet, I've now had the chance to drive this car for a week as well as on a race track and found it to be everything one should expect from a luxury sports sedan, but with one flaw that mars its performance for some drivers.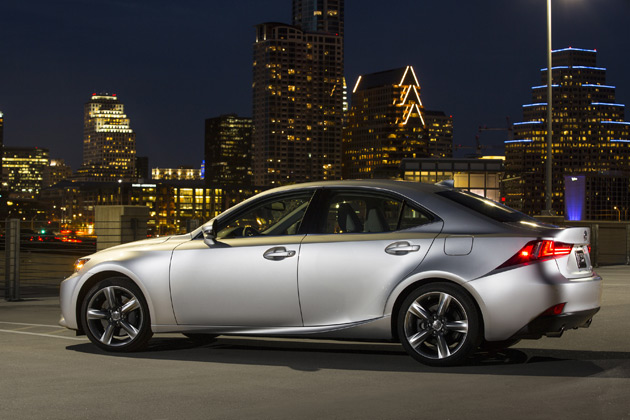 The all-wheel drive (AWD) option means that the IS350 F-Sport is a real pavement hugger. Its 0-60 time is amazing and even when handled by a novice like myself, the car is capable of 7.5-second times while a pro will get at least a second better than that. What holds it back is the learning curve required to shift the car, as the manual-mode setting has a somewhat long pause between the paddle being pulled and the transmission actually shifting. Long enough that it can deeply affect performance on the track until you get used to the timing and begin shifting in anticipation rather than on the fly. It's for this reason that many who drove this car on the track during a recent press event thought the car was a dog.
In reality though, the 2014 IS350 F-Sport is a great weekender's track car. It hugs the pavement, attacks the turns easily, and accelerates with a muscular sound and seat-pressing aplomb. Because I had driven it on the road for a week and had done 0-60 runs for testing before going to the track, I knew to anticipate the lag between shift pull and transmission response and so had a great series of loops around the 7-turn, 1.28-mile track with this car. Some of my best times of the day for a factory vehicle were in this 2014 IS350 F-Sport AWD, in fact.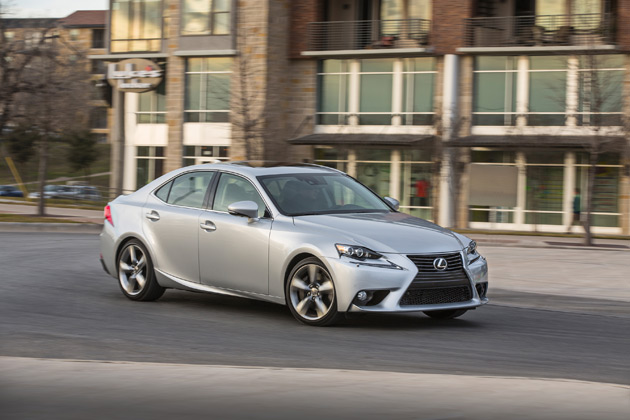 Many people had a better time in the car by leaving it in automatic and letting it do the work. The sport-tuned transmission certainly does a good job of keeping things near optimum, but the driver does relinquishe some control in return for that. It's a matter of choice, though. In other vehicles, I found the same quandary was very relevant and often let the automatic take over rather than fight for manual control - The Cadillac XTS Vsport was one of those.
As a daily driver, though, this luxury sports sedan really shines. It's a great highway cruiser with a very quiet cabin, nice suspension, and a confident, appealing feel when on the road at speed. Around town, it's easy to maneuver and putting it into Sport+ mode means tight handling and a lot of suspension feedback. Those who prefer that handling but not the rougher ride can go to standard Sport mode instead. This trick on-the-fly transmission and suspension tuning is a great part of the F-Sport package.
Overall, I found the 2014 Lexus IS350 F-Sport AWD to be a beautiful sedan with great looks, a strong driving experience, excellent acceleration, a satisfying intake and exhaust note, and more than enough luxury to keep me happy.