Review: 2014 Lexus IS 350 F SPORT AWD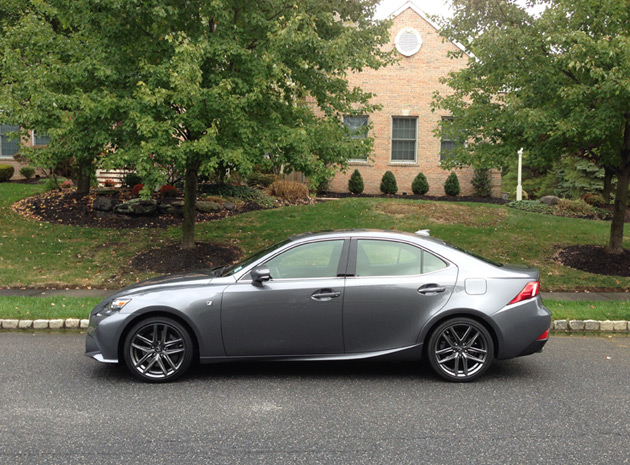 Last month, we did a track day in Las Vegas where we got to drive the 2014 Lexus IS 350 F SPORT AWD and really see what it was made of. While it was great on the track, how would it fare in the real world where most people would be driving the car? To find out, Lexus let us borrow a 2014 Lexus IS 350 F SPORT AWD for a week, and we put it through it's paces.
When the 2014 Lexus IS 250/350 was unveiled earlier this year, I wasn't a huge fan of the new styling. Lexus designers went for a much edgier look, presumably to appeal to a younger demographic. But they might have overdone it with the front-end styling, especially when it came to the new headlights and grille.
After driving the car for a week, I can honestly say that the highlights don't bother me "as much", especially in a darker color like our tester's Nebula Gray Pearl. But it's still the one part of the styling that jumps out at me, and not in a good way. The large front grille actually looks better with a front license plate mounted, since it helps break up the large grille. Who knew having a front plate requirements would be a good thing?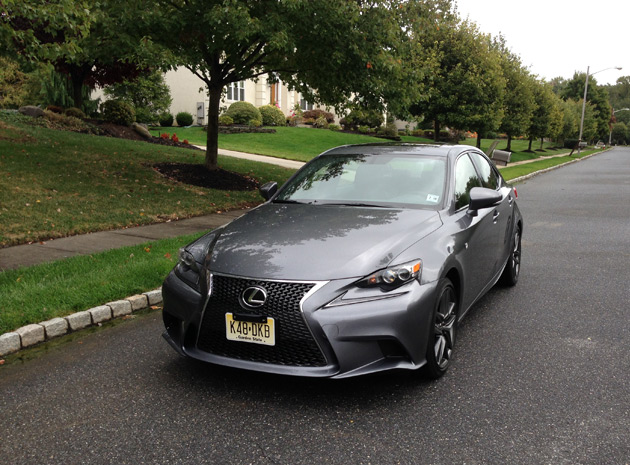 The rest of the styling is spot on. From the side, three-quarter, and back, the car looks really aggressive, and it got plenty of attention as we drove around town. A 350Z driver couldn't stop staring at it. A high school girl stopped in the parking lot and pointed it out to her mom. We even got a few thumbs ups from fellow car guys.
The interior of the car is a huge upgrade from the outgoing model, especially when you opt for the F SPORT package. The first thing you'll notice is the stunning TFT instrument cluster that's inspired by the LFA gauges. The large, LCD tachometer is contained in a physical bezel and flanked by fuel level and temperature bars. Push a button, and the motorized bezel slides aside to reveal a larger space on the left for displaying auxiliary data, such as the current audio source, navigation data, and fuel economy info.
In addition, the F SPORT package features nicely bolstered heated front seats that'll keep you in place during hard cornering, perforated leather throughout, silver performance trim, and a black headliner. Our tester had the optional $3225 NAV / Mark Levinson Premium Audio package, an audiophile's dream. It's a 15-speaker, 835 watts system that will simply leave you speechless. The Navigation System comes with Lexus Enform with App Suite, a new system that offers the latest in convenience.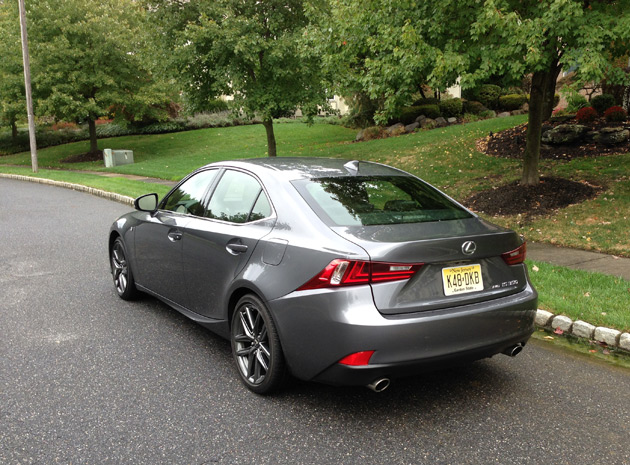 Unfortunately, the Remote Touch Interface (a mouse-like controller used in place of a touch screen) is rather maddening at times, as the controls are much too sensitive. Often times, a bump in the road would cause us to move the cursor when we didn't mean to. Much like BMW's iDrive, this is something that we suspect will continue to be improved year after year.
The question we kept getting during our week with the car was whether the F SPORT package was worth the $3180 price tag. Personally, I think it's a no-brainer. The F SPORT package offers a number of appearance upgrades that will help your car stand out from the crowd, like the aggressive front bumper, spindle grille, and 18″ F SPORT split 5-spoke wheels. Then there are those sweet interior upgrades we mentioned already.
But the biggest reason to get the F SPORT package is for the performance benefits. While F SPORT models don't have more horsepower than regular models, switching to Sport and Sport+ modes change the car's throttle response and suspension settings, transforming the car from a sedate luxury cruiser to a screaming canyon carver with the simple twist of a knob. Gears are also held longer, letting you tap into the car's meaty mid-range torque band in an instant without waiting for the car to downshift. SO. MUCH. FUN.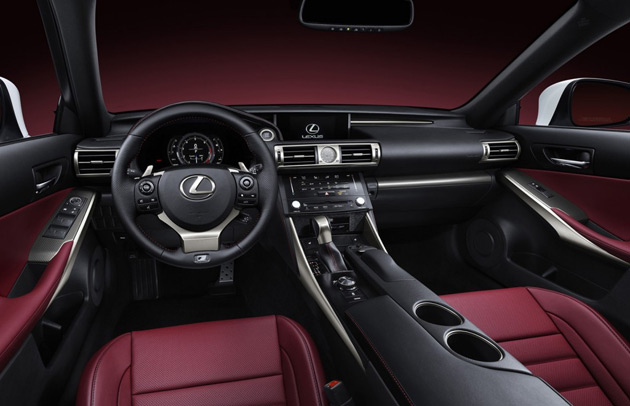 The 2014 Lexus IS 350 certainly stands out in a sea of generic-looking luxury sports sedans, and in reality it was probably smart of Lexus to make such a bold statement with the new IS. If you're in the market for new car in this segment, definitely check out the 2014 Lexus IS.
2014 Lexus IS 350 F SPORT AWD
Base Price: $41,700
As-Tested Price: $49,800
More Information: http://www.lexus.com/models/IS/