2014 Volkswagen Beetle R-Line Is Way Manlier Than Expected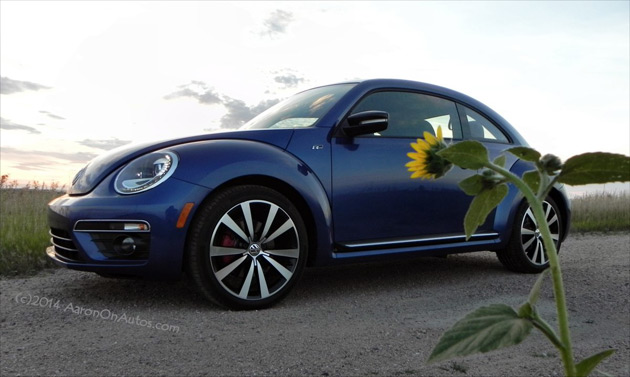 Manly is as manly does, to paraphrase the Gump. Well, despite its reputation as a chick magnet girlie car, the 2014 Volkswagen Beetle R-Line bucks that perception and puffs out its chest to flex its muscle. Think of it as a Porsche for those who can't afford a Porsche but want the drive that one offers. You won't be far off the mark with this Beetle.
For 2014, the main change made to the VW Beetle is the dropping of the "Turbo" name in favor of a less '90s-esque title, "R-Line." Apart from a few other minor differences, the 2013 and 2014 models are basically the same. This fact doesn't deplete the car's appeal, however.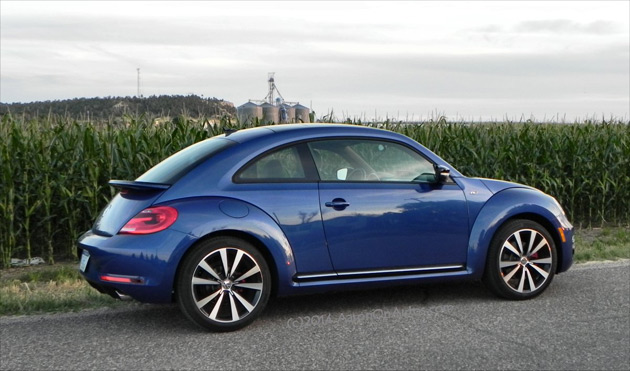 The 2014 VW Beetle R-Line has a 2.0-liter, four-cylinder engine that is turbocharged to output 210 horses and 207 lb-ft. For those wondering, yes, the hard top coupe is actually faster than the heavier convertible by roughly half a second in the 0-60 and nearly two seconds on the quarter mile. Some might scoff at only 210 HP, but that's because they're thinking of the Beetle R-Line on the same terms they might think of a Porsche 911 or a heavier car of American muscle.
Instead, getting into the 2014 Beetle R-Line proves that it's a great-handling, spirited little car with a lot of fun factor going on. The persona of the car brings back memories of Herbie doing outrageous stunts and putting on unrealistic spurts of speed against cars far more powerful than he. If this appeal sounds girlie to you, it's because you, girlie man, haven't experienced it first hand.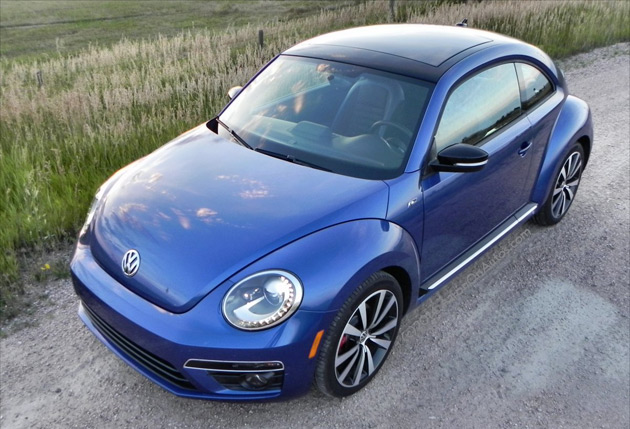 During our week with the 2014 VW Beetle, we drove it a LOT – 338 miles in all. Mostly on back roads in the country and long highways with lots of hills and curves. Why? Because the Beetle R-Line loves that and it imparts that joy to the driver as you do it. Steering is tough because you need that sporty feel around the corner to enjoy yourself. The suspension is tight because you want to make those curves at higher speeds or the car will seem bored. This is what the R-Line is all about.
For all of that, though, there is one glaring fault in the 2014 Beetle: its infotainment system. Volkswagen calls this a touch-screen interface, but that's using the term literally rather than as a description. It's a touch-screen, all right, but it's not much of an interface. This is too bad because otherwise, VW has a serious winner with their awesome Fender Audio top-end systems. In the 2014 Beetle, the Fender sounds incredible. Once you find your station. Which will take a while. Even for a guy like me, who prides himself on being the master of flipping to Ozzy's Boneyard, Liquid Metal, and Bluegrass Junction at speed.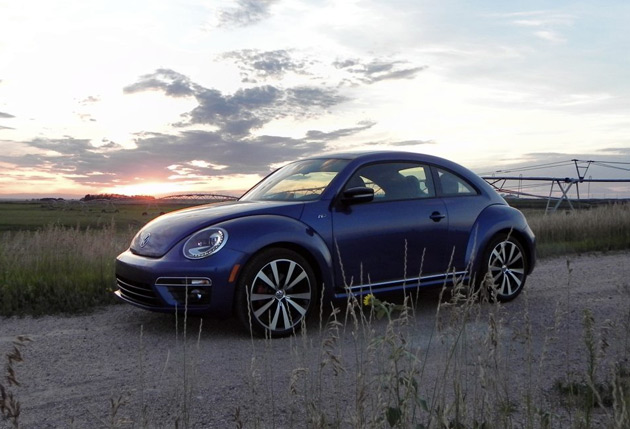 When talking about the car with a fellow automotive journalist, who hadn't driven the Beetle, I pointed out specific features that make it obvious that the car goes fast. First, check out those red brake calipers. Dead giveaway. Second, the engine is tuned to G# – we checked with my guitar tuner. Third, it does a 0-60 in only 3.6 seconds. Of course, that was a 0-60 feet test, not MPH, but it was on dirt, to the Beetle's credit.
So here's the rub. The 2014 VW Beetle R-Line goes fast and turns corners really well. Everything you want a European sports car to do. I did standstill quarter miles in the Beetle R-Line at 103 miles per hour easily. Repeatedly. Most of the time just because it was fun. This is the point of the 2014 Volkswagen Beetle R-Line. It's fun because the fun parts are a surprise to the onlooker.
This makes it manly because the Beetle R-Line is confident enough to be a sleeper car – pretending to be a wuss when in reality, it's a badass.