2015 Volkswagen Jetta – Larger, Prettier, Safer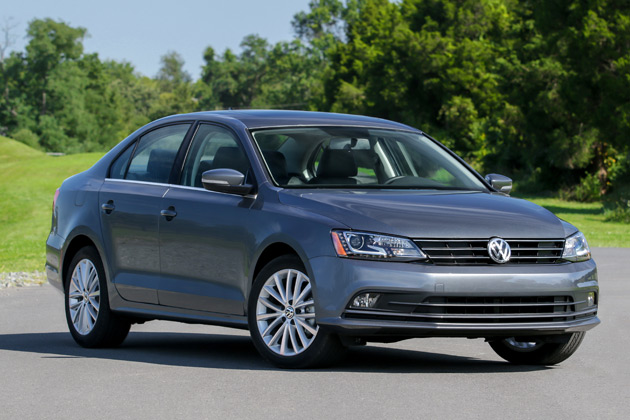 The Volkswagen Jetta was completely upgraded for 2015 and the improvements have finally put this midsize sedan back into the running. Previously, the Jetta suffered from bland styling, relatively low safety scores, and a cheap interior. Now, the 2015 Volkswagen Jetta features a great look, excellent safety, and a much more upscale interior.
We drove the Jetta in its 1.8T SE package, which features a good little 1.8-liter four-cylinder engine and the mid-level interior fitting. This is the "everyman" version of the Jetta, making up the majority of the car's sales in the United States, so it's a good place to be in testing. Ours rang in at about $20,810 after delivery thanks to an added $995 lighting package. We also had the five-speed manual transmission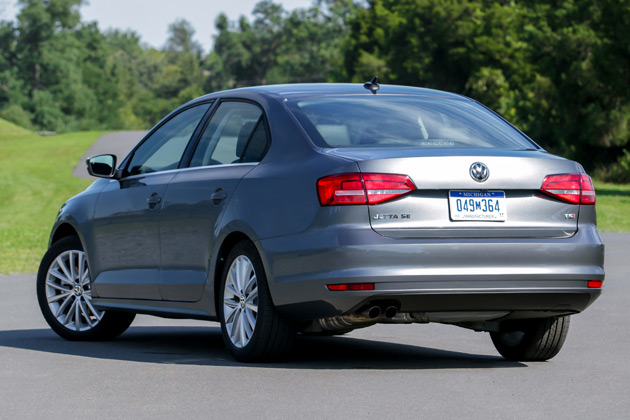 The exterior of the new 2015 Jetta looks slimmer and more sporty than it did before, despite the car having gained about three inches in wheelbase. This more sleek look comes thanks to front fascia and rear end tapering to create a newer, thinner version of the car. Unlike Oprah's latest fad diet, though, this one worked and it definitely looks good.
The Jetta's base engine is a 2.0-liter inline-four that produces barely adequate power (115 hp) and a pretty boring ride. Our 1.8-liter turbo option is a well-loved upgrade that most will find alleviates the downers of the other four-banger. Coupled to the five-speed manual transmission (a six-speed automatic is available), this little engine outputs a great drive. At 170 horsepower, 184 lb-ft of torque and 29 mpg combined, it's an excellent choice overall if you cannot afford the TDI. That TDI, by the way, is new for this year with a bunch of upgrades that increased output to 150 hp and 236 lb-ft for 36 mpg combined.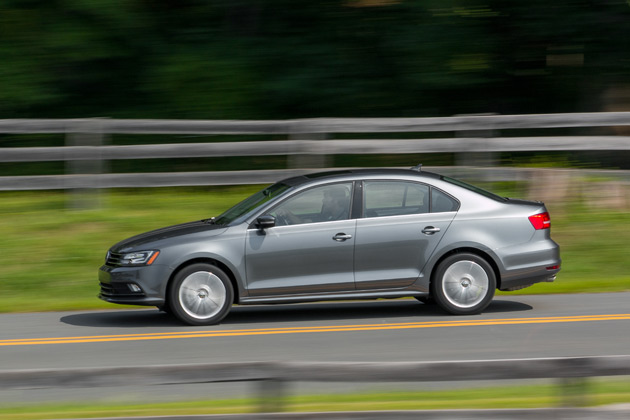 Back to our test car, the 1.8T accelerates remarkably well and is more punchy at stoplights than anyone might expect. Its 0-60 mph time is about 7.5 seconds or so (most people can get better than 8s). That's very fast for this segment. Couple this to the better styling of the car and you have a great ride for sure.
Inside, the 2015 Volkswagen Jetta also improves greatly. When we drove this car last year, it was as bland as it got, with quality, but uninteresting interior components and layout. This time around, interior finish is much more dynamic with a nice, flowing look that might be a bit sparse in some places, but is definitely no longer cheap.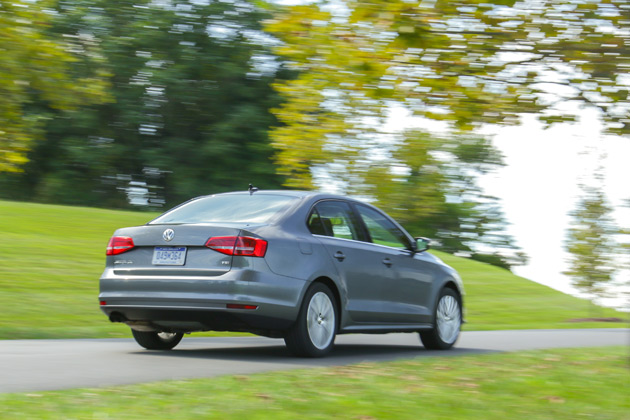 Seating room is great in the Jetta, improving slightly on what was already good before. Ergonomics and usability are also high in this new car, marking a big improvement for the Jetta overall.
Ride and handling are good, though the term "sporty" might be a stretch here. With the great little 1.8, though, things feel better than they would otherwise. Speed-sensitive power steering is a big bonus in the SE package and adds a subtly good dynamic to the drive experience. Otherwise, seating adjustability, technology fittings, and other items in the new 2015 Jetta are all on par with the segment at this price point.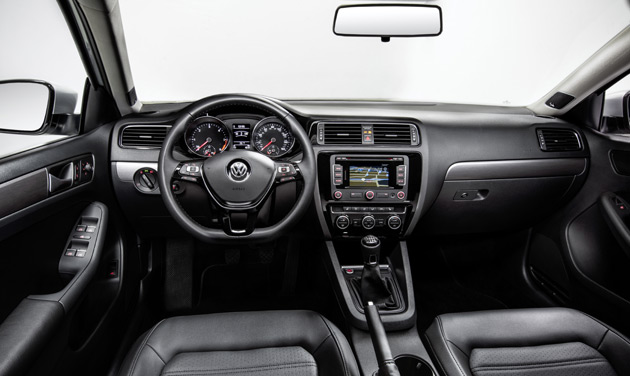 Finally, we come to safety. This was a serious weak point for the last-generation Jetta and it's been remedied for 2015. Government crash tests give the 2015 Jetta an overall 5-Star rating with most tests getting four or five stars in total. The Insurance Institute for Highway Safety (IIHS) also rates the new Jetta well.
Overall, the new 2015 Volkswagen Jetta is a big improvement over the bland previous generation. It's now in the running as a top choice in the entry-level midsize sedan arena.