2016 Ford Focus RS Will Be Sold Globally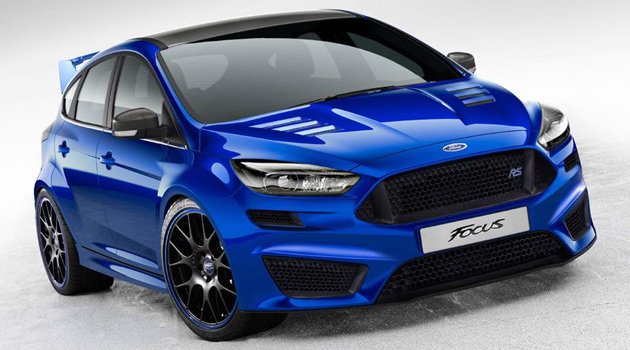 During a press conference yesterday morning, Ford CEO Mark Fields finally confirmed what enthusiasts had been hoping for. Ford will be launching a new high-performance Focus RS, and this bad boy will finally be offered stateside! The car is expected to make it's debut next month at the Detroit Auto Show, at which time we'll hopefully have more details on the car.
The Focus RS will serve as a hotter variant of the Focus, which will be redesigned next year as part of Ford's 16 product launches. The old RS featured a turbocharged inline-5 that put out 305HP to the front wheels. But this time around, it's believed that the Focus RS will use Ford's 2.3-liter Ecoboost four-cylinder (the same one available on the 2015 Mustang), tuned to put out between 325-350HP. All-wheel drive is also rumored to be part of the new RS formula.
If Ford can pull this off while keeping the price somewhat affordable (under $40K), Subaru had better watch out, because the RS will surely poach sales from the STI, which "only" puts out 305HP.
As a big fan of turbo AWD cars (I drive a 2011 Subaru WRX), I'm really hoping that Ford comes through and brings us an RS with AWD. While the old Focus RS was able to manage torque steer with their RevoKnuckle system, it's no substitute for all-wheel drive, especially in the winter time!
We'll keep you posted as more details surface!