2023 BMW 840i Gran Coupe Delivers A Nice Mix Of Style, Speed & Sophistication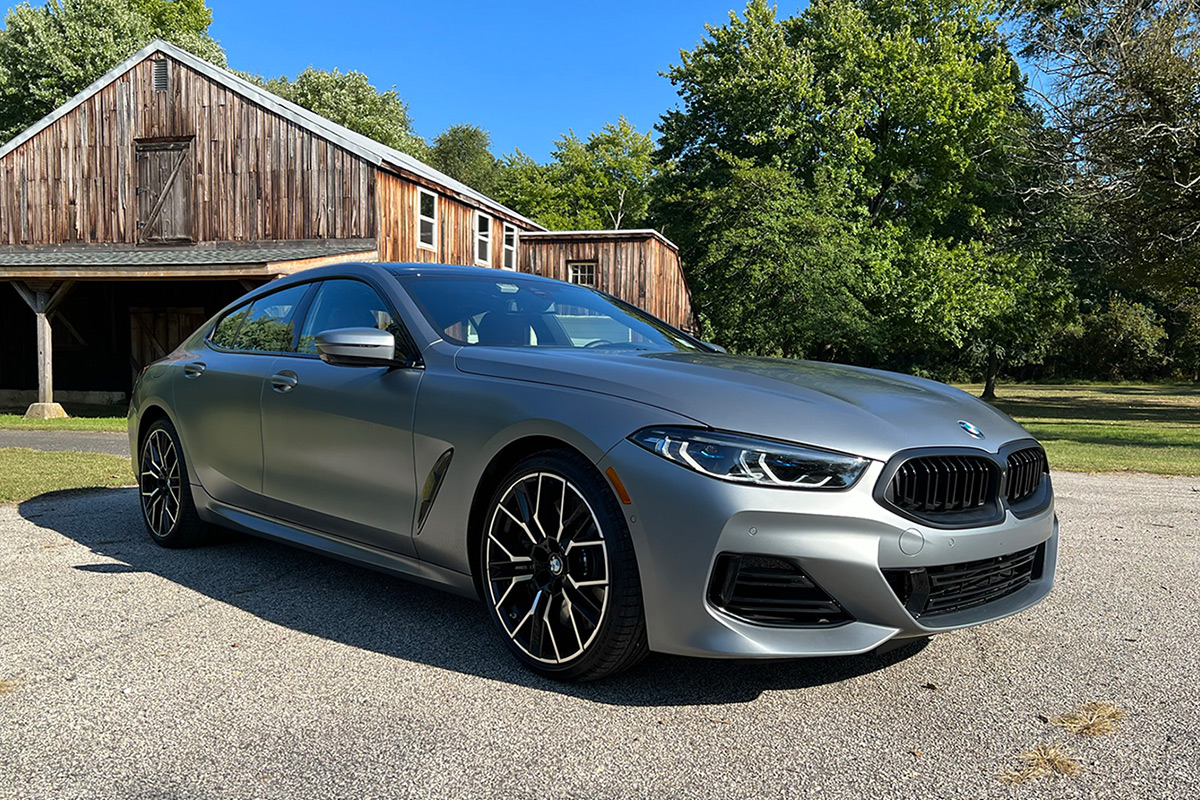 A few years back, I spent a week with the mighty 2020 BMW M8 Competition, and I loved it so much that I didn't want to give it back. It had tons of power, gorgeous styling, all-wheel drive, and it was rather comfortable on long stints. The only problem? A hefty price tag, clocking in at $175,745. Unless I won the lottery, my hopes of getting an M8 were slim to none.
That's probably true for most people, as that's a huge chunk of change for any car, let alone for a coupe with limited utility. But did you know that BMW has another model that offers nearly as much fun for a fraction of the price, while adding two extra doors for more practicality? I'm talking about the 2023 BMW 840i Gran Coupe, the entry-level model that's often overlooked.
We recently spent a week with the 2023 BMW 840i Gran Coupe, and I've got to say, I was really surprised by how much I liked it, as its specs might have you thinking otherwise. Compared to the M8 Competition we drove, this one is down nearly 300 horsepower, coming in with 335HP! Yet it's still plenty quick, with the turbos spooling fast and pinning you in the back of your seat when you floor it. 0-60 happens in a respectable 4.9 seconds (4.6s w/ xDrive).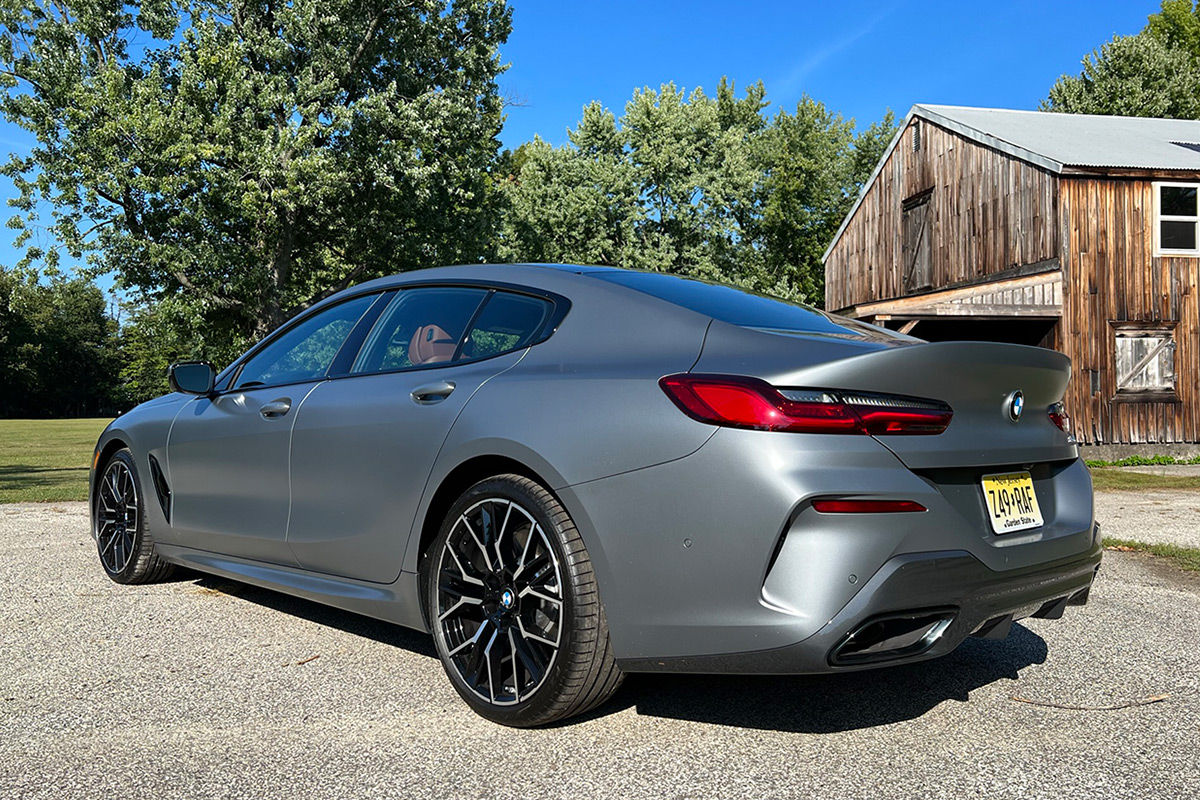 The BMW 840i Gran Coupe features a twin-turbo 3.0L inline-six-cylinder engine that puts out 335HP and 368 lb-ft of torque. Like I said, on paper that doesn't seem like enough power for a chonky car like this that weighs in at a hefty 4,180 pounds. But somehow it just works, with great acceleration both off the line and at speed, that 8-speed Sport Automatic transmission working to keep you in the powerband at all times, with no boost lag to speak of.
Naturally, the inline-six doesn't deliver that growling soundtrack that the V8 does when you give it the beans, and it's a tick slower to 60mph compared to the M850i. But given the $15K+ price difference between the two, the 840i (with a few M Sport options) just makes more sense to me. Our tester was loaded with options (including a $5,000 Frozen Pure Grey Metallic paint job), and even still it came in at "just" $95,495. A base M850i xDrive starts at $102,500.
Handling was equally impressive for a car of this size, with the 840i Gran Coupe delivering the perfect blend of luxury and sportiness. On the pothole-ridden roads of New Jersey, I kept it in Comfort mode and it rode like butter, even with the optional 20-inch rims. But when the roads turned twisty, I switched to Sport/Sport+ mode, and it immediately transformed the demeanor of the car, giving it a sportier feel and once again belying the car's larger stature. And when you need to stop, the large M Sport Brakes help you reign it in in a hurry.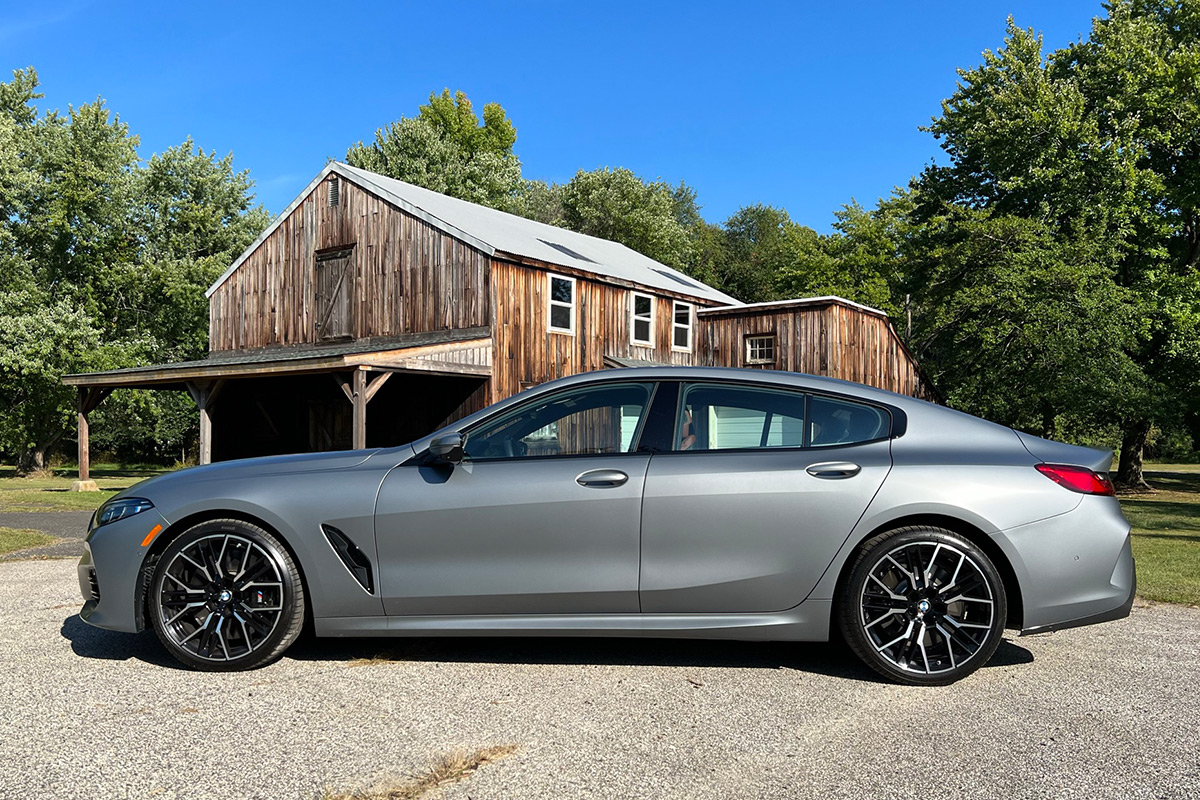 Visually, I found myself quite taken with the BMW 840i Gran Coupe, and that's strong words coming from someone who wasn't a fan of the Gran Coupe models when BMW first introduced them. But BMW has managed to create a more practical sedan body style while preserving the two-door's sleek roofline, giving you the best both worlds. And rear headroom isn't bad at all, with none of my passengers complaining one bit.
BMW actually has a quote on their website that perfectly describes the car's design – With the perfect symmetry of sportiness and space, the 840i Gran Coupe models embody the elegant nature of a four-door coupe. Couldn't have said it better myself!
As with the 2022 BMW M440i xDrive Gran Coupe we recently tested, BMW's designers finally found that perfect balance of sportiness and practicality with these Gran Coupe variants, and I wouldn't be surprised to see them replace two-door models entirely in the years to come. Sad news for coupe lovers, but these four-door coupes with fastback styling are the next best thing.
Those with eagle eyes might have noticed that the 8 Series Gran Coupe received a mild styling refresh for 2023, including a redesigned dual-kidney grille with illumination, five new exterior colors (Skyscraper Grey metallic, San Remo Green metallic, Portimao Blue metallic, BMW Individual Frozen Tanzanite Blue metallic, and Frozen Pure Grey), and two new 20-inch wheel designs. The car was already a stunner, so why mess with it?
Inside, there's a nice mixture of luxury and sportiness. Tartufo/Black Merino leather seats look very upscale, and they're nicely bolstered to keep you in place during spirited driving. A 12.3″ digital instrument cluster comes standard with BMW Live Cockpit Professional and displays your tach, speedo, gauges, and more, while the center infotainment touchscreen display has increased in size from 10.25 to 12.3 inches and is powered by iDrive 7.0.
While we complained about the M8's cramped rear seats, that's not the case at all in the BMW 8 Series Gran Coupe. Rear passengers have plenty of legroom, thanks to the wheelbase being stretched 8 inches. Some people complain that the sleek roofline compromises rear headroom a bit, but I'm 6'2″ and I didn't have any issues to speak of while sitting back there.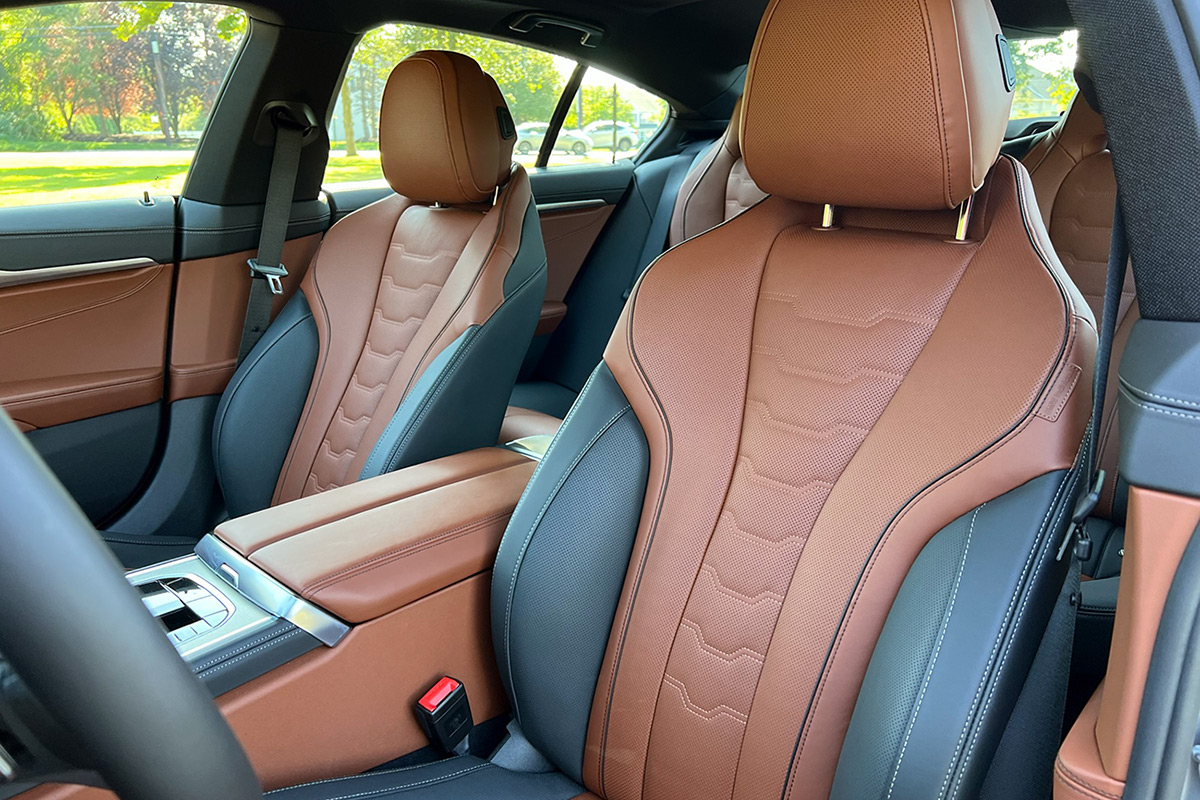 There's also no shortage of technology in the 2023 BMW 840i Gran Coupe, with a full suite of advanced driver aids, a voice command system (useful if you don't want to look away from the road), Apple CarPlay and Android Auto connectivity, wireless charging, remote start, a rockin' Harman Kardon Surround Sound System with 464-watts and 16 speakers, and subscription-based services such as SiriusXM with 360L and a WiFi Hotspot.
Cargo space is also pretty decent, with 15.5 cubic feet of truck space, and 40/20/40-split rear seats that fold nearly flat to provide even more storage capacity. While it's not what this car is meant for, it's good to know that you can haul a bunch of stuff in a pinch if need be.
Fuel economy is another bright spot, with the BMW 840i Gran Coupe boasting a respectable 21 mpg city / 29 mpg highway. As you might imagine, the other V8-powered models aren't nearly as fuel efficient..
The 2023 BMW 840i Gran Coupe competes against the Merecedes-AMG GT 43 4-Door Coupe, Porsche Panamera, Audi S7 and others, and all of these are great cars in their own right. That said, I'm a big fan of the BMW 8 Series, and I think the 840i Gran Coupe offers a lot of bang for the buck, with a starting price of $85,000. That's significantly cheaper than others in this class.
Normally I'm the guy that would tell you to buy the model with the most power and features. But in the case of the BMW 840i, I actually think this "base" model makes a lot of sense. It's plenty fast, handles great, looks drop-dead gorgeous, and it won't break the bank. Seriously, what more could you ask for?
BMW delivered the perfect mix of style, speed, and sophistication with the 840i Gran Coupe, so if you're in the market for a vehicle in this segment, you absolutely must visit your local BMW dealership and test drive one for yourself. Trust me, you'll be glad you did!