A Look At Ron Berry's Custom '65 VW Bus, The Aptly Named "Surf Seeker"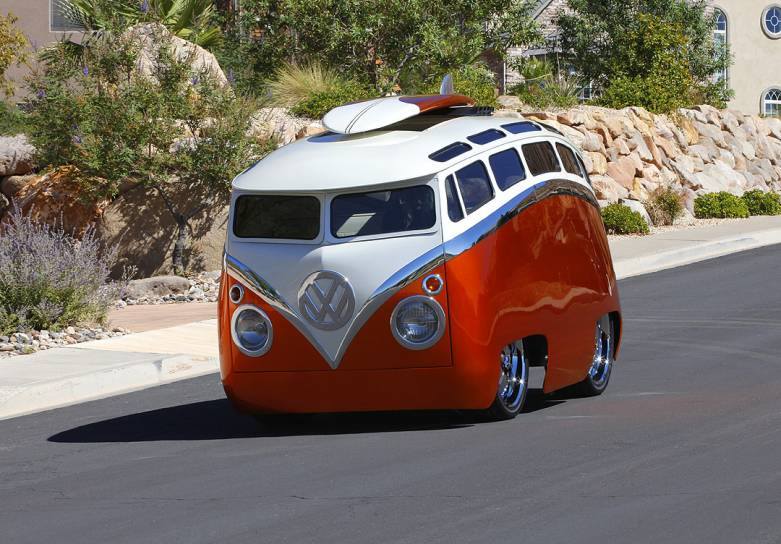 Ron Berry, a retired resident in Utah, designed and built a custom VW bus that looks like it came straight out of Disney's Cars movie. Meet the Surf Seeker.
Some Volkswagen purists might balk at people calling this a VW, since it only uses front and rear suspension bits from a 1965 Type 2 bus. The rest of the vehicle is hand-built from steel, not fiberglass. But it captures the essence of the Volkswagen, and that's what's most important.
The Surf Seeker is powered by a modified air-cooled flat-four engine, and with it's Type 1 supercharger, the van puts out around 200HP. As you can see in this video, the shiny engine is fully exposed at the back.
With its big 24-inch chrome wheels tucked in effortlessly, the Surf Seeker is a sight to behold. Its body lines are bent to a degree that almost looks unreal. And it features an Isetta bubble car-like side-opening hatch that peels away the entire front end to grant access. It's really something else.
Whether you're young or old, a Volkswagen enthusiast or not, there's no doubt that this "Coolish" creation will cause you to do a double-take as it drives by!
What do you think of Ron Berry's VW Microbus homage?
Photo credit: Just A Car Guy