First Drive: 2015 Ford Edge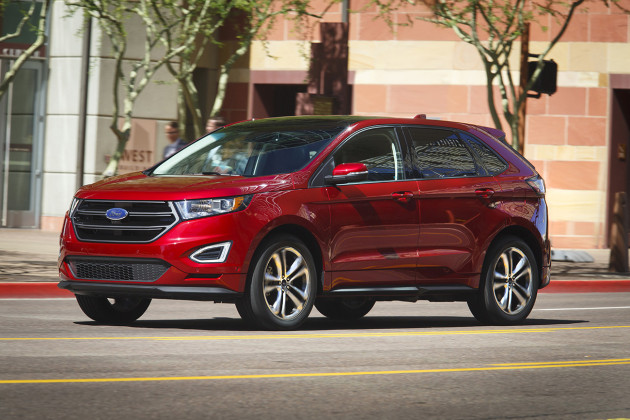 Ford recently flew us out to Scottsdale AZ to drive the all-new 2015 Ford Edge. And let me tell you, coming from the Northeast where we've seen nothing but snow this winter, it was a welcomed change of pace, even if only for a few days..
Ford unveiled the new Edge last summer at Ford's annual Further With Ford event, and we were there in the audience to witness it firsthand. While our initial impressions were extremely favorable, it's hard to make an informed assessment without getting some time behind the wheel. And now after nearly 9 months of waiting, that day was finally here.
Aesthetically, Ford really knocked it out of the park with the 2015 Edge. The styling is edgier, with a stronger, more athletic shape, while still retaining that familiar Edge silhouette. Some have complained that the new Edge looks too much like some other SUVs (Santa Fe, RX350, CR-V, RAV4, etc), but I think the Edge really stands out from the rest of the crossover crowd, especially in Sport trim.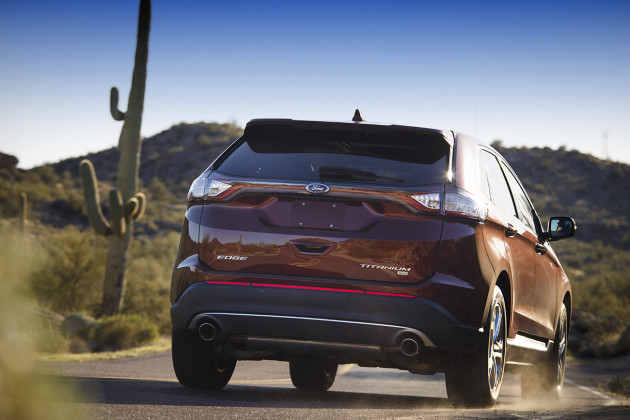 The 2015 Ford Edge introduces two new engines, giving buyers three powerplants to chose from. The base engine is a twin-scroll 2.0-liter EcoBoost four-cylinder that puts out 245HP and 275 lb-ft of torque, and it's a marked improvement over the previous 2.0-liter EcoBoost. This new engine provides more capability, and can even be ordered with AWD and a towing package capable of hauling a 3,500-pound trailer. This engine returns best-in-segment fuel economy ratings of 20 city / 30 highway / 24 combined (FWD).
The natural aspirated 3.5L V6 is a carryover from last year, and it makes 285HP and 250 lb-ft of torque. We didn't have a chance to drive a model equipped with this engine, but based on the numbers, it looks like a good option for those who don't want to make the jump to a Sport model but want a little extra power.
And speaking of the Edge Sport, it's the only model that gets the 2.7-liter EcoBoost V6. The new V6 delivers a small increase in horsepower over the previous 3.7-liter V6 engine, and a 25% increase in torque – for a total of 315HP and 350 lb-ft of torque, with peak torque is available at 2,750 rpm. This engine returns fuel economy ratings of 18 / 27 / 21 (FWD), and 17 / 24 / 20 (AWD).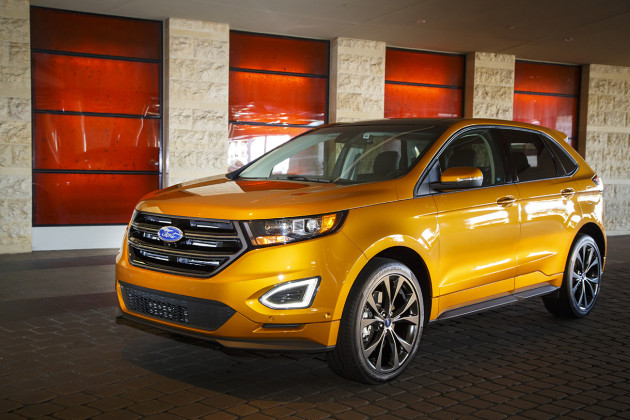 While it won't pin you to the back of your seat, the Edge Sport still provides a nice little growl on acceleration, and the 2.7L EcoBoost V6 is a huge upgrade from the base engine, especially in passing situations. Trust us, once you drive the Sport, it's hard to go back to anything else. 🙂
Step inside the 2015 Edge and you'll see a huge improvement over the outgoing model, both in material and visual quality. The dashboard and center console have been carefully designed and shaped to look like one thin, streamlined piece. A central 8-inch LCD touch screen supporting SYNC with MyFord Touch is now more widely available. Storage areas have been improved throughout the cabin, with a covered media bin on top of the center stack; an open, pass-through storage area beneath the climate controls; an open storage area on the instrument panel, below and to the left of the steering wheel; and large pockets on each door.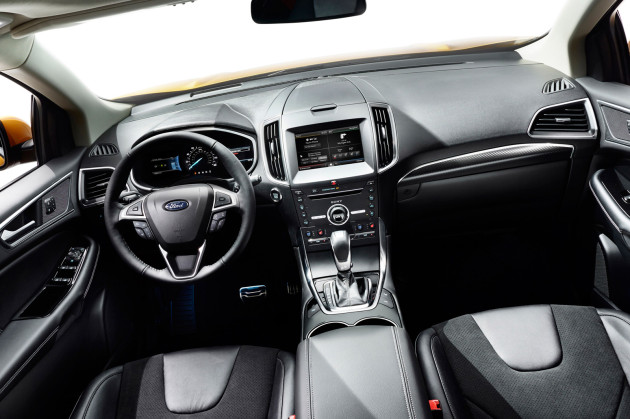 The Edge's cabin is larger than the outgoing model in nearly every measure. There's additional headroom for all passengers, and legroom for second-row passengers increases 1.0 inch. Cargo capacity also is up, with 39.2 cubic feet of space behind the second row of seats – 7.0 cubic feet more than the previous model. With the second row folded, there's 73.4 cubic feet of cargo capacity in the 2015 Edge – a gain of 4.5 cubic feet.
In addition, the cabin is also quieter than before, thanks in part to better sealing of the body, some insulation improvements, and powertrains that are less noisy and better isolated from the cabin. Standard for 2015 on all models is acoustic windshield glass, along with acoustic underbody panels and wheel well liners that help reduce road and wind noise and improve aerodynamic performance. Titanium models are even quieter, incorporating acoustic glass on driver and passenger side doors.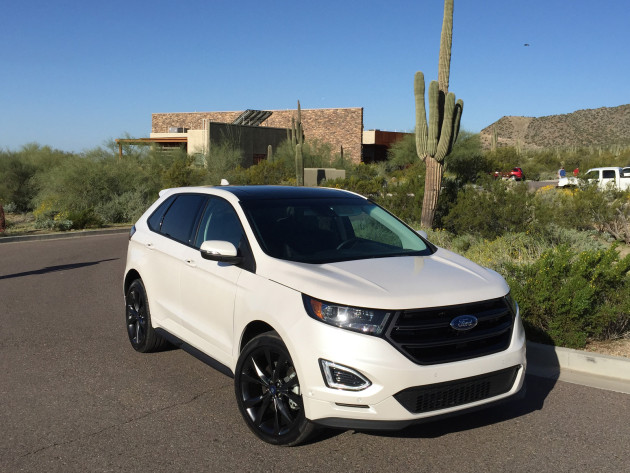 As for technology and safety features, I could seriously fill another few pages going into detail on them. In a nutshell, the 2015 Edge is a technology leader for Ford, with a suite of standard and available technologies designed to improve both the driving experience and comfort level for vehicle occupants. Tech features offered for the first time include enhanced active park assist (with parallel and perpendicular parking), side parking sensors and a front camera with washer.
Pricing starts at $28,100 for the base SE model, and climbs to a rather steep $38,100 for the Sport model. It's a lot of money for sure, especially when you consider that our Sport tester rang in at an eye-popping $46,000, but compared to some similarly equipped luxury crossovers, it's actually pretty reasonable.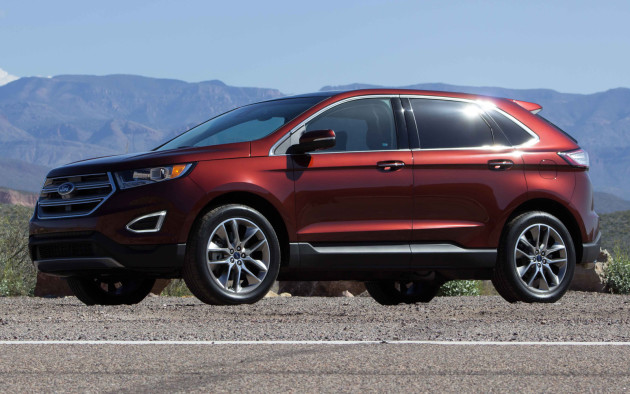 As you can see, Ford's really thought of everything when it comes to the 2015 Ford Edge. So if you're in the market for a good looking, fun to drive crossover, the Edge should definitely be on your list.
Visit http://www.ford.com/edge to learn more about the 2015 Ford Edge.