Audi A6 Gets Refresh For 2015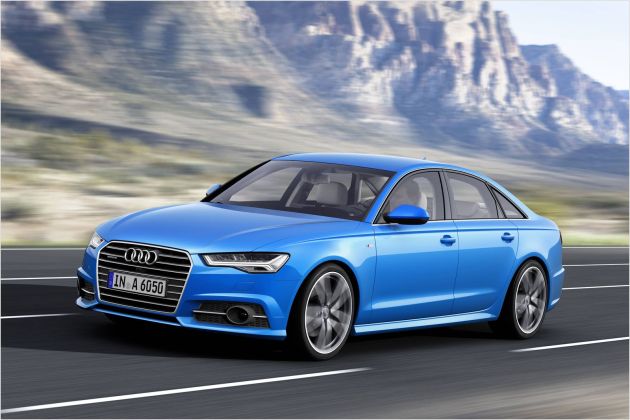 Audi has announced that the public debut of the refreshed fourth generation Audi A6 variants will take place at the 2014 Paris Motor Show in October. The A6 has received a range of subtle exterior changes, and an updated infotainment and assistance systems to accompany new engine and transmission updates. This is all part of Audi's an attempt to keep the mid-size executive sedan at the top of its game.
New A6 Design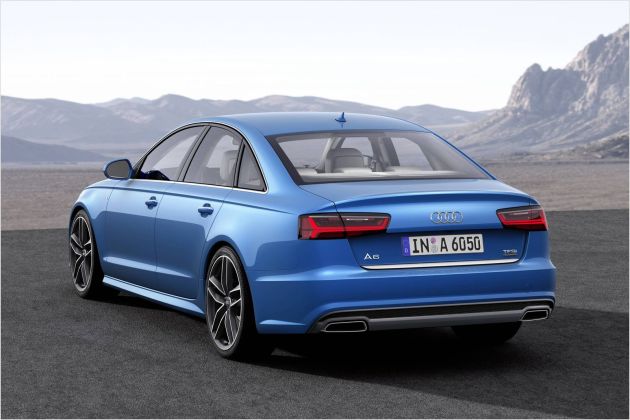 Regarding exterior changes, the face-lifted A6 receives new headlights and taillights combined with dynamic turn signals, a more rigid single frame grille, redesigned bumper and door sills, and completely new exhaust. On some variants, the exhaust ends in trapezoid-shaped tips that are integrated into the rear bumper.
Drivers will gain the use of xenon headlights with the new A6 SE as a standard, and LED headlights will come included on S line vehicles. Newly restyled "Matrix" LED headlights can also come as an optional upgrade on all A6 and S6 models, while they come as standard on the RS6.
S line models will receive the new "lunar silver" upholstery instead of the former black leather seats that came with the higher dollar models in the past. S line models will also be given new four-zone climate control, gear knob, and additional chrome detailing.
More Technology for the A6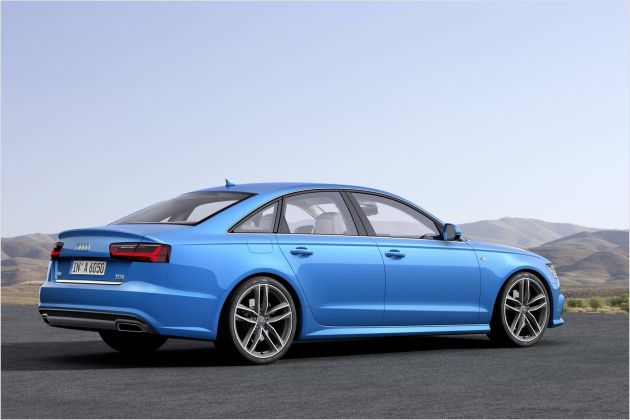 Within the new A6 comes standard with automatic air-conditioning and Audi's MMI radio. Customers will have the option for front seats with massage and ventilation functionality. If buyers were looking for all of the bells and whistles, they can upgrade to the MMI navigation plus with MMI touch. The upgraded systems utilizes an eight inch screen that retracts into the dashboard that features the Tegra 30 graphics chip courtesy of Audi's partner, Nvidia.
Electronic driver aids have also received an update, which include adaptive cruise control with stop-and-go traffic crawling, enhanced night vision, and optional heads-up display.
Redesigned Powertrain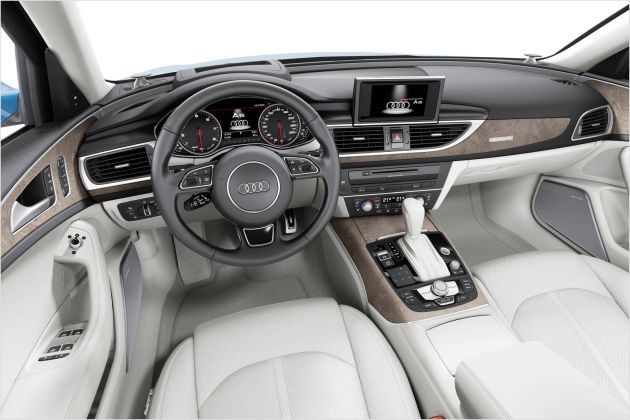 The A6 family will receive an updated lineup of power plants that consist of three TFSI units with outputs ranging from 190hp to 333hp, and five TDI units with outputs ranging from 150hp to 326hp. All of which Audi claims have reduced CO2 emissions by as much as 22 percent. Two "Ultra" models have been added to the A6 family, which feature enhanced aerodynamic features, and suspensions consisting of glass fiber reinforced polymer springs to play part in weight saving.
The 1.8-liter TFSI ultra generates 41.3 MPG, and the 2.0-liter TDI comes with 150hp and 56 MPG. Both engines are accompanied by an all-new S-Tronic transmission.
The 3.0-liter six cylinder TDI clean diesel receives a bit more power and comes with either 218hp or 272hp, while a bi-turbo version delivers 320hp and 326hp in the 3.0-liter TDI competition special editions. High performance diesels will be paired with the eight-speed Tiptronic transmission as before.
The S6 and S6 Avants will come with a 4.0-liter TFSI bi-turbo V8 that is rated for 450hp, while the RS6 Avant will boast 560hp. Both models will feature Quattro all-wheel drive as a standard.
Like in the past, customers will have the choice of a six-speed manual or S tronic automatic transmission across all variants, as well as the option of two or four-wheel drive. The S tronic automatic transmissions are now a replacement for the less competent CVT automatic transmissions in front-wheel drive models.
The recently upgraded bi-turbo TDI engines have been upgraded to celebrate Audi's 25 years of TDI technology. Allowing lighter weights and less emissions while enabling more fuel efficient performance, all on top of Audi's stylish and high-tech specification is very smart. The new A6 family will almost certainly deliver promising outcomes for the company even against rivaling brands such as Mercedes and their E-class, and BMW's 5-series.