Back From The Cooper Tire #RideNDrive Event
This is a Sponsored post written by me on behalf of Cooper Tires. All opinions are 100% mine.

Last week, we flew out to the Cooper Tire & Vehicle Test Center, a 1000 acre facility located in Pearsall TX, where Cooper Tire evaluates and assesses its tire products. The facility features a dry handling circle, a 14-acre wet pad and an impressive off-road track, giving us the chance to test Cooper's newest technologies in various road conditions.
We were there for their annual Ride-N-Drive event, where we got to test out the Cooper Zeon RS3-A and RS3-S high performance tires on Day 1, as well as the Discoverer A/T3 and S/TMaxx off-road tires on Day 2.
In the first event, we tested two Corvettes back-to-back on a wet handling course. Participants maneuvered through a cone-lined course with areas of acceleration, deceleration, simulated lane changes, gradual turns and sharp turns. We were told to push the vehicles quickly yet accurately, so that we could experience the traction and controllability on wet surfaces.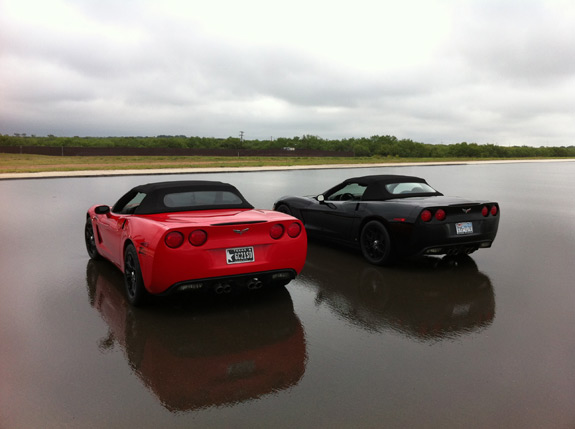 The black Corvette was wearing a competitor's tire, and the red Corvette was sporting a set of Cooper Zeon RS3-S tires. With traction control turned off on these 440HP beasts, things were sure to get interesting in a hurry!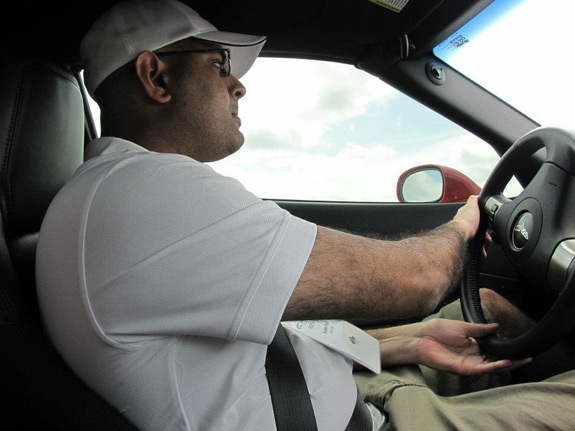 Driving the black Vette was a challenge, as you could feel the rear-end trying to break free everytime you gave it some gas. And eventually, we all managed to spin the car. Once you lost control of the car, all you could do was hold on and wait for the car to come to a stop, there was no recovering from it.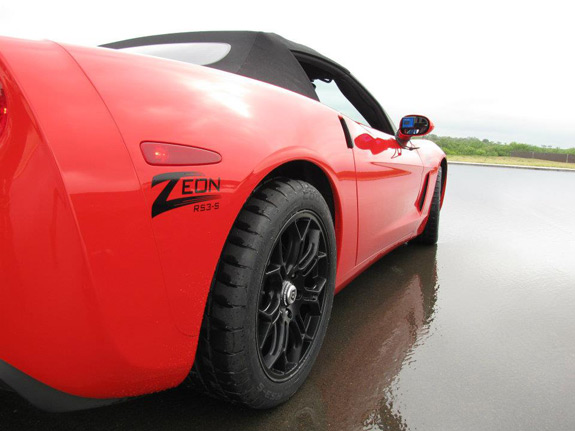 Driving the red Vette with the Zeon RS3-S's was an entirely different story. The RS3-S handled everything we threw at it, with nary a complaint. You could carry quite a bit more speed through the course, and oversteer was a non-issue. Still, tires can't defy the laws of physics, and if you pushed hard enough you could break the car loose. But with the RS3-S's, it was easy to bring the car back in line, as you can see in the video below!
After lunch, we took out two Mustangs on the same wet handling course – Only this time, we were testing out Cooper's Zeon RS3-A all-season tire against another brand's all-season tire.
The results were even more dramatic, with the RS3-A providing surprisingly good grip around the slippery course. Despite my best efforts, I could not induce oversteer. The other Mustang was only too happy to oversteer at the slightest provocation. I used to own a Mustang, and driving it in bad weather was pretty sketchy.. The RS3-A makes you feel much safer!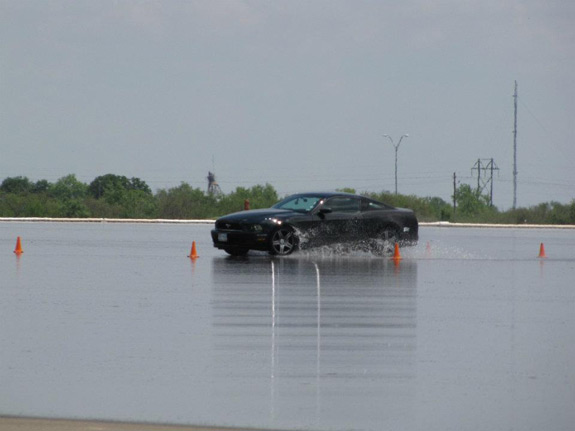 We also got to take out the Corvettes from the morning session on a race track, which was pretty awesome.. Both cars handled great, but I was able to carry more speed coming into the corners with the RS3-S's.. When I pushed the other car a little too much, the back end broke loose, and there was no recovering from that!
Day 2 was something entirely new for me, testing out Cooper's Discoverer A/T3 and S/TMaxx off-road tires in a variety of off-road conditions. In the morning, we tested out some 2WD Tahoes on the same wet track we ran the Vettes and Mustangs on the day before, and the results were even more noticable here. The Tahoe with the competitor's tires on them handled reasonably well under normal conditions, but if you gave the truck too much gas, the back end would come around in a hurry – Coming around the last corner, I gave it too much throttle, throwing the truck into an uncontrollable spin and nearly taking out a nearby camera!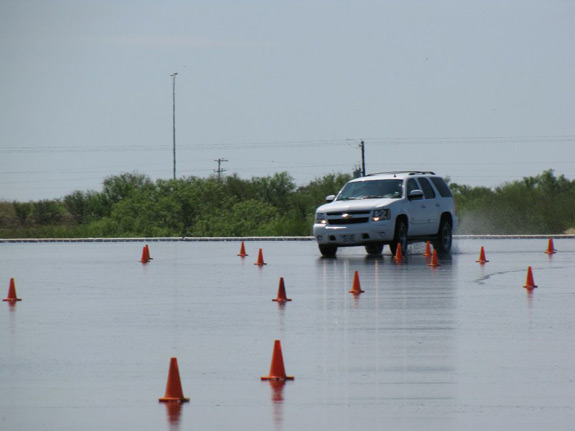 On the other hand, the Tahoe sporting the Discoverer A/T3's handled the wet course with ease. It was very hard to induce oversteer, and even if you managed to get the back end to break loose, it was easy to bring back under control. If I had an SUV, there's no question that I'd get a set of AT3's for it.
After that, we had the chance to do a hot lap in a Baja truck with Ali Aljibouri, Cooper Tire professional driver, who showed off the A/T3s off-road performance capabilities! It was pretty insane, definitely one of the coolest things I've gotten to experience. Here's a quick video they shot as we whizzed by:
After lunch, we headed out to their off-road courses, where we got to put the A/T3's and S/TMAXX's through their paces. Mud pits, wet hill climbs, rock garden, a rock quarry and trail ride, and even a boulder crawl. It was like nothing I've ever done before!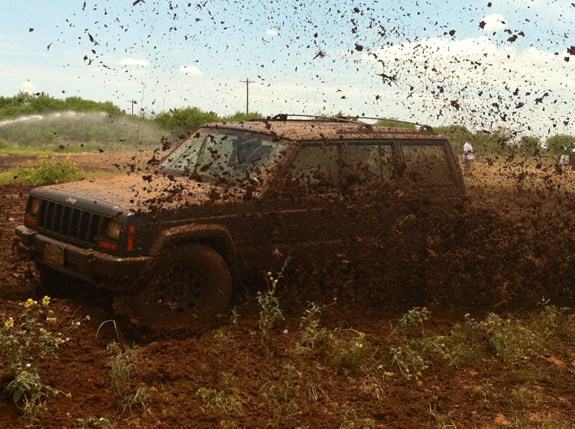 The mud pits were awesome, and I was beyond impressed at just how well the A/T3's and S/TMAXX's handled everything that was thrown at it.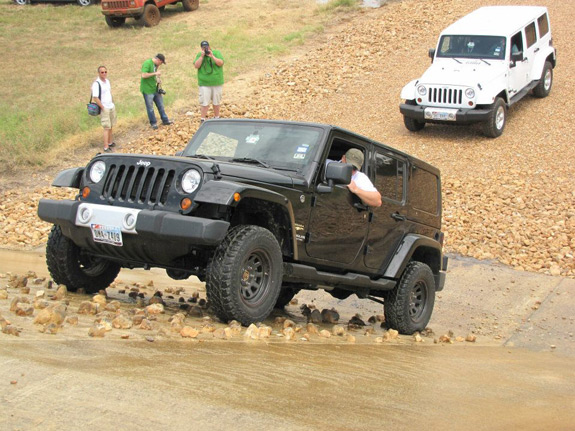 The hill climb might not look that steep in the photos, but it was a 35-degree incline! When you're driving up the hill, you're looking right at the sky. I just trusted my guide's directions and was able to climb the hill with ease!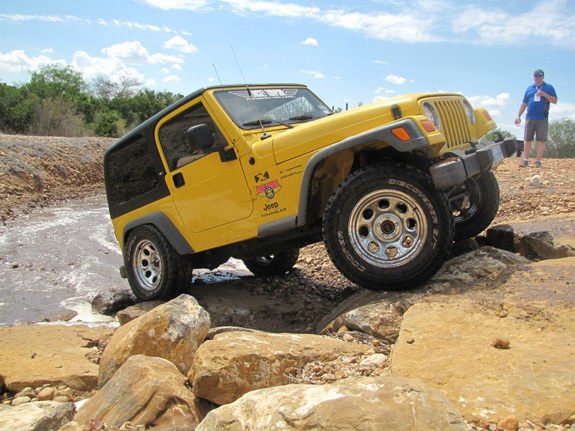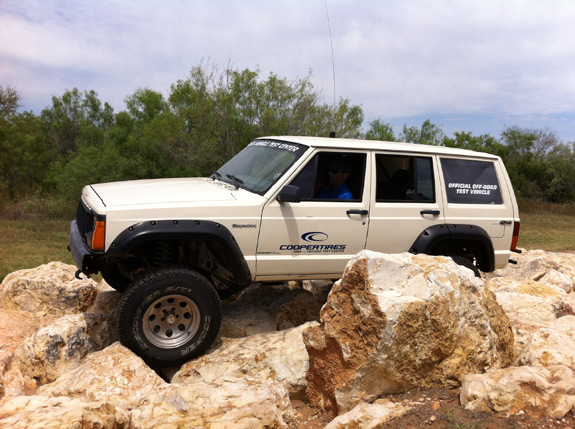 The trail ride was awesome and scary at the same time. There were more than a few times when I thought to myself, "There's no way we're going to get through this", only to pass through it with ease. By the end of the day, I was hooked and ready to buy a Jeep!
I'll admit that I wasn't real familiar with Cooper Tires prior to this trip. But seeing is believing, and I'm a convert now for sure! I'm planning on picking up a set of Zeon RS3-A's for my daily driver, as my OEM tires really left a lot to be desired in anything but perfect weather.
Thanks to Cooper Tires for bringing us out, and be sure to follow @CooperTire on Twitter for all the latest news!
p.s. Want to see even more photos from this trip? I've posted them on our Facebook Page.