Bang & Olufsen BeoLab 14 Surround Sound System Makes A Statement
This post brought to you by Bang & Olufsen. All opinions are 100% mine.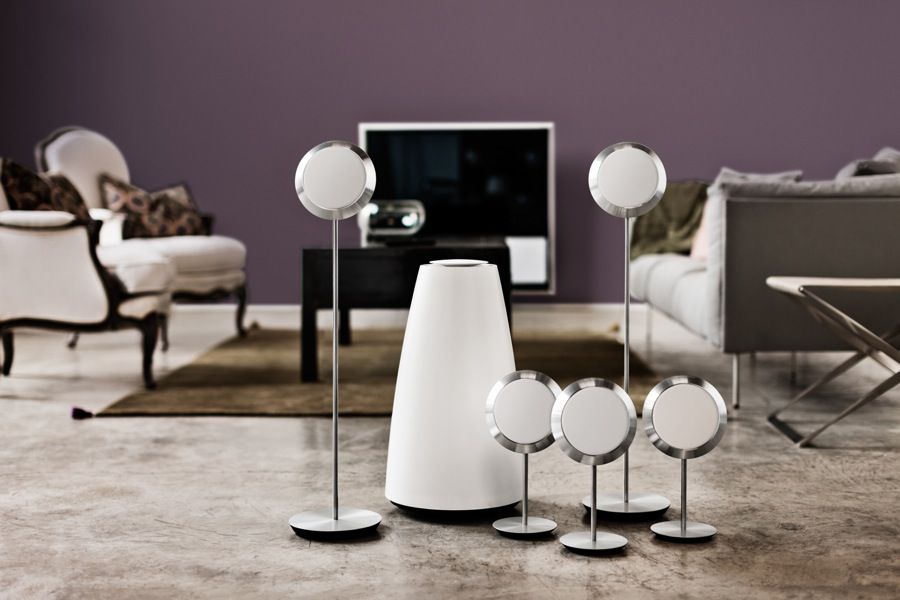 The BeoLab 14 is a new surround sound system from Bang & Olufsen that combines amazing sound, compact aesthetics and flexible placement options to bring the cinematic experience straight to your living room. You'll experience serious surround sound that will have you lost in the moment.
Drawing on extensive experience in producing rich sound from exquisitely designed small packages, B&O has been able to provide lush performance from a stylish but compact set of satellites and subwoofer. The new system brings that signature Bang & Olufsen sound to any setting where design and performance matter.
Bang & Olufsen's engineers and designers have clearly learned some important lessons from decades of creating high-end TVs and speakers for discerning homes. Where there's room for the very best, Bang & Olufsen fills the room with expansive and natural sound. But they've also sharpened their acoustic skills in much tighter quarters, including some of Europe's most prestigious automobile cabins, where they've developed a host of innovative solutions that enable the world's best automotive audio systems in surprisingly small places.
Now, Bang & Olufsen brings its considerable acoustic prowess to bear in an entirely new direction: The BeoLab 14, a surround sound speaker system that connects to any TV to transform film and game soundtracks into immersive aural landscapes.
The magic of the BeoLab 14 system lies in its sculptural subwoofer. With 280 watts of dedicated power for its 8", downward-facing driver, the active sub delivers ample oomph at the lowest frequencies – all the way down to 26 hz. The stylish sub also contains connections for five active satellite speakers (along with five individual 140 watt amplifiers with separate equalizers for each of them), a very capable Digital Signal Processor, Adaptive Bass Linearisation (for cultivated bass, no matter what the peaks), room adaptation switch, line sense, Power Link connections for Bang & Olufsen components, and an A/V multi-connector for other components.
Separating the satellite speakers' active 2.5" treble/midrange drivers from their dedicated amps lets Bang & Olufsen make them sound amazing – while claiming only a minimum of living room real estate. Just under 16 cm in diameter, the satellites are as easy to decorate with as they are to listen to. The closed cabinet construction is built around a milled aluminium frame – just like the systems Bang & Olufsen creates for Audi, BMW and Aston Martin – to eliminate resonance with style and precision.
BeoLab 14 is available in two versions: one with subwoofer and four satellite speakers (for Bang & Olufsen TVs, whose on-board speakers function as the centre speaker in a surround setup), the other with subwoofer and five satellite speakers for all other brands.
In addition to its minimalist design and small footprint, a wealth of placement possibilities make it easy to ensure outstanding surround sound without rearranging your room. BeoLab 14 comes with wall brackets as standard, but celling brackets, table stands and floor stands are also available.
As you can see from the video below, these speakers have been put through the same demanding development process as all other Bang & Olufsen products. "BeoLab 14 is the result of a lot of work in our Listening Room," says Jens Rahbek, senior sound engineer in the R&D department. "Even with the very best components, sound is a subjective experience. We tune our speakers in a process that includes hours of listening – by different people, in different room environments, at different stages of development – in order to achieve sound that is as close as possible to what the original artist intended."
The new BeoLab 14 surround sound speaker system is available at Bang & Olufsen stores worldwide. We think it's a great new offering from B&O, offering the premium sound we've come to expect from the Danish brand, while offering it in a smaller package that is sure to make the misses happy.
Are you in the market for a quality surround sound system to take your movie-watching experiences to the next level?