Bentley To Showcase Mulsanne Speed At Detroit Auto Show
Bentley will be showcasing its new flagship model, the Mulsanne Speed, at the North American International Auto Show next week alongside the Continental GT Speed Convertible and Flying Spur. Customer deliveries of the new Mulsanne Speed begin in early 2015.
Unrivalled, effortless Speed
The Mulsanne Speed is custom tailored for the driver, with 530HP, 811 lb-ft of torque and selectable sports suspension and steering on demand. The reengineered powertrain, featuring Bentley's mighty 6¾-litre twin-turbo V8, propels the Mulsanne Speed to 60 mph in 4.8 seconds and on to a top speed of 190 mph. In modern Bentley tradition, the extra performance is matched by markedly improved efficiency; a 13% gain means a range extended by 50 miles.
New and contemporary styling features define the Mulsanne Speed as a statement in quintessential British luxury. Dark tint accents to exterior detailing hint to the Speed's powerful character, while on-board technology and connectivity are discreetly integrated beneath the finest materials, created with unrivalled craftsmanship and handcrafted details.
Enhanced power and style for Continental GT Speed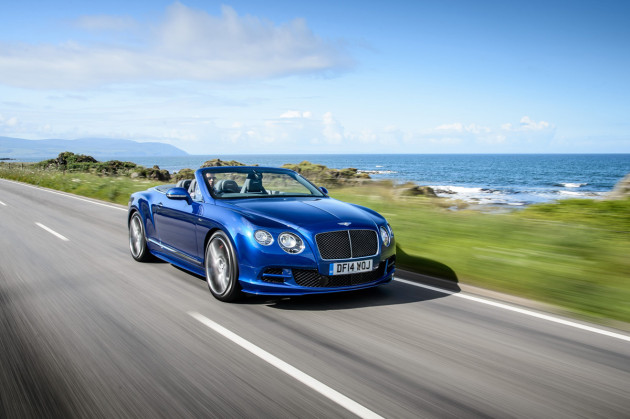 The Continental GT Speed Convertible joins the Mulsanne Speed at Detroit. The capabilities of Bentley's flagship grand tourer, the Continental GT Speed are dramatically underlined with enhancements to its unique combination of supercar performance and unrivalled refinement.
Bentley's iconic 6.0-litre twin-turbo W12 engine is now even more potent and develops 626HP and a record 604 lb-ft of torque. The ultimate new Bentley GT Speed coupe reaches a top speed of 206MPH – the fastest production Bentley ever – while the convertible reaches 203MPH.
The extra dynamic performance to the Continental flagship model is complemented by an even more distinctive road presence. The sharp front splitter, discreet side skirts and elegant rear diffuser of the Mulliner Styling Specification are finished to match the exterior paint color and a dark tint finish applied to the 21" Speed wheel design, headlamps and tail lamps. The appearance is further complemented by red-painted brake calipers and a stylish chrome "Speed" badge fitted to the front fenders and inside the luxurious cabin there is a completely new color split reserved exclusively for the Speed models.
Luxury performance sedan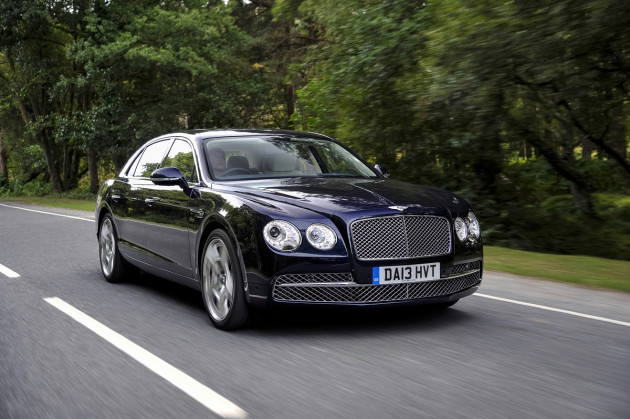 With its unrivalled blend of effortless drivability, exquisite luxury and craftsmanship, sculpted design and state-of-the-art technology, the Flying Spur completes the stand line-up at Detroit.
Behind the athletic exterior design and immaculate interior application of luxurious leather and wood lie a host of advanced acoustic and electronic technologies. A bespoke hand-held Touch Screen Remote allows rear-cabin occupants to control an extensive range of features from the comfort of their seat. With an optional Rear Seat Entertainment suite including two 10" LCD screens, DVD players, wireless headphones and an on-board hard-drive jukebox, plus the options of full Wi-Fi connectivity and an 1100W Naim for Bentley premium sound system, the new Flying Spur is the perfect place for work or relaxation on the move.
Powered by Bentley's renowned 6.0-litre, twin turbo W12 engine, the new Flying Spur features more power than any other Bentley four-door in history with 616HP and 590 lb-ft of torque. A 14% improvement in the power-to-weight ratio over the previous generation Flying Spur ensures a remarkable 0-60 mph time of 4.3 seconds and a top-speed of 200MPH.