The 2017 Camaro ZL1 Takes On The World With 640HP Supercharged V8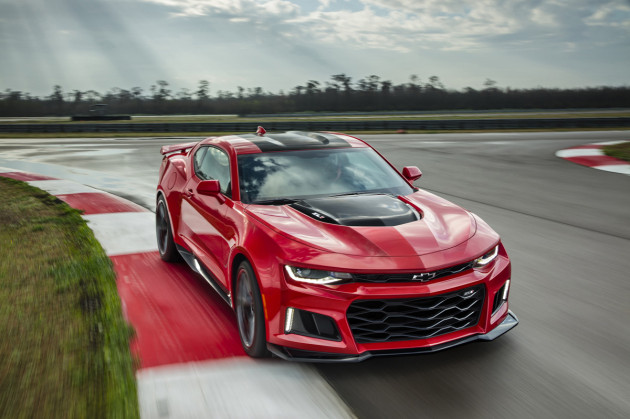 Chevrolet unveiled the 2017 Camaro ZL1 today, and it's an absolute game changer, poised to challenge the most advanced sports coupes in the world, with unprecedented levels of technology, refinement, track capability and straight-line acceleration.
"The Camaro ZL1 is designed to excel at everything," said Mark Reuss, executive vice president of Global Product Development. "It's a 2+2 coupe offering incredible performance – acceleration, handling and braking – with the highest levels of technology and perfect chassis damping, making it suitable for everyday driving. It will compare well to any sports coupe, at any price and in any setting."
The exterior design of the ZL1 is all about aerodynamics, with more than 100 hours of wind-tunnel testing and on-track validation to improve aerodynamics and cooling for track use. The lower grille opening offers greater airflow compared to the Camaro SS, and the upper grille incorporates a new version of the "flow-tie" open bowtie insignia. There's also a new hood with a carbon fiber insert and heat extractor that pulls hot air from the engine compartment. Additional changes include a larger front splitter, unique rockers, a wing-style rear spoiler and wider front fenders – all tuned to improve aerodynamics for greater high-speed stability.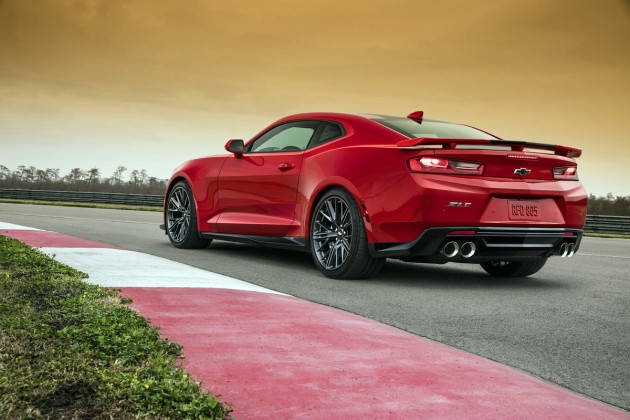 Acceleration for the ZL1 is delivered with a new supercharged 6.2L V-8 engine (from the Z06) which puts out an estimated 640HP and 640 lb-ft of torque, and either a six-speed manual transmission with active rev matching or an all-new 10-speed automatic. The 10-speed automatic has 7.39 overall ratio for smaller steps between gears. It enables the LT4 engine to remain at optimal rpm levels during acceleration, particularly when exiting corners, for quicker laps and lightning-quick responses on both up- and down-shifts.
A cohesive suite of performance technologies tailors ZL1's performance for street and track. Features include an updated Magnetic Ride suspension, Performance Traction Management, electronic limited-slip differential, Custom Launch Control and Driver Mode Selector. It also has a stronger power-to-weight ratio than the old ZL1, weighing 200 pounds less, while offering about 60 more horsepower and 80 more lb-ft of torque.
"Driving the Camaro ZL1 is best described as fast with finesse," said Reuss. "It is beautifully balanced, with perfect damping and isolation for optimal performance and driver confidence in virtually any situation – from the Pacific Coast Highway to Willow Springs to Pomona."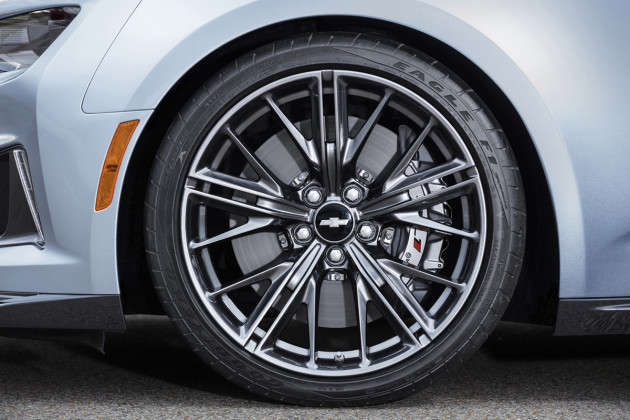 Additional chassis features include:
Unique 20-inch forged aluminum wheels with 285/30ZR20 front and 305/30ZR20 rear tires
Goodyear Eagle F1 Supercar tires with a compound and construction developed exclusively for the Camaro to offer exceptional grip on the track
Brembo brakes with six-piston monobloc front calipers – featuring the ZL1 logo – and massive, 15.35-inch (390 mm) two-piece front rotors.
Finally – and unlike some competitors – there's no need to purchase an optional package to make the ZL1 track ready. Track capability comes standard, with features including an impressive 11 heat exchangers for optimal powertrain cooling.
The Camaro ZL1 goes on sale late this year, with pricing yet to be released.