Do You Recognize These Movie Rides?
For all those movie addicts out there who also share a great passion for cars, here comes a brief list of kick-ass cars from your favorite movies. Some of these fascinating vehicles are pretty unique and you'll recognize them immediately, while others have quite a different charm, possibly appearing for the briefest moment in a movie, but still making all the difference. Without further ado, here it comes – the magic on four wheels, in all its splendor: Lights, camera, action!
The Sleek Speed Machines
Breathtaking stunts, intense chases, smoking wheels, roaring engines – yes you've got it right – give it up for the speed racers! The real action in some movies is only possible thanks to these mean machines.
Batman: To the Batmobile! Let's go!
Robin: Atomic batteries to power. Turbines to speed.
Batman: Ready to move out.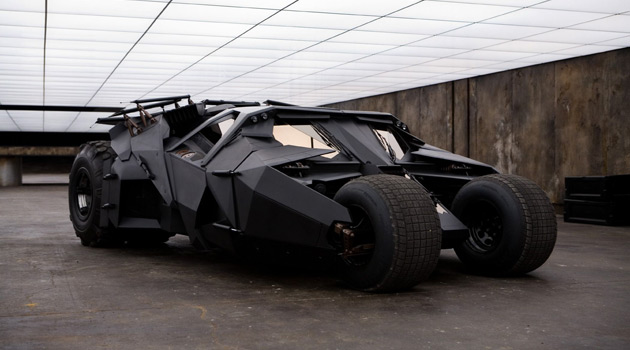 The most iconic example in this class is of course… *drumroll*… the Batmobile! Which by the way is not one and the same Batmobile throughout the Batman series. You can see how it gradually evolves throughout the whole moving sequence. The first two movies of Tim Burton reveal a sleek and elegant car design with immense armor upgrades: spherical bombs whistling from its sides, two machine guns, an afterburner, shields and a whole array of gadgets that make the car the ultimate crime fighting tool.
Fast forward 23 years later and compare this first Batmobile piece to the Dark Knight's war vehicle -you can hardly say that they have something in common. While the first impresses with style and smooth lines the second is a brutal piece of rough power. No surprise though, after all the film's production designer was actually going for a cross between a Lamborghini and a tank.
Brian: If I lose, winner takes my car clean and clear. But if I win, I take the cash, *and* I take the respect!
Dom: [laughing] Respect?
Brian: To some people, that's more important
Dom: …That your car?
It's not easy to compete with the wide arsenal of unique Batman cars; however there are other fascinating high-speed vehicles that successfully turn rather plain storylines into blockbuster movies. The most obvious other source of high speed gems is The Fast and The Furious franchise, which provides a total Vanity Fair in terms of wheels. The iconic Dodge Charger R/T that could also be seen in priceless movies like Blade and Bullitt is Dominic's (Vin Diesel) preferred ride. The 1963 Chevrolete Corvette is also an absolute treat to the eye along with the Mazda RX-7 and Ford GT40. These all have obscene amounts of torque and mind-blowing nitro speed boost, so fasten your seatbelts.
The Prestigious Cars
Caroline: I know what you're doing.
James Bond: Really? What's that, dear?
Caroline: You are just trying to show off the size of your… your um…
James Bond: Engine?
Caroline: Ego.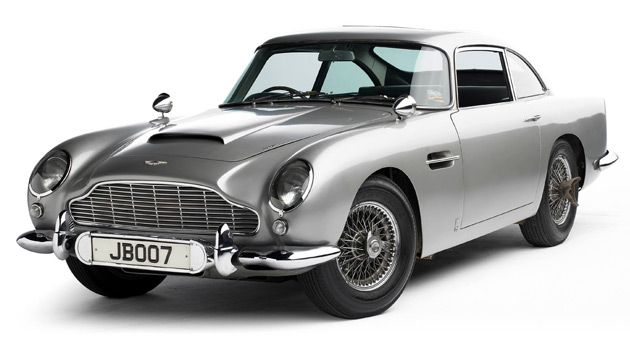 Sometimes high horsepower and multifunctional upgrades are not the most important advantages of a movie car. There is something more to a vehicle than its impressive stats – sometimes it's the the luxury that it brings to its owner that really matters. For example, an obligatory component of James Bond's legendary character is his unfailingly prestigious vehicle. There is hardly a movie fan that has not noticed the great variety of state-of-art vehicles that the brilliant secret agent 007 uses while on a mission. James Bond's favorite car maker Aston Martin creates some pretty amazing designs, among which the DB5 is probably the most memorable one. It first appears in the 1964 Bond movie Goldfinger, and a year later it was also used in the next British spy movie of the series: Thunderball. The DB5 proved to be so popular that it continued appearing in the Bond saga in blockbusters like GoldenEye, Tomorrow Never Dies, Casino Royale and even the recently released Skyfall. The car was an absolute hit, and hence used in a number of other movies, including Charlie's Angels: Full Throttle. However, the famous DB5 will always remain a reserved James Bond trademark in movie fans' hearts and is indeed a reflection of his tough and highly resourceful character.
A Car With A Mission
Marty McFly: Wait a minute, Doc. Ah… Are you telling me that you built a time machine… out of a DeLorean?
Dr. Emmett Brown: The way I see it, if you're gonna build a time machine into a car, why not do it with some style?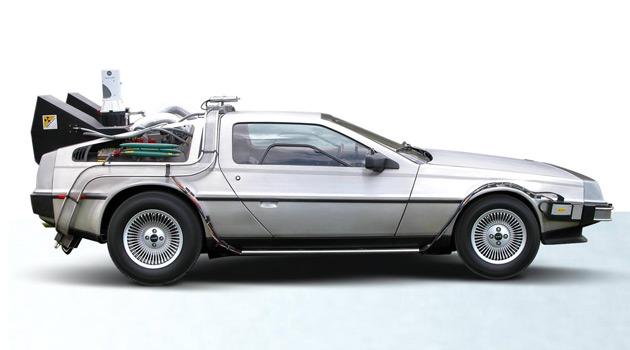 There are those movies that simply won't work out without the car character. It's as if it has a life of it's own – It contributes to the movie storyline as efficiently as the human factor. Those are the so-called cars with a special mission. The perfect example of this category is the DeLorean – the time machine from the Back to the Future trilogy. There are quite a few things that are special about it – the "OUTATIME" plate number and the nuclear blast powered by a lightening that it requires in order to get its fancy mechanism going are just a couple of fine examples. We have all seen the fascinating adventures of the Doc and Marty within the time range of 1885 to 2015, and we can hardly ignore the essential role of the high-accelerating blue-glowing flashy DeLorean.
The Fun Wheels
Lloyd: Traded the van for it straight up. I can get 70 miles to the gallon on this hog.
Harry: Just when I thought you couldn't possibly be any dumber, you go and do something like this… and totally redeem yourself!
You've guessed the movie right – Dumb and Dumber is an absolute classic that is worth rewatching if you are up for some good laughs. Louis C.K. himself says about the movie that it is one of the few Hollywood comedies that can make him laugh. The two best friends Lloyd (Jim Carrey) and Harry (Jeff Daniels) have the most amazing vehicle: a huge van – 1984 Ford Econoline – all "dressed up" as a smiley sheep dog. It has fur all over, along with a red tongue, nose and canine ears. Also, check out the registration plate on the car that reads "WOOOF!" and its emblematic name – "The Shaggin' Wagon". Perfectly complements its crazy owners characters.
The Ridiculous Ride
Esteban Vihaio: [indicating the Bride's convertible] I heard you were driving a truck.
The Bride: My Pussy Wagon died on me.
Esteban Vihaio: The Pussy died? Hmm…
Well there are those movies that do not focus on intricate car chases and yet they still have a special scene dedicated to a distinct ride that becomes quite symbolic to the movie as a whole. Those cars reveal a specific character or the path that he is to undertake and the challenges he is to master. In the notorious Kill Bill movie, the Bride (Uma Thurman) steals the car keys of a guy she kills for raping her. She puts the glasses on and drives away with the cult line: ""Pussy Wagon." You *fucker*…"
The car actually belonged to the movie director Quentin Tarantino, who initially thought to blow it up in one of the movie scenes, though eventually he changes his mind given that he was already too attached to it.
What's your favorite movie ride of all time? Leave a comment below and let us know!