FanClash Trivia: Cash In On Your Sports Trivia Knowledge
You know all that useless sports knowledge you've been accumulating over the years? How would you like to cash in on that? Now you can, thanks to an innovative new site called FanClash Trivia. FanClash Trivia is a skill based trivia game that allows passionate sports fans to test their sports knowledge […]
This is a sponsored post written by me on behalf of FanClash Trivia. All opinions are 100% mine.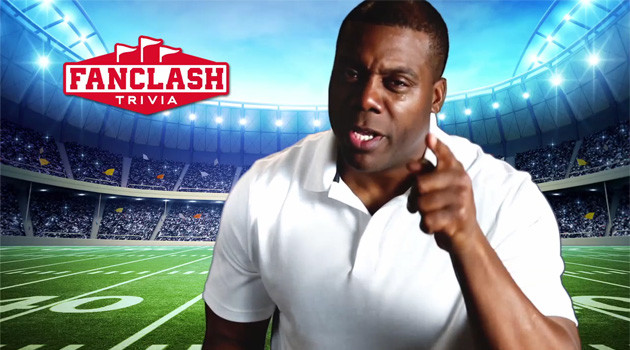 You know all that useless sports knowledge you've been accumulating over the years? How would you like to cash in on that? Now you can, thanks to an innovative new site called FanClash Trivia.
FanClash Trivia is a skill based trivia game that allows passionate sports fans to test their sports knowledge and compete in a variety of trivia contests for cash and prizes. You can play it on your computer, your tablet, or even your mobile device. If you're like me, once you start playing, you'll be hooked!
Don't believe me? Then head over to FanClash.com and enter one of their free contests, which lets you try it out for yourself with no risk. You simply choose the category you want to compete in, the contest mode (head to head or multiplayer) and the entry fee, and you'll be thrown into a LIVE contest. Once the game starts, it's up to you to show off your knowledge and take home that victory.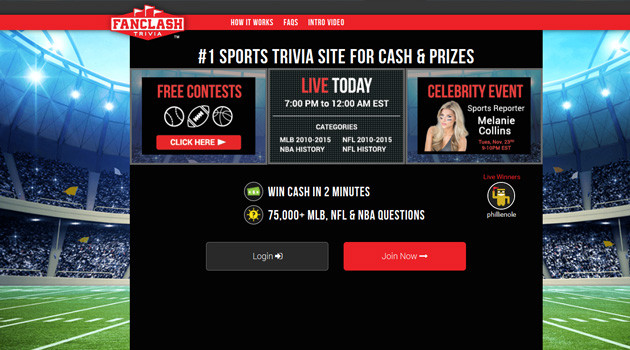 Here's how FanClash Trivia works. Since all games are live, everyone you're playing against is playing at the exact same time as you. You score points based on how quickly to answer a question correctly (i.e. If you select answer (A) in .5 seconds, and a competitor selects answer (A) in 1.1 seconds, you will receive more points). The top-scoring player at the end of the round (10 questions) is deemed the first place winner. Payments are determined by placement, with 1st place winning the most money out of the entire prize pool.
I figured that since I'm a football junkie, I would have no problem sweeping the competition. So I jumped into a multiplayer NFL game with a $2 entry fee and got ready for battle. To my surprise, the questions were more challenging than I had anticipated, and with only 10 seconds to answer them, you really feel the pressure. For example, "Joe Flacco won a Super Bowl MVP for his performance against which team in 2013?" I completely blanked on that question even though I was at the game! By some miracle, I still managed to pull off the win, and I was hooked. For the next 20-30 minutes, I played in a handful of games with varying degrees of success, and by the end of the night I was up about $10.
The game is crazy fun, especially if you're a competitive type of person who doesn't like to lose. There's also a little bit of strategy at play, as you can pass 3 questions per game without losing points. Use them wisely, and you can definitely get an edge up on the competition.
Currently, there are NFL, MLB, and NBA themed questions being offered, but FanClash will be adding more sports trivia in the future. And don't worry about questions being repeated, as their algorithm and large pool of questions helps to avoid repeat questions, and thus, user acclimation from multiple plays within the same category.
Most gameplay takes place from 7pm – 12pm EST, but as FanClash becomes more popular, the window of open play will be expanded. There are plenty of people playing at this time, so you never have to wait for long to get into a game.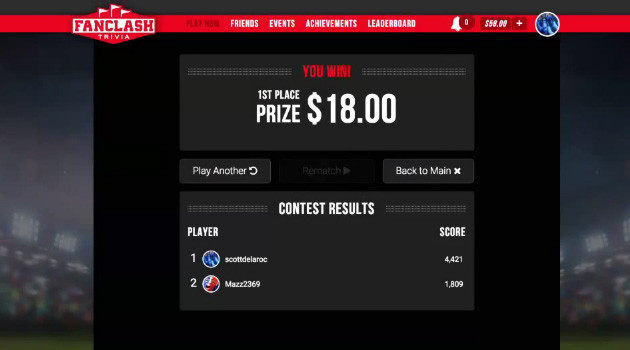 Naturally, when there's real money at play, people get concerned about legalities and such. Here's the deal. FanClash is in compliance with all necessary legal statutes, including their certification with Symantec SSL to enable the transfer of sensitive data. They use the most reputable payment and banking services companies as partners, so you don't need to worry about that.
Since it's a skill-based game, it's not considered gambling, so it's fair game. However, it's not offered to residents of Arizona, Arkansas, Colorado, Delaware, Louisiana, Maryland, Montana, South Carolina, South Dakota and Tennessee at this time.
Want more information? Then head over to their FAQ section, where all of your questions can be answered. There's even an intro video that explains everything if you don't feel like reading. 🙂
So what do you think, are you ready to put that sports knowledge of yours to the test? Then head on over to FanClash Trivia and start playing today!