Forward With Ford – Day 3 – Trends at the Track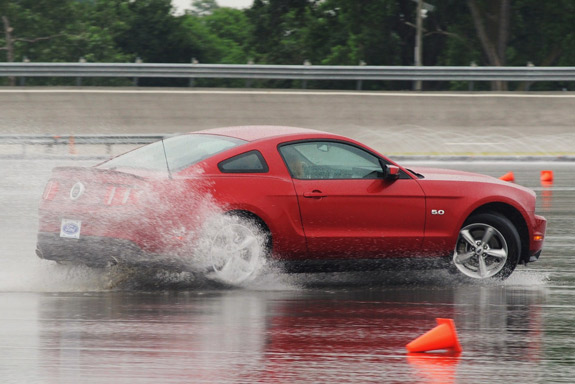 This is the day I'd been looking forward to all week. Our agenda said the following:
Behind-the-wheel experience at Ford's test track – Test and experience Ford's automotive solutions to meet consumer needs and wants of today and tomorrow.
Ford had seven seperate "exercises" set up for us, and we could go from station to station to experience each one. The list was as follows:
Explorer Off-Road Course
Focus Target Challenge
F-150 Power Challenge
Eco-Driving Challenge
Intelligent Vehicles
All-Season Driving Skills
Connected Car Demos
Right away, I headed over to the all-season driving course, as I wanted to get behind the wheel of a 2011 Mustang GT on the skidpad. Unfortunately, when we got there, we learned that we wouldn't be driving, but rather riding shotgun with a pro.
It was a fun ride, and the amount of traction the Mustang exhibited was truly impressive. Had I known that beforehand, I might have actually considered the Mustang before buying my WRX.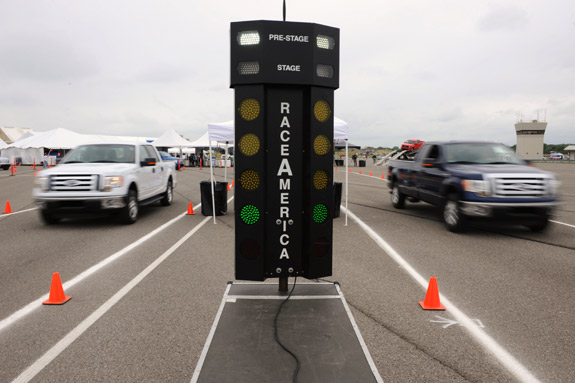 Next up was the F-150 Power Challenge, where we got to do a 1/8th mile drag race in a new F-150. You could choose from the V6, V8, and EcoBoost F-150s, and most of us went for the V8s, assuming that they would be the fastest.
What surprised all of us afterwards was that the EcoBoost was actually about .5 seconds faster in the 1/8th! It didn't feel faster, but the numbers don't lie.
After that, I headed over to the Explorer Off-Road Course, where the Explorer handled every off-road obstacle with ease. Then I checked out the Focus Target Challenge, where we ran some precision driving exercises in a new Ford Focus. The Eco-Driving Challenge took us onto the test track with one of three Ford hybrid vehicles – The goal was to get the best MPG.
I didn't have time to check out the Intelligent Vehicles or Connected Car Demos, since I opted to go witness a real crash test instead. And let me tell you, that was pretty damn cool!
Kudos to Ford for putting together a great event! Sure, they didn't let us rip around the test track in a Mustang GT at 100mph (maybe next time?), but we got a chance to witness the strengths of each car in Ford's line. It's an exciting time for Ford fans, as they've got the best line-up of cars that I can ever remember.
Have you driven a Ford lately? If not, go see what you've been missing!