Forward With Ford – Day 2 – Emerging Technologies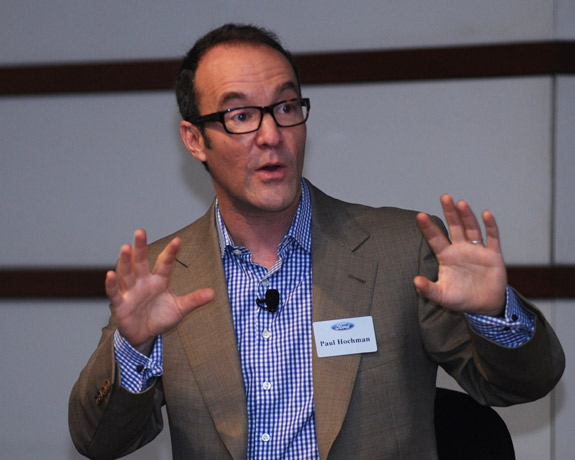 The next session of the Forward With Ford was called Emerging Technologies, and the panel was headed up by NBC Today show's Gear and Technology Editor Paul Hochman.
SYNC has become synonymous with Ford, and the system (which allows you to make hands-free calls and control your music and other functions with simple voice commands) continues to improve with each iteration.
Now Ford has taken it even further with MyFord Touch, a system so complex that I can't do it justice in a few paragraphs. Check out the MyFord Touch website, where you can learn about the full capabilities of this system.
In additionl, they're now offering SYNC AppLink on a number of their new models. AppLink can access mobile apps on Android and BlackBerry smartphones using Bluetooth streaming, and via a USB connection with the Apple iPhone. Pandora, Stitcher, and OpenBeak for Twitter are the first SYNC-enabled apps, but many more apps companies are currently working with Ford's API.
What does this mean for you? If you're someone who streams Pandora in your car while driving, you've probably had to thumbs-down or otherwise skip a song while driving. It's dangerous, as your eyes are no longer focused on the road. With AppLink, you can control these features either by voice command ("Thumbs up") or by pushing a button on your steering wheel. But I guess if they're going to use Twitter anyway, it's better to do it in a "safer" way like this.
As I've said before, Ford is the leader when it comes to in-car electronics and integration, and the Emerging Technologies session showed us that they're continuing to innovate and improve their current offerings. I only wish my car had some of these great features..