Forward With Ford – Day 2 – Global Design Convergence
Today was the first full day of Forward With Ford, and the conference agenda had a pretty intense schedule! The media was broken up into different groups, based on interests they specified on a survey filled out prior to arriving.
Based on my answers, they started me off in the Global Design Convergence session. I wasn't entirely sure what to expect from this session, but it ended up being one of my favorites throughout the week.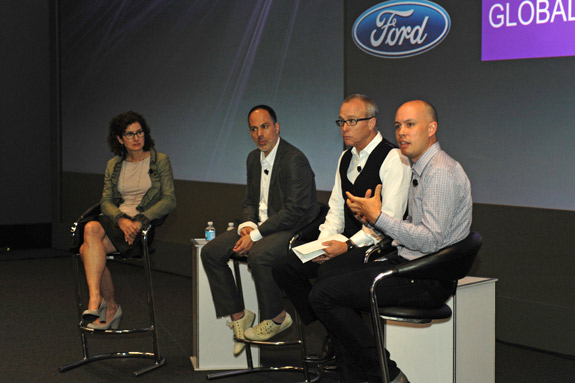 J Mays ran this session, and I was excited to hear him speak. For the uninitiated, J Mays is the Group Vice President, Design, and Chief Creative Officer of Ford Motor Company. He is responsible for shaping the global design direction of Ford, Lincoln, and Mercury brands; and working to create long-range strategic design visions that support the worldwide 'One Ford' business model to develop products customers want and value.
Mays has led the development of significant concept vehicles including the Ford Interceptor, Fairlane, Shelby GR-1 and '427,' as well as the Lincoln C Concept. In addition, he has been instrumental in creating key new production models including the all-new global 2012 Ford Focus and 2011 Fiesta and North America's 2010 Ford Taurus and Taurus SHO. Other notable production vehicles include the 2004 and 2009 Ford F-150, the 2005 and 2010 Ford Mustang, 2005 Ford GT, and the 2008 Jaguar XF.
Prior to his stint at Ford, Mays worked at Volkswagen, where he designed the New Beetle, and at Audi, where he led development on the Audi TT!
Mays and his panelists talked about how Ford's design process happens in 9 studios around the world, and how decisions are made to appeal to a global market. No longer do we have to drool over the cool cars that Europe gets to drive, as Ford is creating globlal vehicles with common technologies and parts.
Ford is looking to the "Millennials" to influence their future design decisions, and when it comes to technology, I feel that it's a positive move. After all, Millennials have been raised in an on-demand society: Think Google, TiVo, Netflix, and iTunes. They want it now, and whenever possible, they want it personalized!
They're also more eco and socially responsible, and as a result Ford's been using more recycled materials whenever possible with amazing results!
What was most interesting in this session was the presentation about Ford's 3D modelling technology to design and test cars. It's amazing how technology has changed the whole development process, and the proof is in the pudding.
Andrew did a great job recapping this part of the session, so be sure to click through and check it out!