Forward With Ford – Day 1
A swarm of media decended into Dearborn MI on Tuesday for the 2011 Forward With Ford Conference at Ford HQ.
Since Tuesday was a travel day for everyone, the only thing on our agenda for the day was a Welcome Dinner. Alan Mulally (president and chief executive officer of Ford Motor Company) welcomed everyone to the conference, and he then turned the mic over to Malcolm Gladwell.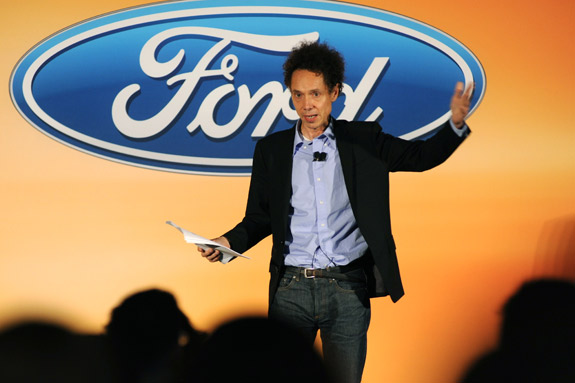 Upending conventional wisdom has made celebrated writer Malcolm Gladwell one of the world's most recognized thought leaders. You may know him as the author of such best-sellering books The Tipping Point, Blink, Outliers, and What the Dog Saw: And Other Adventures. His work uncovers truth in hidden, obscure or scientific data.
He spoke to us about world trends, in a way that only Malcolm could! He believes that we're at another "tipping point" in history, one that we haven't seen since the 70s when the business of baseball was changed forever thanks to a resistance to authority.
He thinks that we're at a similar crossroads now, only he expects things to move in the other direction as we appeal to authority. It's impossible to do his speech justice on these pages, he's a dynamic and thought-provoking speaker that you have to see to really appreciate.
If you want to find out what Malcolm Gladwell is all about, pick up The Tipping Point and prepare to be blown away!