Getting Ready For Memorial Day With Our New Char-Broil Grill
This post is sponsored by Everywhere Agency on behalf of Char-Broil; however, all thoughts and opinions are my own.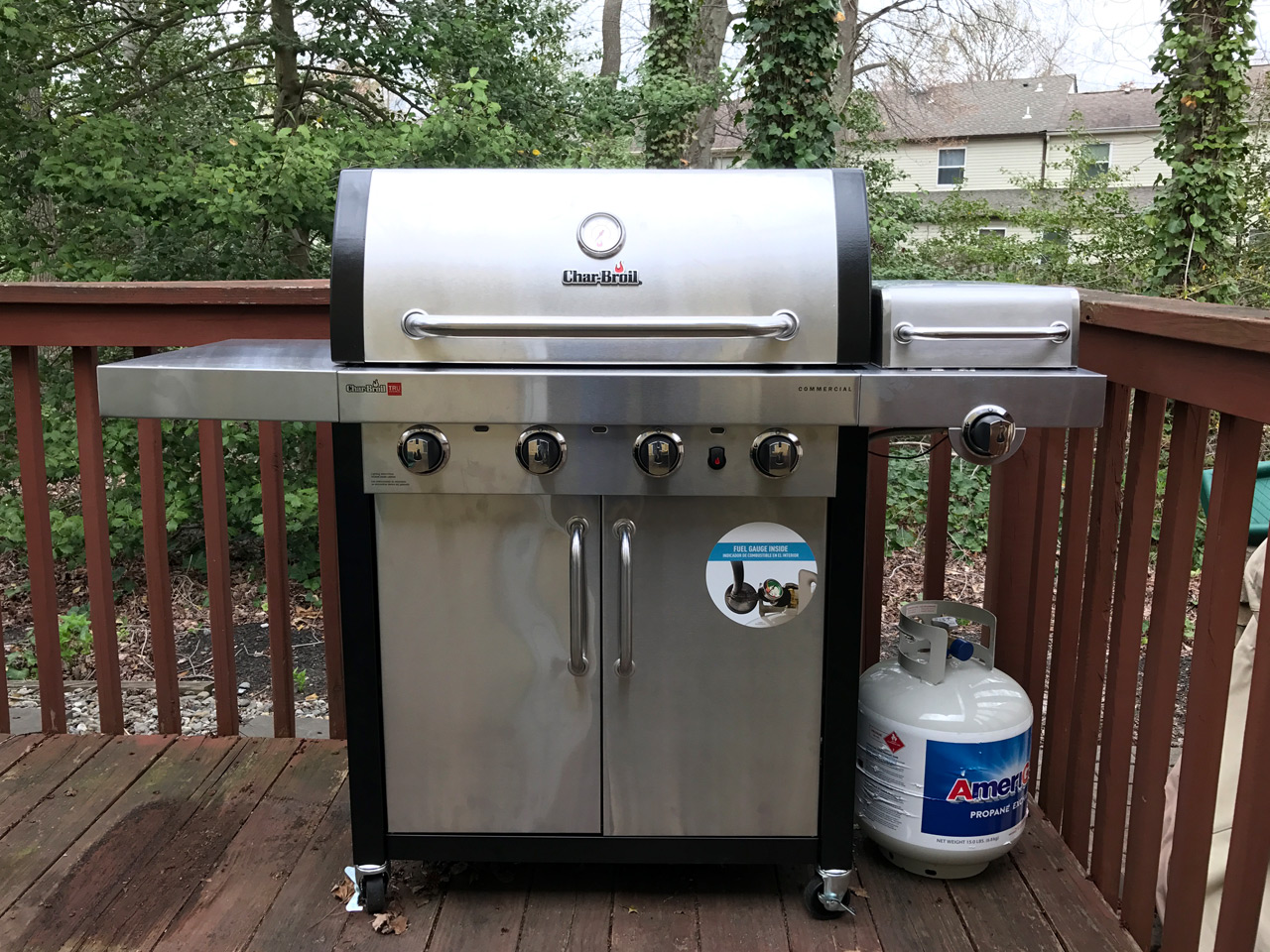 Memorial Day is right around the corner, and you know what that means.. It's party time! We always throw a big backyard bash to ring in the unofficial start of summer, inviting all of our family and friends to partake in the festivities, with plenty of food and drinks to go around.
Since I spend so much time grilling in the summer months, I decided to upgrade my grill game, picking up this new Char-Broil Commercial Series TRU-Infrared 4-Burner Gas Grill. Isn't she gorgeous? I could already picture our Memorial Day cookout, with hamburgers, hot dogs, BBQ chicken and corn lined up on the racks.
Now I know what some of you guys are probably thinking. "Why didn't you go with a charcoal grill?" Look, I've been down that road before, but honestly once you experience Char-Broil's TRU-Infrared system, you'll never look back. Simply put, you get up to 50% juicier food, no flare-ups and even heat every time you grill.
My first impressions when I put this bad boy together? "Wow, this thing is built like a tank!" Seriously, I could tell right away just from the sturdiness of the grill that it was a keeper, something that was going to last me a long time. No wonder this sucker weighs so much!
With a whopping 45,000 BTUs (32,000 BTUs for the main burner and 13,000 BTUs for the side burner), not to mention 725 square inches of cooking area, this grill can handle even the biggest of parties with ease. It's also dual fuel enabled, which means you can run it on propane, or use a conversion kit (sold separately) to run off of your home's natural gas line.
I decided to stick with propane for now, picking up two tanks which should last me the entire season. And the Char-Broil grill even has a fuel tank gauge, so you know exactly how much gas you've got left. Because lets face it, the last thing you want to happen is to run out of gas mid-cookout. Can we say party foul?
For my inaugural grilling session, I decided to keep things simple and cook up some burgers for dinner. This would give me a chance to get more familiar with the grill and its intricacies, without having to worry about a crowd of hungry guests. I love the Surefire electronic ignition system, which lets you fire up the grill with the touch of a button, rather than messing with matches.
The Char-Broil Grill got up to temperature rather quickly, with an easy-to-read gauge showing me when it was time to go. Once there, I threw a couple of patties on the grill and let them cook up. The TRU-Infrared system evenly distributed the heat throughout the grates (no more hot spots), and because you're not cooking over a direct flame, fiery flare-ups (and the resulting charred burgers) are a thing of the past.
I didn't try out the sideburner this time around, but I can definitely see where it'll come in handy in the future.. You can use it to heat up sauces and side dishes, or flip the lid down for additional workspace.
Overall, I couldn't be happier with my new Char-Broil grill, as it really exceeded my expectations in every way. The grill is incredibly easy to use, comes loaded with smart technology, and is priced right at just $499.99. I can't wait to show off my shiny new grill to all of my buddies this Memorial Day.
Whether you're an experienced grill master looking to take your grilling game to the next level or a newcomer just looking to get started, I'd recommend the Char-Broil Commercial Series TRU-Infrared 4-Burner Gas Grill. Trust me, you won't be disappointed!