Have You Heard About The Squatty Potty?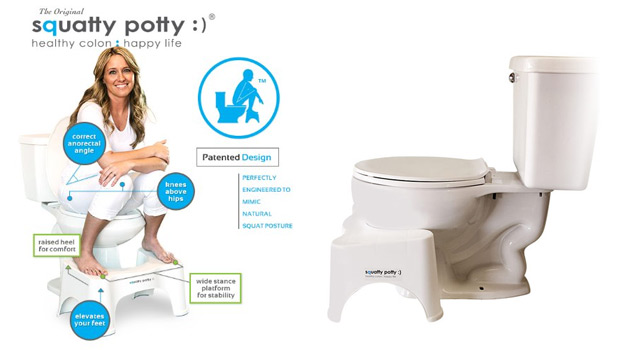 Howard Stern and TMZ's Harvey Levin both talked about the Squatty Potty recently, an ergonomic footstool that supposedly aligns your colon, allowing for a more complete bowel movement, with decreased straining.
My curiosity piqued, I did some more research to see what this contraption was all about. It turns out that we have been pooping wrong for generations here in the Western world. According to scientists at the Stanford University Pelvic Floor Clinic, we're meant to squat, as squatting relaxes your puborectalis muscle in just the right way to create optimal inner plumbing movement.
This informational video shows you the science behind the Squatty Potty:

Pretty wild, right? We figured if it was good enough for the King of all Poop Media, it was good enough for us, so we picked up a Squatty Potty to try out for ourselves. Does it really help? It was a close call between that and one of the American Standard toilets that seem to have a pretty good rap.
In a word: Amazing
One of our staffers has suffered from chronic constipation for YEARS, only pooping once every 3-4 days if he's lucky. After using the Squatty Potty, he's been pooping daily for the past 6 days, and he's been telling everyone he knows about it! But don't just take his word for it, check out this amazing review of the Squatty Potty on Amazon.
People have told me that you could probably achieve the same benefits by using a step stool. And while that might be true, the clever design of the Squatty Potty allows you to tuck it underneath your toilet bowl when you're not using it so it's out of the way. And to me, that's worth the price of admission right there.
The Squatty Potty comes in two models – Squatty Ecco (plastic model that sells for $24.99), and Squatty Tao Bamboo (luxury bamboo model that sells for $74.99). They also come in two different heights – A standard 7 inch stool (for those new to squatting), as well as a 9 inch stool (for more flexible and experienced squatters).
So there you have it. If you're looking to speed up your time in the bathroom each morning and avoid issues like hemorrhoids and constipation, you need to try out the Squatty Potty ASAP. You won't be disappointed!