Hawaii's Completely Outrageous And Illegal Water Slide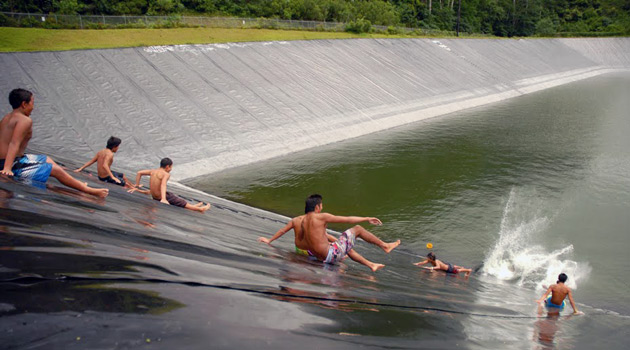 Have you heard about Waimanalo Reservoir, a giant man-made reservoir located on the island of Oahu? It was built to help with irrigation in the town of Waimanalo, Hawaii, but locals found another use for it entirely.
Thrill seekers have been coming coming in to ride down the steep tarp walls of the reservoir, and when you see the video footage they're sharing on YouTube, you'll want to get in on the action as well!
Now before you plan a trip to Oahu, there are a few things you need to realize. First off, there are barbed wire fences surrounding the reservoir, so sneaking in could get you charged with criminal trespassing. Then there are the risks. Elijah Martin had an accident there, and he's now paralyzed from the chest down.
And last but not least, the reservoir has reached 85 percent to 95 percent completion, and the recent rainfall has helped the Waimanalo Reservoir to achieve full capacity. In other words, today you'll be doing a lot more swimming than sliding, as you can see in this picture.
So yeah, you're a little too late to the party, but it's still cool to watch these videos.. 🙂