How To Buy Lingerie For Your Girlfriend Or Wife
Whether you're in a new relationship or have been with your girl for a while, buying her some sexy lingerie is an excellent way to spice things up. Maybe you're buying it for a special occasion (her birthday, your wedding anniversary, Valentine's Day, Christmas, etc), or maybe there's no occasion at all. Whatever the case, your sexy gift should reap you many rewards.. If you get it right.
There's a delicate balance you need to keep in mind when shopping for your girl. While you might be tempted to pick out a sexy, extremely revealing outfit, if it makes her feel too skinny, too fat, or too slutty, she's going to resent you for it, and you might end up sleeping on the couch that night. Instead, err on the side of caution and go with something that's both comfortable and sexy. Sacrifice reaps its own rewards, my friend..
Likewise, it's important to emphasize her best assets. If she has gorgeous breasts, a plunging under-wire bra will emphasize them. If she has long legs, try panties with a high cut hip or sheer stockings and a garter belt. Same token, de-emphasize any body parts she's not comfortable with. If your girl is self-conscious about her stomach, don't buy her a short, tight-fitting camisole. And of course, make sure that she will feel comfortable wearing whatever you pick out, or else your expensive gift will end up collecting dust in her drawer.
Lastly, make sure you're armed with her sizes, as nothing ruins the mood like an ill-fitting gift. Do a little recon and find out the size of her bra. Sizes on a bra will include a number and a letter (or two if she's a bustier girl). Also be sure to scope the size on her underwear. It might be smart to snap a few pictures of the sizes with your phone so you have it with you when you go to the lingerie store. Just make sure to delete the evidence afterwards, as you don't want her finding those pics on your phone.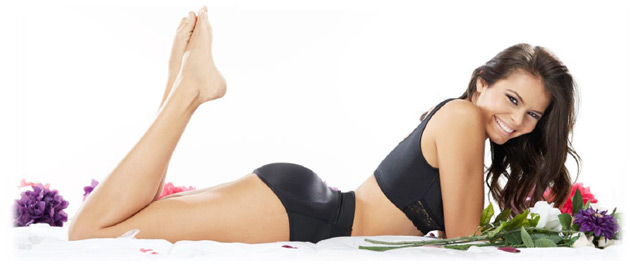 Rhonda Shear Intimates has an amazing collection of sleepwear, bras & panties, lingerie and apparel sized from XS-3X and available in a myriad of beautiful color options. They built a business based on comfort, sex appeal, and fun, and with a wide variety of glamorous gowns, sexy boudoir styles, and year round favorites, it's a great place to start your search for that perfect gift for your girlfriend or wife.
I got my girlfriend a Rhonda Shear Sweet Pea Butterknit Gown for Valentine's Day, and let me tell you, she was absolutely THRILLED with it, putting it on as soon as she unwrapped it. (That's how you know you got it right) The plunging V-neckline accentuates her chest, the lace adds a little bit of sexy and naughty, and the Butterknit material is incredibly soft and luxurious feeling. She loves wearing it, and I love seeing her in (and out of) it, talk about a win-win!
Good luck in your journey, and remember that your gift really needs to be about your girl. So be sensitive to what she already likes, get her size right and stick to the nice stuff. If you do it right, then you'll most likely be handsomely rewarded.