Hunger Turns Johnny Football Into Johnny JamBoogie In New Snickers Ad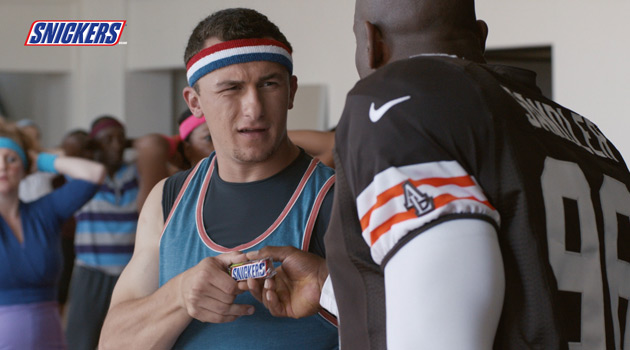 The latest "You're Not You When You're Hungry" TV commercial from SNICKERS stars the highly touted NFL rookie QB Johnny Manziel and shows how SNICKERS satisfies even an NFL-sized hunger.
Move over, Johnny Football. Meet Johnny JamBoogie. Just in time for the start of the NFL season, Mars Chocolate has released a humorous new commercial for SNICKERS which shows a spandex-sporting Manziel displaying a whole new set of skills that includes aerobics, arm circles and dance steps.
The humorous :30-second TV spot begins, somewhat inexplicably, with Manziel enthusiastically leading a musical aerobics class. Only when a fellow Cleveland Browns player enters the dance studio do we realize Johnny Football isn't acting like himself due to hunger – a problem that's easily solved with the combination of roasted peanuts, nougat, caramel and milk chocolate found in a SNICKERS Bar.
"Johnny Manziel is literally synonymous with the sport of football due to his eponymous nickname, so fans everywhere should get a kick out of how hunger makes him take on a totally new persona," said Roy Benin, Chief Consumer Officer, Mars Chocolate North America. "We think this is a hilarious way to reinforce our role as an official NFL sponsor and showcase how SNICKERS satisfies hunger."
"I've always been a fan of SNICKERS, and it was a thrill to star in my own 'You're Not You When You're Hungry' commercial because it allowed me to play some funny version of myself that I might become when I'm hungry," said Manziel, who was drafted in the first round of this year's NFL Draft by Cleveland. "I hope people have as much fun watching the ad as we did filming it."
The commercial will air nationally the night of the 2014 NFL Kickoff Game on Thursday, September 4th.