I Went For A Ride In Ford's Self-Driving Car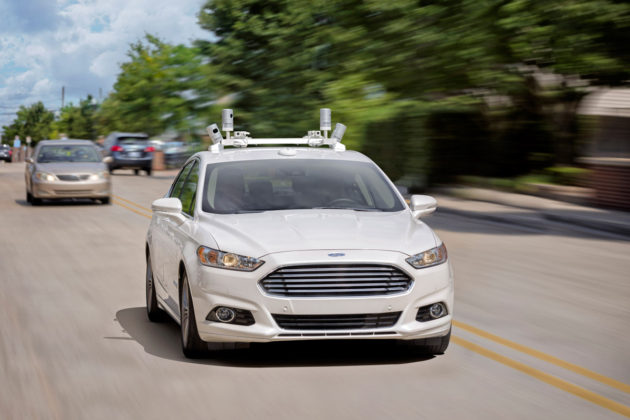 Last month, I was at Ford's headquarters in Dearborn, Michigan for their annual Further With Ford event, and while there I had the opportunity to go for a ride around the Ford campus in one of Ford's autonomous mules, a seemingly normal-looking (save for the spinning lidar units on the roof) Ford Fusion Hybrid.
As you can see in this two-minute video I recorded, we had a pair of engineers sitting up front, "just in case" something were to happen and they needed to take control of the car. One sat in the driver's seat, his hands hovering around the steering wheel, while the other sat in the passenger seat, watching a laptop that showed what the car was seeing from it's various sensors.
The autonomous ride was a bit of a non-event, with the self-driving car safely getting us from A to B without incident, albeit a little slower than expected. You see, self-driving cars won't exceed the posted speed limits, so if the speed limit is 25MPH, it goes exactly 25MPH.. You and me, we might speed down that same road at 35MPH without thinking twice.
The self-driving Fusion took us on a short loop of Ford's campus, and unlike other self-driving demos that I've done in the past, this one took us out on public roads where anything could happen. In fact, during our drive, a person decided to cross the road unexpectedly (not at a crosswalk), and the Fusion immediately braked to avoid hitting her (perhaps a little too hard, but this is still a preproduction car that's being tweaked).
Outside of that, the ride was as smooth as could be, with the car smoothly accelerating and braking, as well as dealing with the various nuances of daily driving. The technology is pretty amazing, and self-driving cars will be here before you know it!
Ford has stated that they intend to put their Dearborn fleet into employee shuttle service in 2018. The next step is rolling out Ford autonomous cars in a ride-hailing or ride-sharing service in 2021. And finally, they plan on making autonomous cars available to the general public by 2025.
It's a rather smart strategy for Ford, allowing them to fine-tune their autonomous cars over the next five years before putting them into service in urban areas for services like Uber and Lyft. For consumers, prices of these services should be reduced, as the single-largest cost is typically the driver. Take that cost away, and ride-sharing could in fact replace car ownership for many people. And by the time 2025 comes around, people will be comfortable enough with the technology to consider buying one.
I know that for me, even though I'm a driving enthusiast, there are many times during long road-trips where I wouldn't mind letting the car take over and do the heavy lifting for me. Food for thought..
Where do you stand on self-driving cars?