Instagram Finally Adds Supports For Landscape and Portrait Photos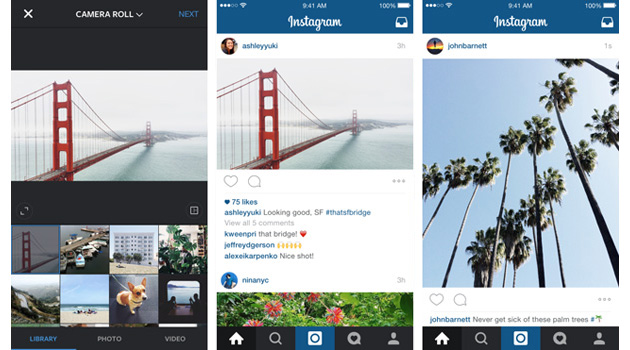 When Instagram first launched years ago, they used square photos as a way to distinguish themselves from the competition. It also helped provided a more consistent look as you scrolled down the feed. But for many of the app's 300 million monthly users, the restrictive format was an exercise in frustration, forcing them to crop their photos to fit into the square frame.
But that all changes today, as Instagram has updated their Android and iOS apps to enable native support for landscape and portrait photos and videos! The traditional square photos will remain the default option, but when you access your photo gallery from within the app, you'll now see a new format button (it looks like two arrows pointing away from each other) above the camera roll. Simply tap this button to activate landscape or portrait mode.
Instagram speaks out about this change on their blog:
"Square format has been and always will be part of who we are. That said, the visual story you're trying to tell should always come first, and we want to make it simple and fun for you to share moments just the way you want to. It turns out that nearly one in five photos or videos people post aren't in the square format, and we know that it hasn't been easy to share this type of content on Instagram: friends get cut out of group shots, the subject of your video feels cramped and you can't capture the Golden Gate Bridge from end to end. Now, when choosing a photo or video, you can tap the format icon to adjust the orientation to portrait or landscape instead of square. Once you share the photo, the full-sized version of it will appear to all of your followers in feed in a beautiful, natural way. To keep the clean feel of your profile grid, your post will appear there as a center-cropped square."
This is going to be a real game-changer for sure, and I've already noticed a lot of Instagram folks making the switch to the new formats this morning. Make sure you upgrade to Instagram v7.5 to see the new option for landscape and portrait photos and videos, and get posting already!
You can sure that we'll be posting more now, so make sure you're following us on Instagram @GuysGab.