Introduce Your Children To Golf Without Breaking The Bank
What do Tiger Woods, Rory McIlroy and Jordan Spieth all have in common? They started playing golf at a very young age, honing their skills over the years to become the golfing superstars that they are today.
So if you've got visions of your child becoming the next PGA superstar, it's imperative that you get them out on the course as early as possible. But here's the problem – Golf is expensive, especially for kids. You see, as kids grow, their clubs need to get longer and heavier. If kids play with equipment that's too big or small, they develop bad habits. But to keep kids in properly sized clubs, parents have had no choice but to buy entirely new sets of clubs each time their child grows as little as 3 inches.
Now do the math – You're spending up to $400 every 12-18 months on a new set of clubs. If a child starts playing at age 6 or 7, the cost of clubs grows to more than $2000–an expense many parents can't afford.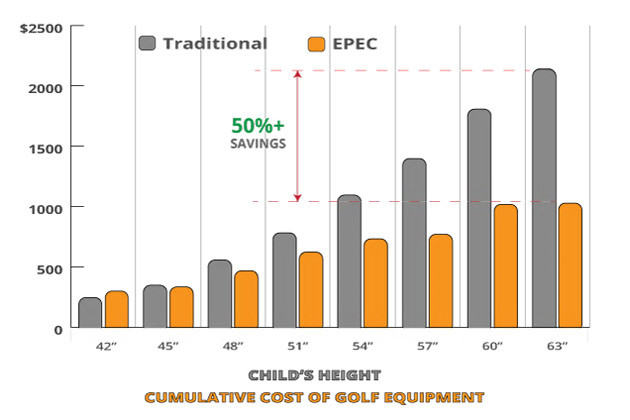 Luckily for us, DV8 Sports is addressing this problem with EPEC™, an upgradeable junior golf system that grows with your child at a fraction of the cost of traditional equipment. With their patented technology, junior golfers will only need to upgrade to a single, longer shaft and adjust iron heads using EPEC's innovative head weighting system. Over the course of a junior golfer's play, EPEC will save parents as much as 50-60 percent as compared to traditional alternatives.
The secret to EPEC is DV8's patented coupler technology that allows club heads to be interchanged on a single shaft in less than three seconds. With the addition of interchangeable head weight technology, EPEC becomes a complete solution for juniors who are the future of golf.
"As an industry, we have to finds ways to lower the cost obstacles of the game, and EPEC is one important step in that direction," said Richard Stamper, president and CEO of DV8 Sports. "While there are lots of great brands and products for kids on the market, they all share one unfortunate quality—they force parents to replace entire sets and many families just can't afford that. We believe EPEC will revolutionize the junior market and set the stage for an unprecedented growth spurt in participation."
Honestly, I think this is a genius idea that will be a real game changer for the golf industry, lowering the cost obstacles of the game and getting more young people interested in the sport.
DV8 Sports launched a Kickstarter campaign to bring EPEC to market, and there's only a few weeks left. By getting in on the ground floor with a donation of just $200, you'll receive a seven club set that will end up retailing for $350 after the Kickstarter campaign ends. So not only will you save $150 now, but you'll also save thousands over the lifetime of your EPEC set!
And make sure you follow DV8 Sports (Facebook / Twitter) and EPEC Golf (Facebook / Twitter) on social media to keep apprised of any developments.
Thank you EPEC Golf for sponsoring this conversation