Joe Flacco Celebrates Victory with Extra Rare Whisky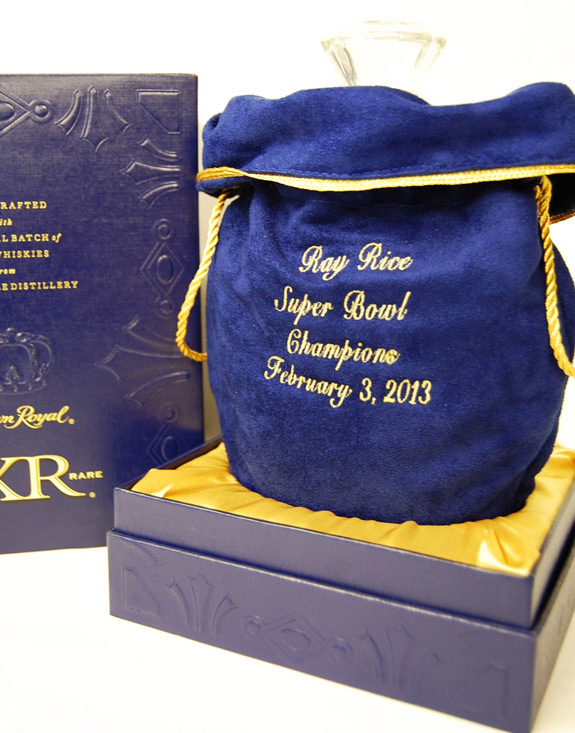 From diamond-studded championship rings to victory parades, the Super Bowl Champion Baltimore Ravens will celebrate in style this week as they enjoy wearing the world champion crown. And now, thanks to their quarterback and Super Bowl MVP Joe Flacco, they will also enjoy some rare Crown Royal, too.
After leading the Ravens to victory through a Super Dome blackout and a never-say-die Niners team, quarterback Joe Flacco decided to gift his teammates with a specially embroidered bottle of Crown Royal Extra Rare.
Crown Royal XR (MSRP $129.99) is available on a limited basis as the whisky hails from the famed LaSalle distillery near Montreal which no longer produces whisky. Flacco will be giving out this gift to his Championship teammates today in Baltimore.
"The last month has been an incredible journey and I can't imagine a better group of guys to take it with," said Flacco. "We were able to keep winning because we played as a team, so I wanted a special way to say thanks to everyone for their hard work and dedication. Giving them these specially embroidered bags with Crown Royal Extra Rare will give Ray and the guys something smooth to sip on when they sit back and reflect on how much we've accomplished together."
It's good to know that the Baltimore Ravens will be toasting their victory in style!