Krispy Kreme Introduces New Fourth of July 'Stars and Stripes Dozen'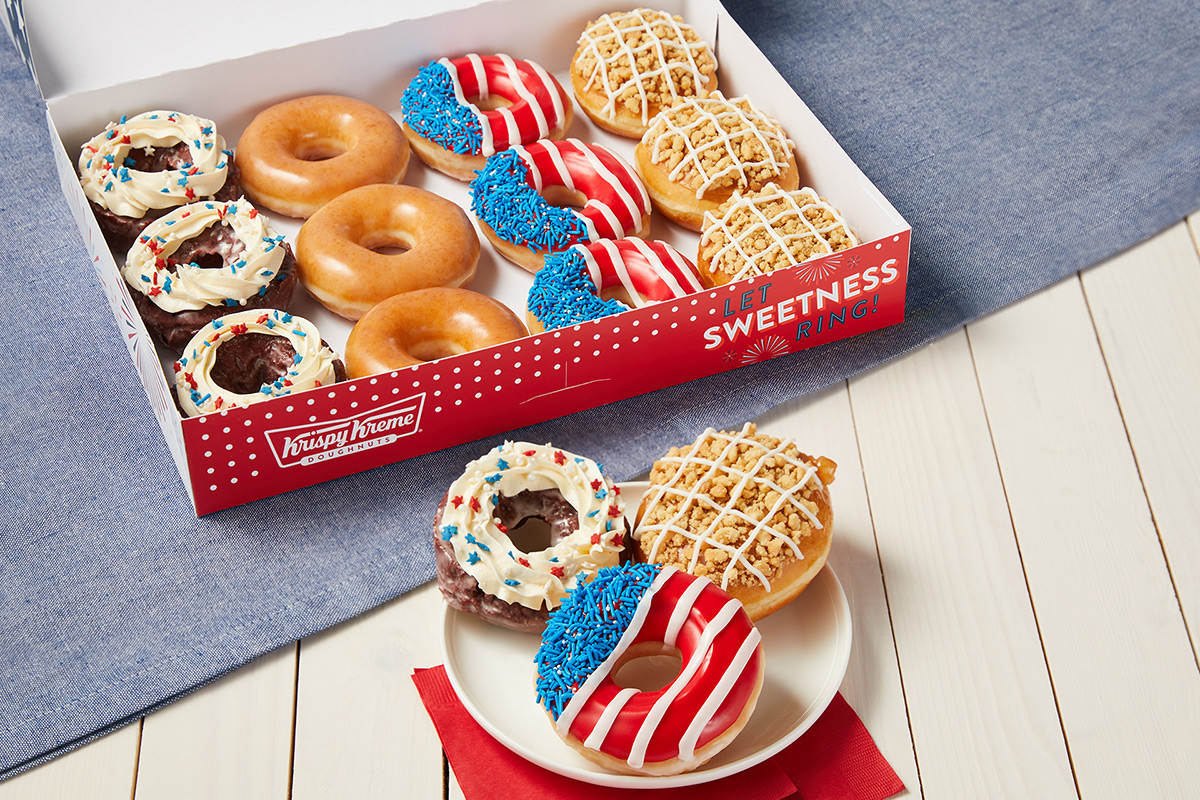 This Fourth of July, Krispy Kreme is letting sweetness ring across the land with a delicious new Stars and Stripes Dozen, perfect for Independence Day celebrations and summer gatherings.
Beginning today, June 21st, for a limited time, the Stars and Stripes Dozen, which features 3 all-new doughnuts, will be available to purchase individually or by the dozen in a custom, Fourth of July-themed box:
Red Velvet Sparkler Doughnut – a Red Velvet Cake doughnut topped with cream cheese icing and a stars and pearls sprinkle blend.
Freedom Flag Doughnut – an Original Glazed doughnut dipped in red icing and decorated like an American flag with a blue and white sprinkle blend, and white icing stripes.
All-American Apple Pie Doughnut – an unglazed shell filled with Apple Cinnamon filling, dipped in caramel icing and a graham cracker crumb, finished with a drizzle of white icing.
"Family, friends, food, fireworks … the Fourth of July is so much fun, and our new Stars and Stripes doughnuts will let sweetness ring at any gathering – from backyard barbeques to lined sidewalks at neighborhood and community parades across the land," said Dave Skena, Global Chief Brand Officer for Krispy Kreme.
Of course, no celebration is complete without some sweet generosity! On July 4th, fans who wear red, white and blue to participating Krispy Kreme shops across the land can enjoy a FREE Original Glazed doughnut. 🍩
Krispy Kreme's Stars and Stripes Dozen is available in-shop and for pickup or delivery via their app and website at participating shops across the U.S.